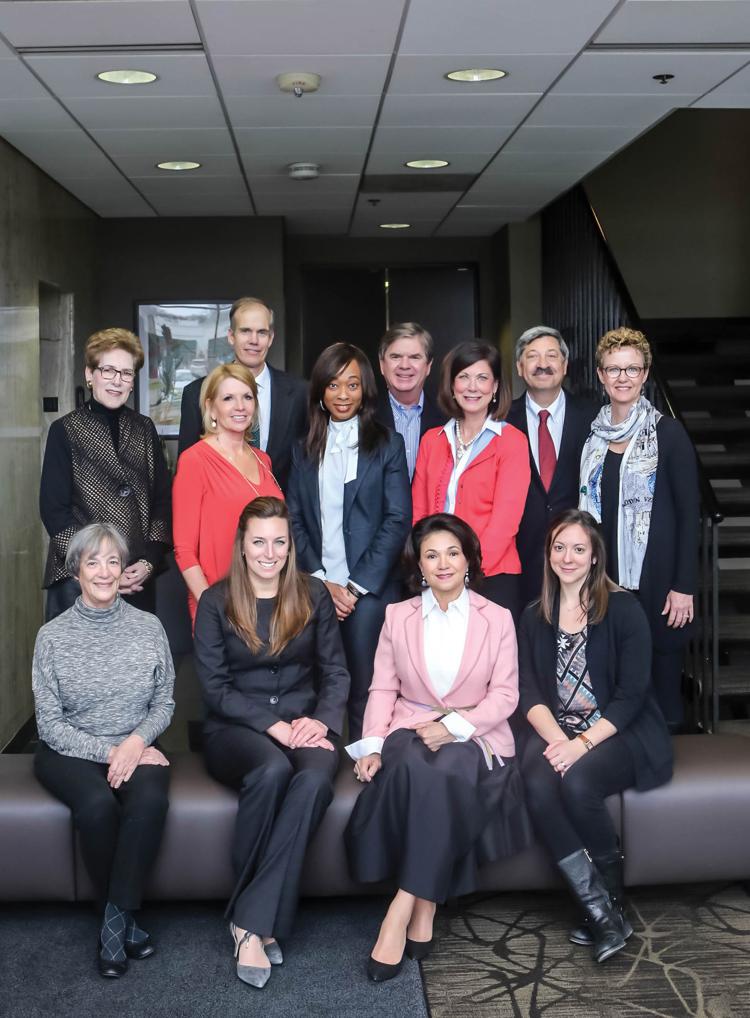 St. Louis Psychoanalytic Institute recognizes the importance of mental health and training those who impact the population through diagnosis and treatment. To spotlight its efforts, the Institute is hosting its eighth annual Spring Fling, an evening of celebration centered on bringing awareness to the organization's cause. "We have a big impact across the mental-health system," co-chair Shannon Bagley says. "STLPI is a too well-kept secret, and this event is really targeted to raise awareness."
This year's Spring Fling takes place in the upscale Caramel Room at Historic Chocolate Factory with its dramatic décor and well-designed space. The event promises entertainment, as well as tantalizing bites and libations. "It's a fun venue – really quite spectacular – and it lends itself well to our event," Jay Engler, the head of the sponsorship committee, says. "In recent years, we've adopted a wine theme for the Spring Fling and kept it a little less structured, with more emphasis on social interaction. People can come and visit, and enjoy a glass of wine." In his fifth year, Engler has found success in this combination of a low-key ambiance and tempting vinos. From wine servings to an exciting silent auction and wine pull, the Spring Fling also promises live entertainment in the form of a cabaret singer.
Additionally, the Spring Fling showcases the earnest mission of the Institute, which seeks to improve mental health and well-being in the community through education, research and training. Rooted in psychoanalytic theory and practice, the Institute trains professionals at every level, utilizing valuable resources and encouraging in-depth treatment centered on the emotional understanding of each patient.
"From clinical training and program to a substantial library, and speakers heard across the U.S. and beyond, the Institute is effective through its many educational services," committee member, Gary Godwin shares. The Institute has a vast influence on the mental-health community, allowing the organization to focus its energies on multiple areas where assistance is most needed.
For co-chair Maria Taxman, the Institute's mission recognizes an important, and often overlooked, portion of the community. "I am Hispanic and on the board of directors," Taxman says. "Our mission is to work within the Greater St. Louis community, promoting mental health through psychoanalytic education, training and research. As an advocate for the Hispanic Community, I'm proud to be part of the Institute which has reached out to the Hispanic Community. The Institute has developed a well received pilot program, complete with bilingual on-site therapists, to provide low-fee mental health treatment for immigrants and refugees."
The real impact of the Institute is felt by those looking for a unique understanding of their individual situations. "It's not a pill or a 15-minute interview," Godwin says. "This is an in-depth, relationship-building approach to understand the fundamentals which make good mental health."
314-361-7075, stlpi.org, 8820 Ladue Road, Third Floor, St. Louis, Mo 63124
WHAT/WHEN/WHERE:
Eighth Annual Spring Fling
Wed., May 4 • 6 to 9 p.m.
Caramel Room at Bissinger's Historic Chocolate Factory
Indulge in wine and hor d'oeuvres while learning about and supporting a great cause.
To purchase tickets, visit stlpi.org/spring-fling-2016, or contact Lucy Morros to learn about sponsorship opportunities at 314-361-7075 x321 or by e-mail at lmorros@stlpi.org.