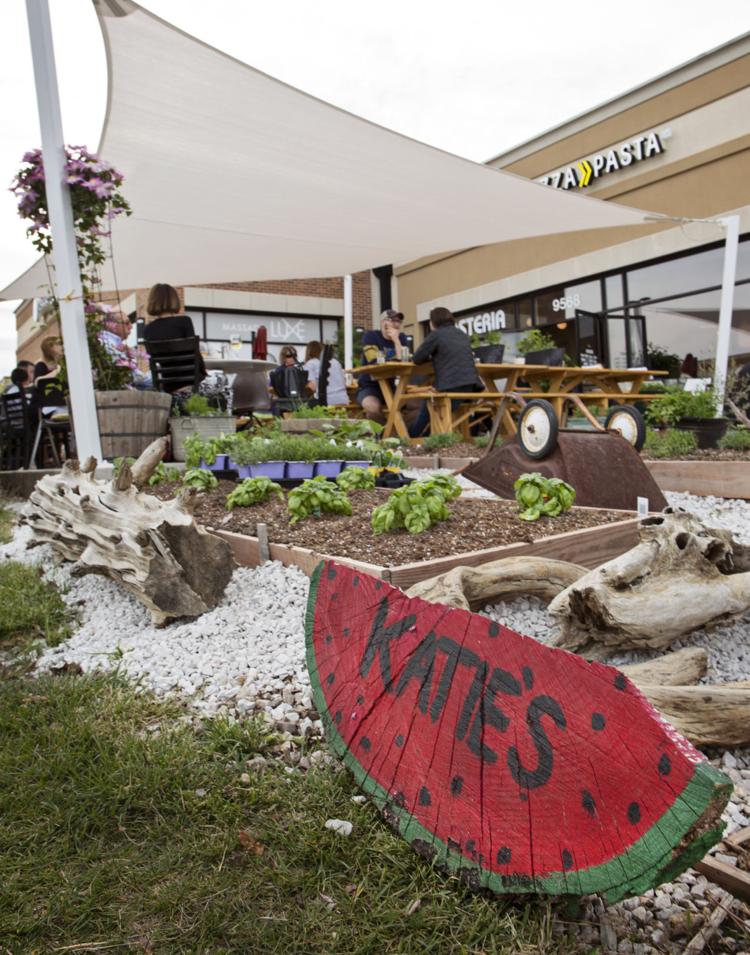 Katie's Pizza & Pasta Osteria in Rock Hill got a brilliant facelift, just in time for the sunny days of St. Louis spring and summer. The eatery, co-owned by Katie Lee Collier and her husband Ted Collier, is constantly improving to bring the latest and freshest artisan Italian tastes to its customers.
In an effort to improve the customer dining experience, the Colliers have installed a large patio sail that helps keep the restaurant's patio area shady and cool. The patio experience will now be more suitable for those warmer St. Louis summer days, enabling customers to still enjoy the outdoor experience in the shade. The Colliers also have implemented more comfortable tables outdoors.
In addition, they planted a large garden a few weeks ago, which helps supplement the restaurant's kitchen during the summer months.
"We have citrus trees, fig trees, lots of herbs, tomatoes, peppers, peas and more – all the things we use in our kitchen," Katie says.
Visitors to Katie's have enjoyed live music on Wednesday and Thursday nights in the past, but the Collier team is working to bring in musicians for weekend nights, too. The Colliers plan to have live music Wednesday through Saturday.
With the plans for the warmer months, Katie says the restaurant has revamped a few of its seasonal menus to bring new options to customers. The new cocktail menu will feature a number of fresh-pressed options, incorporating herbs and vegetables from the garden. Customers can enjoy them as a single glass or in a pitcher with a few friends.
"We want people to be able to sit out on the patio and enjoy," she says.
The brunch menu also has been redone for the first time in a year, and the Colliers are excited to bring something that's not your traditional brunch menu to the customer base.
"We have a bunch of new toasts," Katie says. "There's one with fried egg and salsa verde, one with banana and Nutella, and many more. It's a really fresh, modern brunch menu."
To amp up excitement for Katie's Pizza & Pasta Osteria fans around the clock, Katie and her team have filmed a web series that recently premiered on the restaurant's YouTube channel.
"We're doing the how-to videos with recipes and incorporating a local St. Louis personality who comes on and cooks with me," she says. "We eat what we've made and talk about their business."
Episodes so far have included Eric Christensen from Stl Up Late, David Choi from Seoul Taco and Frank McGinty from Kaldi's Coffee.
Katie says so far, feedback on the "From Scratch With Katie" series has been great, with lots of viewers and customer enthusiasm behind the idea.
"We'll see what we can improve and keep making them," she says. 
9568 Manchester Road, Rock Hill | 314-942-6555 | katiespizzaandpasta.com