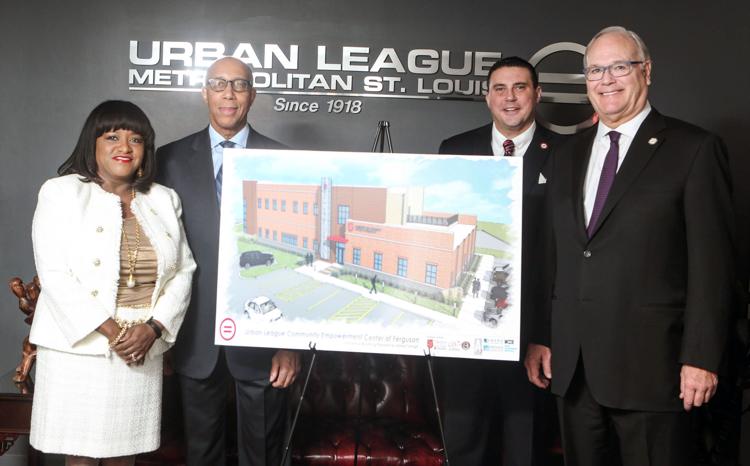 For nearly 100 years, the Urban League of Metropolitan St. Louis has been empowering African-Americans and others throughout the region in securing economic self-reliance, social equality and civil rights.
Over the past few years, in the time since the crisis in Ferguson, Urban League members have been hard at work setting up a community empowerment center on the site of the burned-down QuikTrip on West Florissant.
"We have a partnership with QuikTrip where they remediated the site, removed the tanks and contributed to the organization," says Urban League president Michael McMillan. "They gave the first contribution to the agency we used for the new building of more than $1 million. They continue to work with us and continue to be fantastic."
Support for the Community Empowerment Center of Ferguson has poured in from the St. Louis community. The Urban League had two major investments in the form of tax credits from St. Louis County, and four other not-for-profits will be housed in the center, too.
"We wanted to do this collaborative model because even though we serve close to 100,000 people, no one charity can fix all the problems in the community," McMillan says. "It's better for us to do as many collaborations as we can to help our community thrive, especially since the eyes of the world have been on us since everything that transpired in Ferguson."
In the building, the Urban League will house a variety of programs including the Save Our Sons program. Save Our Sons seeks to help economically disadvantaged African-American and other men living in Ferguson and surrounding St. Louis communities find jobs and have the opportunity to earn livable wages. This program was created in direct response to the unrest in Ferguson to deal with African-American male unemployment, which is triple the average in North County and throughout the region.
"So far, we're so pleased to announce that 300 men have gone through the program and have been placed in full- or part-time jobs," McMillan says. "We plan to continue this program for many years to come. It's become a national model that other Urban Leagues are adopting across the country."
In July 2017, St. Louis' Urban League will be hosting the National Urban League Convention.
"We're so excited about this," McMillan says. "We solicited this convention in an attempt to show the nation that St. Louis is so much more than what they saw on the news in 2014. Of course, we have issues, but we're working through them in a collaborative manner."
In addition, an Urban League benefit called The Whitney Young Society Celebration will take place Dec. 7 at the Anheuser-Busch Biergarten. For more information, call 314-615-3668.
Urban League of Metropolitan St. Louis, 3701 Grandel Square, St. Louis, 314-615-3600, ulstl.com
The Community Empowerment Center of Ferguson is sponsored by:
QuikTrip, the Salvation Army, St. Louis County Government, Jack Taylor & Taylor Family, TIAA-CREF, Centene Corporation, Civic Progress, Ameren, Emerson, Edward Jones, Regional Business Council, Starbucks, Greater St. Louis Community Foundation, Altria Client Services, Ferring Family Foundation, The Centric Group, Laureen Tanner and Michael McMillan
Save Our Sons is sponsored by:
Monsanto, AT&T, Emerson, Wells Fargo, Ameren, Anheuser-Busch, Regions Bank, Regional Business Council, Reliance Bank, Macy's, Richard H. Miles and Patricia Whitaker, Grainger, St. Louis County NAACP, Simon Foundation, Express Scripts, Carr Family Foundation, PricewaterhouseCoopers, Steve Sullivan, Chanelle P. Hardy and John Kopolow