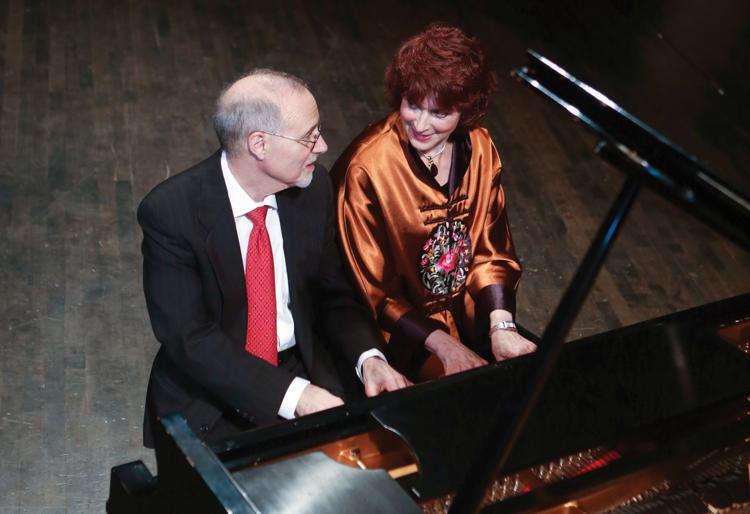 As part of the state's higher educational system, University of Missouri – St. Louis [UMSL] is an important part of the greater community, and its influence can be felt far beyond campus. The man serving at the university's helm, Thomas [Tom] George, is a major reason for its impact. George is celebrating 15 years as chancellor and, as the community attests, his contributions to the school and to St. Louis are innumerable.
"Tom is the face of UMSL, and UMSL is one of the most important faces in St. Louis," Tom Minogue, managing partner of Thompson Coburn, LLP, says. "He is a real renaissance man – a chemistry whiz, an accomplished musician and an intellectual who runs a university."
A jazz pianist, active researcher and professor of chemistry and physics, George always has his head in the game. "Research is my R&R," he says. "Someone might go to the movies. Instead, I write a manuscript. If I can't sleep, I work on equations. I currently research nanomedicine, looking at lasers and studying chemical reactions for cancer research, alongside doctors and others in the [Midwest] region."
The chancellor's wife, Dr. Barbara Harbach, serves as director of both the School of Fine and Performing Arts and Women in the Arts at UMSL. A Curators' Distinguished Professor of Music and a prolific composer and musician, she shares a deep appreciation for UMSL with her husband. "UMSL means an awful lot to us," George shares.
One of the toughest calls a chancellor has to make is how to continually enhance educational programming while balancing budget cuts. Last year alone, Governor Greitens slashed $68 million in funds statewide for higher education and is considering additional cuts in 2018.
"Across the country, higher education is struggling financially," George admits. "Few states invest more dollars, as higher education is often the budget balancer. We make our programs as lean and efficient as possible. In terms of the governor's budget, it's in line with [what we expect]. Some programs will shrink while our signature programs will become larger. It's all about helping our students to go out and make a difference in the world."
George has maintained that focus with input from individuals on and off campus, including members of the Chancellor's Council – an external advisory board of business and civic leaders that focuses on elevating the university's status as a premier public metropolitan research institution. Among those providing internal advice is the Chancellor's Cultural Diversity Council, which George founded in 2003 to address diversity, equity and inclusion concerns.
"Having diverse voices at the table to respond to the concerns of the campus community when major local events occur has been invaluable," Deborah Burris, the director of the Office of Diversity, Equity and Inclusion and current chair of the council, says. "UMSL was established, in part, as a way to provide [educational] access to individuals from the diverse metropolitan region. Our campus continues to build on that historical foundation."
From coordinating town hall meetings to conducting surveys, the council has played a pivotal role in addressing community concerns. Prior to Ferguson, the council responded to apprehensions about biased police stops with a meeting that opened a dialogue between the community and police chiefs.
"UMSL graduates stay in St. Louis," Minogue notes. "The chancellor's council is a link between UMSL and the business community. You can't go anywhere and not find an UMSL grad serving in a leadership role."
The public university, which offers a wide array of educational pursuits to its students, proves to be a pool of talent for the St. Louis area. "We have a high degree of talent here," George says. "One of the greatest lessons is to continue learning from those around you. I continue to learn from the campus, more than it certainly does from me."
University of Missouri – St. Louis, 1 University Blvd., St. Louis, 314-516-5000, 1-888-GO-2-UMSL, umsl.edu