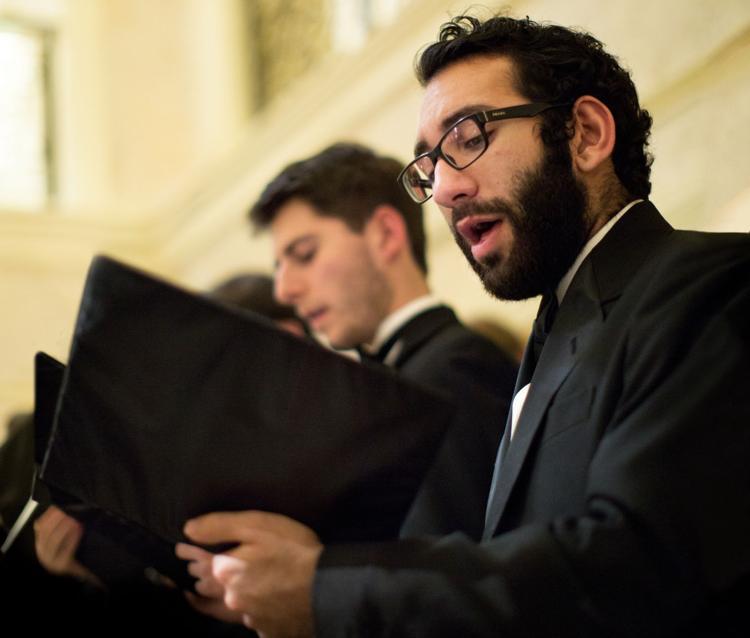 The holiday season is a festive one at The Gatesworth. Residents have the opportunity to experience a variety of holiday-themed events, all in the comfort of their home.
On Tuesday, Dec. 6, The Gatesworth residents enjoyed the sounds of the season at a chamber choir concert, "A Winter Jubilee," brought to them through a partnership with Washington University and the Lifelong Learning Institute. The Lifelong Learning Institute offers a wide variety of courses that emphasize peer learning and active class participation by senior adults. The institute has several big tie-ins with The Gatesworth, including that one of its founders, Henrietta Freedman, is a resident.
The Gatesworth program director Kathy Davis says in addition to Freedman, residents Suzanne Wohl and Allen Furfine have been key organizational parts of the institute, and this concert was something they wanted to do in collaboration with the Washington University Department of Music.
"A Winter Jubilee" lit up the atrium of The Gatesworth, with dozens of choir members performing assorted holiday numbers to celebrate the season. Davis says that while they've had members of Washington University's Department of Music come sing before, they've never had such a large group performing.
In addition to the concert, The Gatesworth hosted a breakfast with Santa, a winter carnival and the eight nights of Hanukkah.
Davis says that the Sunday after Thanksgiving, "elves" came to The Gatesworth in the evening, working half the night getting the community decorated for the holidays.
"That way, when everyone gets up in the morning, it's all decorated," she says.
During the month of December, there's always music or something festive going on in The Gatesworth community.
Following up the concert, members of the Opera Theatre of Saint Louis' Artists-in-Residence program came and performed on Dec. 9. Davis notes that they're training with the Opera Theatre for a short term, but at the conclusion of their studies, The Gatesworth was able to request a performance.
"We have so many opera lovers here, so it's lovely to be able to bring the members of the program to come perform," Davis says.
Wohl says she greatly appreciates the holiday events The Gatesworth provides, along with music throughout the year.
"Whatever musical guests The Gatesworth provides, they're always magnificent," Wohl says. "[The Gatesworth] really goes out of the way to bring us the best they can find. We have a great time tapping our feet and clapping our hands."
1 McKnight Place, St. Louis | 314-993-0111 | thegatesworth.com