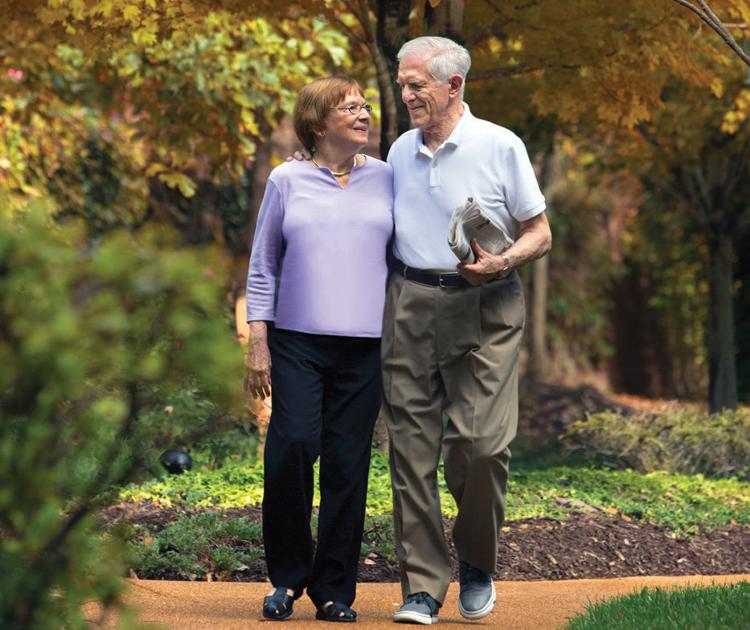 At The Gatesworth, learning is a continuous journey. Residents of the senior living community are able to take advantage of a wide range of programs offered, including a speaker series that began five years ago.
Kathy Davis, The Gatesworth's resident program director, wanted to bring in a series of speakers for the residents so they could learn more about the community in which they live.
"We call it the St. Louis Icon Series," Davis says. "My thought was that a St. Louis icon can be a person who is iconic, or the place or institution they're speaking about is iconic."
One of the first speakers was Mary Strauss of The Fabulous Fox Theatre, who brought in photos of the theater before its massive restoration and talked about the theater through the years.
"It was just so engaging for people, especially those who grew up going to see movies and stage productions at the Fox," Davis says. "[The speaker series] gets them to walk down memory lane and also bring them up to speed on the current state of the place or person."
Each series set has a theme. The year they brought in Strauss, The Gatesworth also brought in speakers about other local landmarks like The Chase Park Plaza. With each session, Davis begins with an introduction of the speaker, followed by lunch. After lunch, the speaker begins his or her presentation.
"It's amazing how much fun you can pack into an hour and a half," Davis says.
In the past five years, speakers have included Saint Louis Art Museum director Brent Benjamin, Missouri Botanical Garden president Peter Wyse Jackson, Repertory Theatre of St. Louis artistic director Steven Woolf, Opera Theatre of Saint Louis general director Tim O'Leary, Muny artistic director Mike Issacson and St. Louis Symphony music director David Robertson.
"We have so many residents who support these institutions, and we're giving them the chance to get to know the people behind [the institutions]. And if they haven't been to some of the places, oftentimes it sparks their interest," Davis says.
She notes that the speaker series has been a great way for people who have lived here all their lives to appreciate their city in a fresh way.
"The other percentage who haven't lived here their whole lives … that's exciting for them," she says. "It gives them a chance to feel that hometown pride."
The series The Gatesworth just started features an assortment of people who have made great contributions to St. Louis. Most recently, it hosted longtime
St. Louis Post-Dispatch columnist Bill McClellan, for whom the series had a waiting list. Later this year, The Gatesworth will host opera singer Christine Brewer, Nine Network CEO Jack Galmiche and former Missouri U.S. Sen. John C. Danforth.
The Gatesworth residents Salvatore and Celia Sutera typically attend all of the speaker series presentations.
Celia says she finds all of the speakers interesting and particularly enjoyed McClellan's talk. Salvatore agrees, noting that they follow his column very closely.
"He's such a great storyteller," Celia says.
The Suteras say they also enjoyed the chancellors of local universities who came to speak as part of a recent set of lecturers.
"They've all been so good," she says. "It was so interesting to hear the directions their schools are going."
"A few of them are fairly new to their positions, and we were very impressed by their presentations," Salvatore agrees.
The Suteras have found that there is a strong intellectual community at The Gatesworth and are always interested in new opportunities. Davis says the residents have stressed that they want to keep learning and experiencing life. Through programs like discussion groups, book clubs and the speaker series, they are able to do just that.
"It's such a good community," Salvatore says. "We've made so many friends, and the amenities are excellent. We couldn't ask for anything better."
The Gatesworth, One McKnight Place, Ladue, 314-993-0111, thegatesworth.com