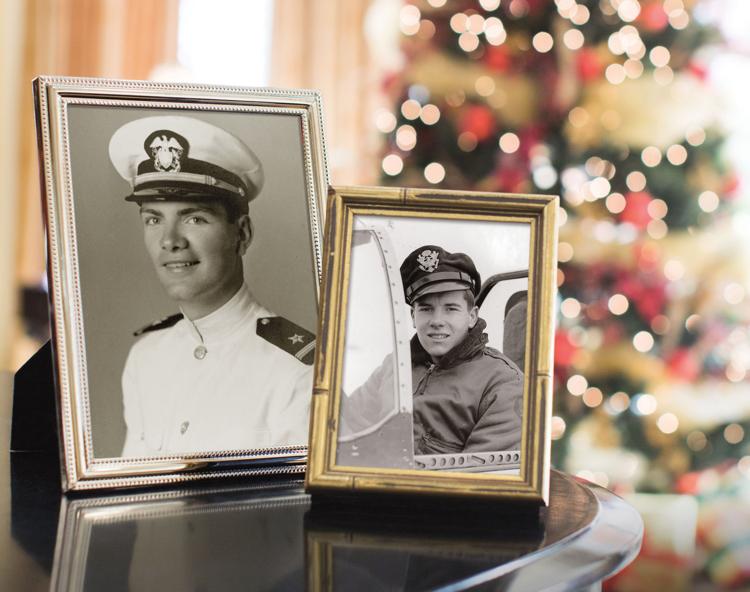 There's something about this time of year. Perhaps it's witnessing the glorious cascade of autumn leaves, falling to make way for the first snowfall of winter. Or, maybe it's the time joyfully spent gathered around the Thanksgiving table or Christmas tree with family and friends. One thing is certain – the magic of this season inspires reflection and gratitude.
Each and every year, The Gatesworth is grateful for the veterans living within its community. To recognize their service, The Gatesworth hosts an annual Veterans Appreciation luncheon. This popular celebration typically draws around 50 to 60 attendees, and this year's luncheon on November 9 was no exception.
On the evening of November 11, the official Veterans Day holiday, The Gatesworth also hosted "The Best Songs from the Worst of Times," a special musical salute. The extravaganza shone a spotlight on veterans of World War II, a population whose numbers are rapidly dwindling.
"All in all, it was one of the most touching observances for our vets ever," enthuses Kathy Davis, resident program director at The Gatesworth.
Wally Diboll, Bob Little and Joel Erkenswick are among the many military veterans living at The Gatesworth.
At only 20 years old, Wally Diboll enlisted in the U.S. Navy, where he achieved the rank of lieutenant junior grade. Although he did not witness any direct conflict during his two-and-a-half years of service, Diboll sailed on a naval destroyer ship built for invasion and bound for Japan.
During one of his assignments, Diboll sailed to Okinawa, Japan to bring medical units to prisoners of war. Of his travels to Japan, Diboll remains most struck by the Japanese people's goodwill. "There was absolutely no hostility. The Japanese people just accepted us," Diboll states.
He vividly recalls the youthful excitement of the Japanese children, so curious about their American visitors. "I remember the signal man with whom I stood watch had his name spelled out in Japanese and all the kids would read it out loud: John W. Moody," he says. "The kids loved us, trying to talk to each of us."
Bob Little suspended his engineering studies at Texas A&M University at just 18 years old to sign up for the Air Force. Achieving the rank of first lieutenant, Little spent the majority of his service in the war's European theater. As a reconnaissance pilot in the 8th Air Force, Little and his troop were responsible for taking photographs for General George Patton's Third Army.
Little's wife of 66 years, Betty, recalls her husband's challenges after the war's end. "It was very difficult [for Bob] to settle down and start studying after what he had seen in Europe," she maintains.
Bob Little's service, however, would have a profound influence on his post-war life. After graduating from college, Bob Little accepted a position in St. Louis at McDonnell Douglas. Although it was his lowest-paying job offer, Betty Little says that "he took it because of the prospect of flying."
"It was an exciting period of time," Bob Little, now 92 years old, says of his days at McDonnell Douglas, where he advanced to chief test pilot before transitioning to marketing and sales.
A Vietnam War veteran, 73-year-old Joel Erkenswick experienced a very different conflict than his fellow veterans at The Gatesworth. At 22 years old and a recent college graduate, Erkenswick was drafted into the Army as an officer. After training, Erkenswick was commissioned to the area along the Mekong Delta in South Vietnam. While there, Erkenswick worked on self-development projects, constructing bridges and schools to improve the area's infrastructure.
Although combat in Vietnam could be grisly, Erkenswick largely avoided battle. "My experience was different than a lot of vets," Erkenswick explains. "It was more like a Peace Corps. I enjoyed meeting the Vietnamese people and speaking with them."
Unlike Bob Little, for whom service in World War II ignited a lifelong passion for flight, Erkenswick's war experience left a more spiritual mark. Since 1986, Erkenswick has been a practicing Quaker, a calling that he attributes to his year in Vietnam.
"When I was in Vietnam, I met Buddhists and found that working with Buddhists and other groups like that really caused my soul to blossom," Erkenswick reveals. "The two groups [Quakers and Buddhists] are not all that different."
Despite differences in age and duty, Diboll, Bob Little and Erkenswick are united by their service to this country. They also share a deep sense of gratitude, one borne from tremendous life experiences.
Erkenswick, who has lived at The Gatesworth for six years, is grateful for family this year. He cherishes spending time with his two married sons and twin grandsons.
At 94 years old, Diboll says he is simply grateful to be alive. He looks forward to his family's annual summer pilgrimage to their cabin in Colorado. A three-year resident of The Gatesworth, he also proclaims that "sitting here is very comfortable."
Bob Little sounds a similar chord: "I've been here at The Gatesworth for three years. We enjoy it here […] This is a good place to retire." They all agree that it is truly a season of gratitude.
The Gatesworth, 1 McKnight Place, 314-993-0111, thegatesworth.com