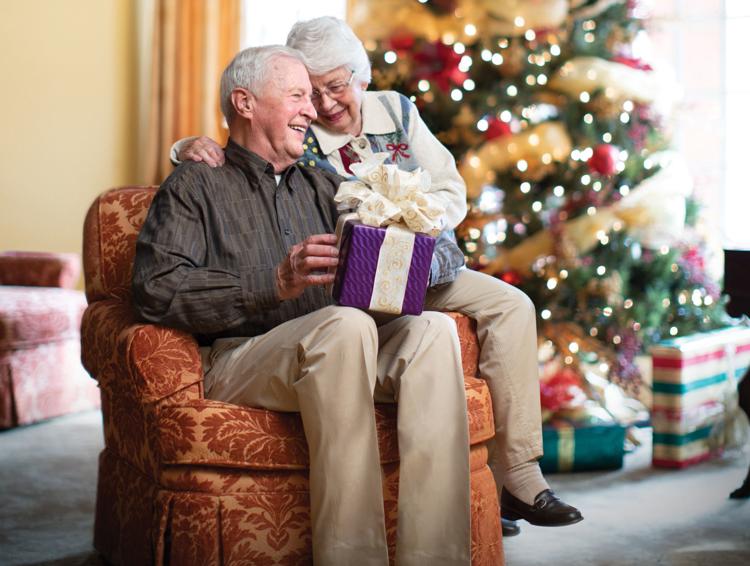 The holidays are truly the most wonderful time of the year. Beyond the twinkling lights and beautifully wrapped presents, however, the season is also an occasion for kindness, generosity and, above all, family.
While giving back is second nature to many residents of The Gatesworth, who volunteer their time and talents throughout the year, the spirit of generosity kindles a little bit brighter during the holidays.
That magic is palpable to resident Stanley Oberman. "This season means a great deal to me," he shares. "The nature of people during the holidays just seems to be so much better than it is throughout the year. It's a time for everyone to relax and to be themselves."
Oberman moved to The Gatesworth only a few months ago. However, he jumped at the chance to join the community's reading mentorship program when approached by resident services director Donna Meyer. As part of the program, first- and second-grade students from area elementary schools visit twice a month for one-on-one reading sessions with residents, who serve as mentors. "The kids choose the books themselves and then we read with them and ask them questions," details Oberman. "They are just adorable!"
Although Oberman has participated in just three meetings so far, spending time with the little ones has already brought him great joy. He reports that "life has become very enjoyable" since taking up residence at The Gatesworth, especially "being able to volunteer and to see how much people appreciate it."
When fellow resident Berkeley Gunther decided to move into a senior living community a little less than a year ago, she knew she wanted to find a place where volunteering was not only encouraged, but also supported. A retired educator and administrator, Gunther has spent the past several years volunteering with BJC's art therapy program, where she paints with rehab patients of all cognitive and physical abilities.
At The Gatesworth, Gunther has found several new ways to share her time and interests with others. Each Tuesday morning, she invites a small group of local artists to paint in the community's art center. "Anybody can drop in and watch," she says. Gunther finds inspiration in observing these talented creatives at work and hopes to stir that same enthusiasm in other residents. "This is just another way of giving and sharing a part of my life with my neighbors here."
In celebration of the season, Gunther will soon make Christmas cards with BJC's art therapy participants. And she anticipates a large and merry gathering of family for the holidays. On Christmas Eve, Gunther will host her grandchildren and their spouses for an annual luncheon filled with pizza, beer and memories. Although this will be her first holiday season as a resident, Gunther describes "a feeling of belonging" at The Gatesworth.
The Gatesworth has only been home to Bob Rybacki and his wife Betty for a few short weeks, but the couple has never felt more instantly welcomed by a community. "The staff here is just wonderful," raves Bob Rybacki. "Everybody remembers your name here, including the servers at each of the three restaurants. They must have the staff go through some kind of course!"
While still busy settling into their new apartment, the couple has nevertheless found time to explore a few of the many activities on offer. As longtime fitness enthusiasts, the Rybackis are thrilled with the community's state-of-the-art fitness center and group classes. Retired from a career in information technology, Bob Rybacki maintains a part-time job as a driver for Enterprise. Given his professional background, however, he is considering taking a computing class at The Gatesworth. "Technology moves so fast, and I always like to learn new things," he adds. Meanwhile, Betty Rybacki, who dabbles in painting and needlework, looks forward to becoming more involved with community's art group.
"We'll get involved, one way or the other!," Bob Rybacki promises. In the meantime, he and his wife anticipate spending the holidays with their five children and various grandchildren. Thankfully, their spacious two-bedroom unit was built with guests in mind – this time, their youngest daughter.
For The Gatesworth's residents, the holidays are simply synonymous with goodwill and family – whether it's the clan you were born into or the one you've forged along the way.
The Gatesworth, One McKnight Place, St. Louis, 314-993-0111, thegatesworth.com