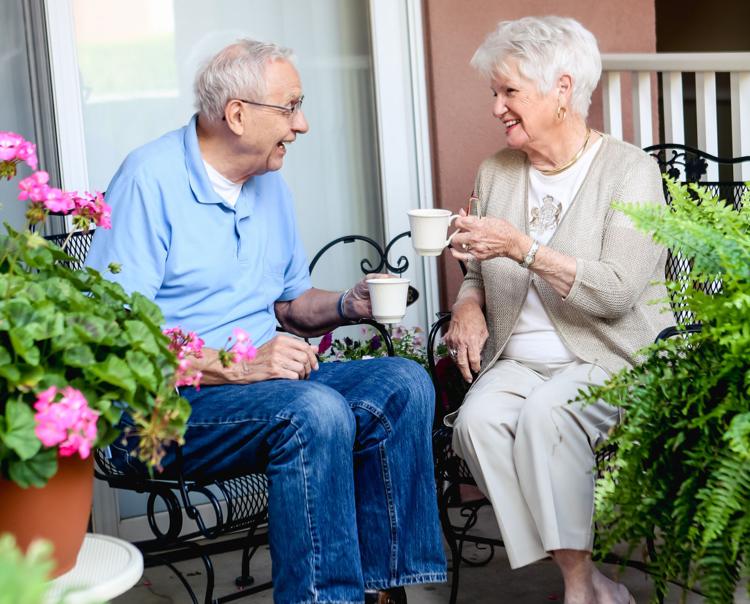 The Fountains of West County echoes the sentiments of a picturesque, white-picket-fenced community, where neighbors know each other by name, and everyone seeks to be helpful and happy. "When you walk in, it doesn't feel like a hotel – it feels like home," regional director Julie Sanford says. "Every resident has their own personality, which you can see throughout the community in each entryway."
"Residents are very active," Sanford describes. "We offer transportation 7 days a week, to doctor appointments, a variety of local stores and, of course, planned activities. Just recently, our lifestyle director had a full bus with trips to to Fairmont Park and a riverboat cruise. She continues to keep our community upbeat."
The Fountains opened an assisted living and memory care addition in January 2015, expanding the campus' capabilities and providing the staff with specialized training. "Our new memory care neighborhood focuses on providing meaningful days to residents with Alzheimer's and dementia-related diseases," Sanford notes. "It is important to us to offer families and their loved ones options for aging within the campus. We also are breaking ground this summer on an addition to our independent living community, which will open in the early fall 2018. It will give residents more options with larger apartments and upgraded amenities, including washers and dryers. There will be new community spaces, including a multipurpose craft room, card rooms, a social center and a Starbucks coffee bar for residents."
The most important part of the health care community is its foundation of local ownership, which determines the best ways to expand based on what residents need most.
"The owners are on-site and accessible to the staff and residents," Sanford says. "Our owners are involved in the day-to-day operations, allowing our team to provide 100 percent resident-centered care."
Co-owner Janie Gammon has always been a part of health care communities, which has strongly influenced her life pursuits. "My parents had a residential facility," she shares. "I have a background in nursing. This has been a passion of mine for nearly 40 years. Residents are like family to us."
Gammon's straightforward dedication has passed onto the staff. "We want residents to live [according to] their own lifestyles," Sanford states. "We provide meals, outings, in-house events and shows." The energetic vibe is evident throughout the campus, allowing each person with a desire to live his or her best life.
The Fountains of West County, 15826 Clayton Road, Ellisville, 636-779-2600, fountainsofwestcounty.com