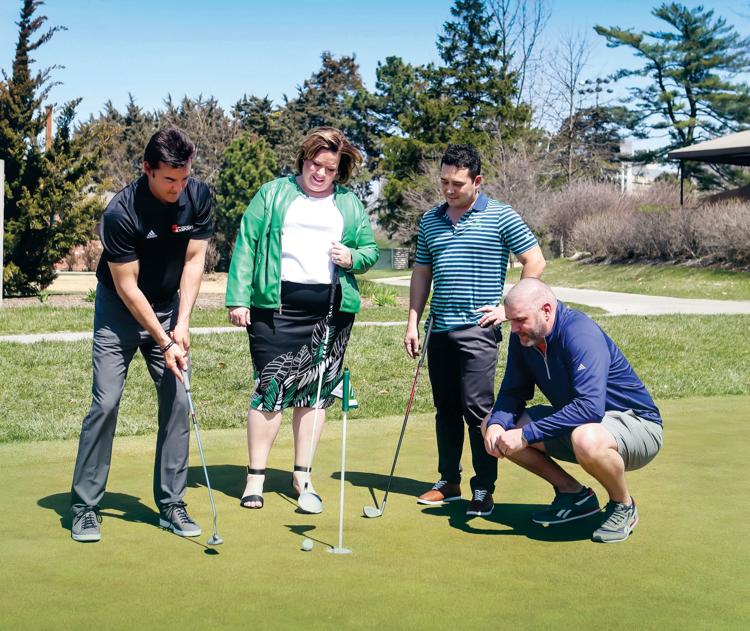 Stepping onto the green, one discovers a stillness – a moment devoted to considering your next move. A time to reflect on which club is best for your shot. A period to evaluate the distance between where you stand and your ultimate goal. The First Tee of Greater St. Louis takes this powerful moment and expands on it, introducing additional benefits to area youth.
"We teach life-skills educational programming and healthy habits through the game of golf," executive director Michele Miller South explains. "We take what you learn on the course and apply it to every day, such as critical thinking."
The innovative program is currently available at 63 area elementary schools through physical education classes. The nonprofit organization has access to six golf courses, where it hosts three sessions each year. For $50 a session, children try their hand at the sport – and learn invaluable lessons along the way.
"In golf, you're made to stop, anticipate and respond," South says. "You have to think about the next shot you want to take, which club to use and how far the ball will go. Children can use those decision-making skills [elsewhere, like] when considering whether to go out shopping with friends the night before an English test. When things aren't going well on the golf course, you have to learn to manage your emotions, think things through and make a good choice."
Game play is not limited to just those who can afford the price tag. "We never turn a child away because they can't pay," South assures. "Those who are unable to pay can use our scholarship fund. We also provide college scholarships to seniors in our program. In the last three years, we've given out six college scholarships."
Membership to The First Tee of Greater St. Louis is open to youth ages seven to 17 and also serves those with special needs, including autism and Down Syndrome. Youngsters between the ages of five and six can enroll in "Little Linksters," which introduces them to the organization's nine core values: honesty, integrity, sportsmanship, respect, confidence, responsibility, perseverance, courtesy and judgment. Older members receive additional training, with on-course play.
"We served 40,000 children last year through our green grass, National School and outreach programs," South says. "This year, we are [on schedule to serve even] more children."
The First Tee of Greater St. Louis, 5163 Clayton Ave., St. Louis, 314-533-6400, thefirstteestlouis.org
---
2018 Golf Fore!
Kids Golf Tournament & Auction
Monday, June 11, with 10 a.m. shotgun start
Norwood Hills Country Club
$375 per person or $1,500 per foursome
"This is going to be a great day," executive director Michele Miller South says. "Eighteen holes, tons of food vendors, a lot of celebrities – and [KSDK's sports director] Frank Cusumano emceeing."
Visit thefirstteestlouis.org/2018-golf-fore-kids-golf-tournament-auction to register.