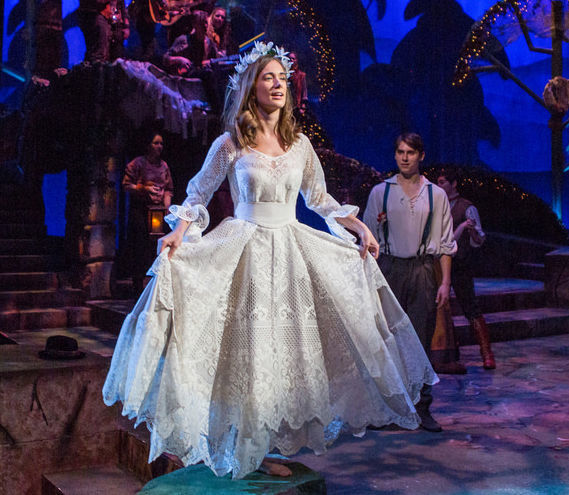 Webster University perfectly embodies the spirit of its 50th anniversary celebration with this telling tagline. The Conservatory treasures a connection between its faculty and students – past, present and future. After all, they have proven to be masters of the stage, year in and year out.
"It's the best theater ticket in town for the best price," Dottie Marshall Englis, a faculty member and the chair of the Conservatory, says. "I stand our productions up against significant professional productions in [St. Louis]. We have partnerships with the Muny, Shakespeare Festival St. Louis, Variety the Children's Charity and Arrow Rock Lyceum Theatre, in addition to our campus partners, Opera Theatre of Saint Louis and the Repertory Theatre of St. Louis. When students think about what defines excellence, they compare it to professional, not student, work. Our students are surrounded by the profession all the time."
To honor 50 years of fostering talent, the Conservatory is hosting a weekend of fêtes from April 20 to 22. "It'll be a combo platter of performances and tributes," Englis promises. "Throughout the week, we'll honor our founder, Peter Sargent. When you celebrate history, there has to be a level of affection versus seriousness, and a nod to things that everybody understands," she adds, referring to the celebration's logo, which features a blue-and-pink plaid print that mimics Sargent's favorite fashion statement.
"Here's the great thing about Peter: His vision is always about what's best for the students," Englis shares. "Students often find their way to Peter's office to have a conversation. Peter remains a good colleague and a great boss. He sets the bar for how decision-making gets done."
Englis began as a costume design professional at the Conservatory. In her almost four decades with the university, she has witnessed the exponential growth of the Conservatory, which currently boasts more than 200 eager learners. Alumni continue to play a vital part in the Conservatory today, allowing for unique opportunities like the annual Spring Showcase, in which Englis, faculty and the current graduating class head to New York City.
"We invite agents and casting directors to see our students' work in an audition," she explains. "Actors deliver monologues and scenes, while musical theater performers do songs and scenes, all organized in a 40-to-50-minute show. We also have a production open house. Students have an opportunity at real conversation with people, including a lot of alumni, in the industry."
In addition to this East Coast opportunity, students utilize the alumni network found out west. "The performance students also decided to go to L.A, where a closed showcase works better," Englis says. "They do four days of intensive workshops in L.A. As we don't have a budget for that, the kids raised all the money for it themselves."
The Conservatory's 50-year celebration hopes to highlight this important, ongoing connection by bringing some of its most famous alums back to the stage where it all began for them. "This is my dream come true," Englis gushes. "We have the opportunity to bring our alums together with our students – and we see the power in those relationships. Everyone recommits to who we are and to furthering the profession."
Conservatory Celebration, 7:30 p.m. Saturday, April 21
The Saturday evening celebration will feature Tony Award nominee Hunter Bell, Rocky Carroll, Kevin Earley (Broadway's Les Misérables, Tale of Two Cities, Death Takes a Holiday), Julie Ann Emery (Better Call Saul), Nathan Lee Graham, Sigrid Wise (soon-to-be Juliet in Shakespeare festival St. Louis' Romeo and Juliet), as well as other Conservatory faculty, alumni and students. An additional honor is planned for Peter Sargent, dean of Webster University's Leigh Gerdine College of Fine Arts, as the Conservatory remembers 50 years of great theater and begins its journey toward many more.
Tickets available for $25 here.
---
Brigadoon Conservatory Performances
April 18 to 20 at 7:30 p.m. and April 21 to 22 at 2 p.m.
Music by Frederick Loewe
Book and Lyrics by Alan Jay Lerner
Original dances by Agnes de Mille
For all Brigadoon performance tickets, please call 314-968-7128 to reserve seating.
The Conservatory of Theatre Arts at Webster University, 470 E. Lockwood Ave., Webster Groves, 314-968-6929, webster.edu/conservatory