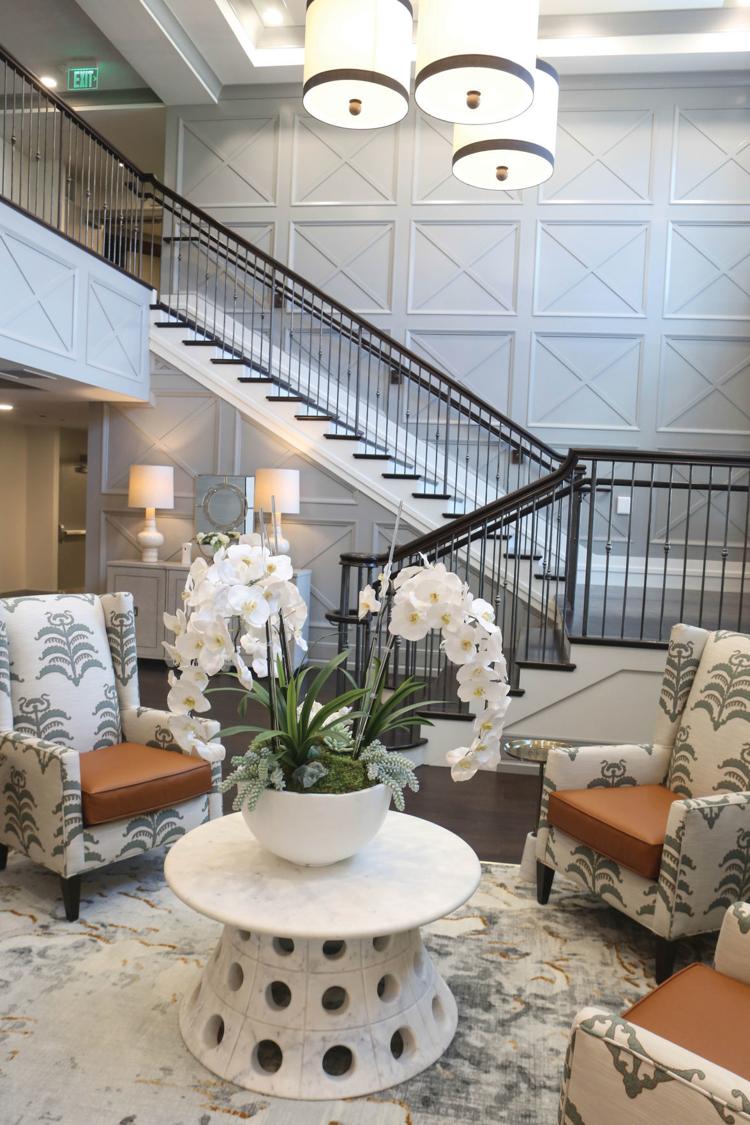 "At Stonecrest of Wildwood, it's our mission to ensure that residents are comfortable, healthy and thriving," declares Doreen Scarfino, community relations manager at the newly opened assisted living and memory care community.
Although it operates senior living communities in Town and Country and Clayton, Stonecrest is still relatively new to the St. Louis area. With the recent opening of Stonecrest of Wildwood, the Kansas City-based company aims to fill a void in senior living care west of St. Louis County. "Stonecrest of Wildwood sits at the foothills of the Ozark Mountains, and blends city and country living in a comfortable setting," says Scarfino. "We're located farther west, where it's quiet and serene."
On April 23, Stonecrest of Wildwood welcomed its inaugural wave of residents with orchids, enthusiasm and personal tours of their new home. "We had been in the building here alone for a while, so we were anxious for them to arrive," enthuses Scarfino of the first four women who moved into the assisted living complex. The community's house pet, a border collie named Henry, was also on hand to greet the newcomers with a friendly woof and sniff.
Comprised of 49 private studio, one- and two-bedroom suites, Stonecrest of Wildwood's first two floors are devoted to assisted living. The building's secured third floor, which numbers 32 studio and shared suite apartments, is home to the Bridges Memory Care household. With 14 current occupants, and more arriving in June, Stonecrest of Wildwood will be able to serve up to 94 residents at double-occupancy.
Featuring high ceilings, grand picture windows and luxurious accents, like granite countertops, the community's apartments are modern, spacious and bright. Residents are treated to a host of amenities, including a 24-hour on-site nursing staff, laundry and housekeeping services, and complimentary transportation for doctor's appointments, grocery shopping and other off-site activities.
One of the community's most popular features is its chef-inspired Culinary by Choice program. Overseen by executive chef Jason Goza, Stonecrest of Wildwood's restaurant-style dining room serves three meals per day from 7 a.m. until 7 p.m. "Residents can eat whatever they want at any time," notes Scarfino. "If they'd like, they can have breakfast for dinner, which isn't always possible at other communities."
The pet-friendly complex also boasts outdoor living spaces, a fitness and wellness center, a media center and a retail salon, which offers massage therapy treatments. The community's prime location in the Wildwood Town Center also provides additional activities for residents to enjoy. This summer, they will be able to shop at the local farmers' market on weekends, as well as attend Music on Main, Wildwood's monthly outdoor concert series.
"We've already seen a lot of participation from the Wildwood community," adds Scarfino. "We're part of the Wildwood Business Association and we often incorporate area businesses into our events. We like to keep everything local."
On Thursday, June 28, Stonecrest of Wildwood's executive director, Susan McClenahan, will be joined by the mayor of Wildwood, representatives from the West County Chamber of Commerce and others to celebrate the community's grand opening. From 4 to 6 p.m., local community members, residents, family and friends will be treated to an evening of live music, cocktails and delectable eats, prepared by Goza. The official ribbon-cutting will take place at 4:30 p.m., thereby cementing Stonecrest of Wildwood as the area's premier community for vibrant senior living care.
Stonecrest of Wildwood, 251 Plaza Drive, Wildwood, 636-284-2609, stonecrestofwildwood.com