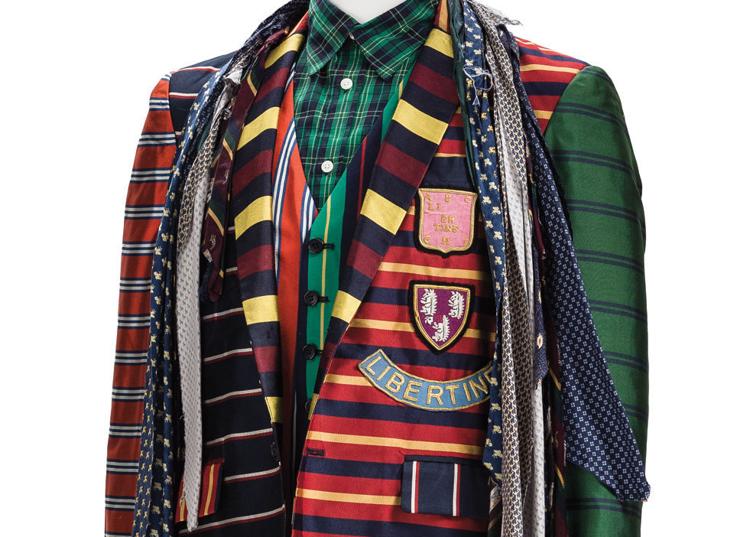 Visitors to the Saint Louis Art Museum will have the chance to experience 300 years of men's fashion all in one place.
"Reigning Men: Fashion in Menswear, 1715-2015" is on display at the museum from June 25 to Sept. 17 and will celebrate the rich history of men's attire through the ages.
Textile conservator Zoe Perkins and assistant curator Genevieve Cortinovis speak highly of the collection's variety and the way it's displayed.
"Rather than approach the exhibition chronologically, it's divided into five themes," Perkins says.
When the exhibition, which comes to St. Louis from the Los Angeles County Museum of Art, was originally assembled, curators kept seeing recurring themes in the clothing through the years, and decided arranging it thematically would intrigue its viewers.
"This exhibition was presented to us and was a rare opportunity for us to showcase men's costume," Perkins says. "Many costume shows don't travel because of the delicacy of the clothing, so it was an opportunity we jumped on. Fashion is an art form that relates to all other arts."
Perkins says one of the exhibition's highlights is a complete zoot suit ensemble with pleated trousers.
"While it's been documented and written about, there's only one known example to exist," Perkins says.
The exhibition contains more than 150 looks and examines how elements of the uniform have shaped fashionable dress. From the 18th-century three-piece suit to the 21st-century "skinny suit," "Reigning Men" is a journey through the themes and cultures that have shaped menswear through the years.
Cortinovis says her favorite parts of the exhibition include some of the historic and contemporary fashions. She notes the macaroni ensemble of the 1770s and the use of pastels paired with extravagant wigs.
"They've been able to re-create so many looks," she says. "There's such an amazing amount of research, time and energy that go into the presentation of the mannequins."
Cortinovis hopes visitors will leave the exhibition with an understanding that menswear has been "as dynamic and impactful as women's fashion." She says she also hopes visitors can look at fashion in the context of the Saint Louis Art Museum and other art forms and make connections between them.
Both curators note the approachability of the exhibition, saying that it's accessible and enjoyable for all people, regardless of their interests.
"People can truly take away from it what they want. They can just look at costumes or delve deeper into the social aspect of the costumes," Perkins says. "There's something for everyone here. It's a feast for the eyes."
Saint Louis Art Museum, One Fine Arts Drive, St. Louis, 314-721-0072, slam.org