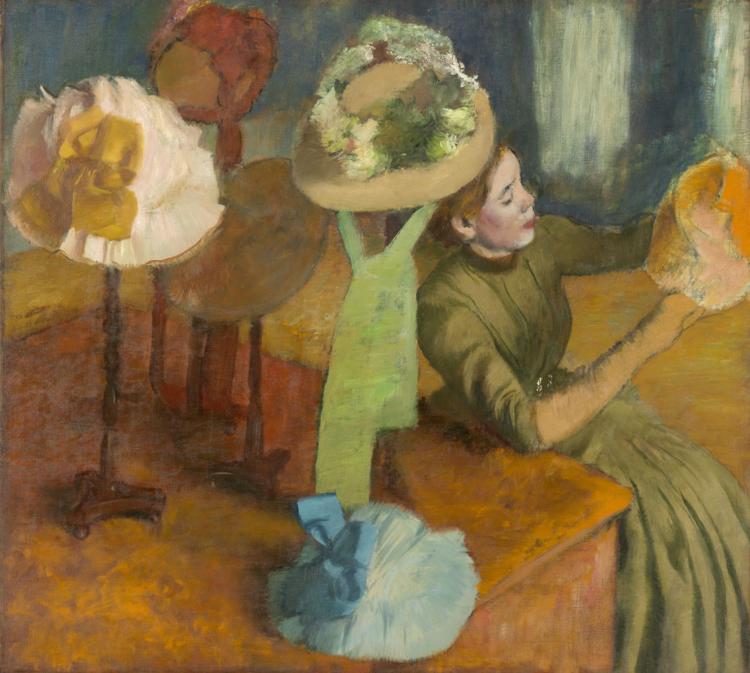 Degas, the famous Impressionist painter widely known for his portrayal of dancers, nudes and racetracks, is coming to the Saint Louis Art Museum (SLAM) with a new focus on his artwork – a focus seemingly as important to the artist as other categories covered, yet one relatively unknown: hats.
"There's never actually been a show on Degas and the importance of millinery in his work," Simon Kelly, curator of modern and contemporary art at SLAM, says. "I came to the museum in 2010 and had been thinking about Degas before then, but the museum acquired a major Degas painting back in 2007 that definitely motivated me to make this exhibit happen."
The show originates here in St. Louis and is in partnership with the Fine Arts Museums of San Francisco. "My co-curator from San Francisco, Esther Bell, and I have traveled extensively around France and America since 2014, looking at art and securing loans for the exhibition," Kelly explains. "When these works first exhibited, they were seen as shocking because of their realism. [The public] was used to seeing idealized versions of women, but Degas' works are notable for their realistic portrayals. If you look at the original critical reception and the attitude on pastels, the women [portrayed] were compared to monkeys, sort of anemic. Today, these are considered pretty pictures showing beautiful colors and composition. At the same time, we've sort of lost that radical charge associated with Degas' works."
The subject of hats may seem blasé by today's standards, but as this exhibit sets out to prove, that is far from the case. "In the 19th century, Paris millineries were seen as elite workers in the fashion industry. They were [considered] more prestigious than even dressmakers, and their hats were considered works of art," Kelly claims. "Prominent writers described milliners as true artists. During the exhibition, we look at a number of prominent milliners, including Jeanne Lanvin, [whose designs] were considered couture even before she founded the fashion house named after her."
Kelly has co-authored a catalog to pair with the exhibition that shares its name, Degas, Impressionism and the Paris Millinery Trade, which details the artworks and importance of hatmaking during that period. "This is the first time many of these works have been seen in America," Kelly says. "It's a once-in-a-lifetime opportunity to view them."
Degas, Impressionism and the Paris Millinery Trade Symposium
April 21 & April 22
"Prominent art and fashion historians [encourage us to] think in detail about the hats themselves, the women who bought them and the way buying hats became an important part of women finding their independence," Simon Kelly, curator of modern and contemporary art, says.
Saint Louis Art Museum, One Fine Arts Drive, St. Louis, 314-721-0072, slam.org