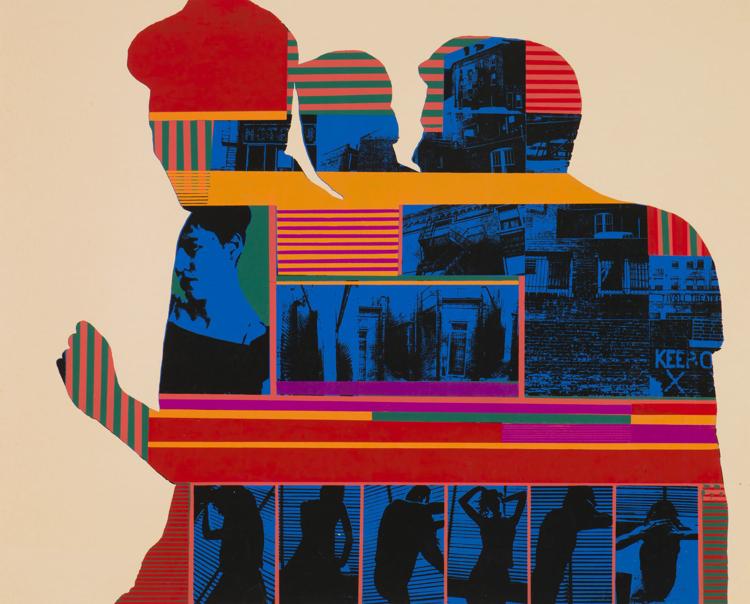 Starting this weekend on Nov. 11, bold colors, images and messages will emblazon the walls of the Saint Louis Art Museum. The art museum's latest exhibition investigates the endless potential of printmaking in "Graphic Revolution: American Prints 1960 to Now."
"People will learn about the state of American contemporary art through this show and how printmaking has influenced it in the past 60 years," notes co-curator Elizabeth Wyckoff, the museum's curator of prints, drawings and photographs.
The exhibition is arranged thematically, allowing for comparisons throughout the generations. The sheer scale of some prints might surprise spectators, as will the diverse materials used, which include plexiglass and felt. Featured prints often appear in a series, such as Andy Warhol's 10 "Campbell's Soup Cans" or the 60 works comprising Ellen Gallagher's "DeLuxe."
"We move through the decades up to the present moment," explains co-curator Gretchen Wagner, the Andrew W. Mellon Fellow for prints, drawings and photographs. "The show addresses issues of the times by covering current events [and] critiquing social norms. In the 1980s, for example, a number of artists, such as Barbara Kruger, thought about the messages that mass media presented."
Kruger worked as a designer for fashion and lifestyle magazines, including Mademoiselle, from which she drew inspiration as an artist. "Kruger turns texts and slogans found in beauty products and advertising on its head to speak about issues of gender identity," details Wagner. "Printmaking is so much about duplication and the reproduction of images. [Contemporary] artist Ellen Gallagher looks specifically at beauty and lifestyle products geared toward black audiences. She takes advertisements and reworks them to tease out the implied messages. 'DeLuxe' is a visually engaging, monumental print portfolio."
Social issues often crop up, from World War II and Korean War veteran H.C. Westermann, whose memories are portrayed throughout his portfolio, to a piece by Andy Warhol, featuring an Associated Press photo of Jacqueline Kennedy in the car with her husband, President John F. Kennedy Jr., just before he was shot.
"The cross-generational organization of the exhibit allows you to see things that are similar, [such as] topics addressed and the media's influence – and how that changes and stays the same across time," states Wyckoff.
The works presented in this exhibition come from the museum's own collections and, in large part, from private collectors and institutions throughout St. Louis. "As Elizabeth and I dug in, we realized there's been such great collecting in contemporary printmaking here in the city," shares Wagner. "It's a world-class survey with great pieces."
Printmaking continues to have a significant impact on artists today, especially with improved technologies. "Artists brought [concepts] to printers and publishers – ideas they couldn't often [implement] sitting in their own studios," Wyckoff says. "Something unexpected comes out of that synergy."
Discover how this union of creatives continues to make its mark on the contemporary art world in the museum's enthralling new exhibit.
Saint Louis Art Museum, One Fine Arts Drive, Forest Park, St. Louis, 314-721-0072, slam.org
---
"Graphic Revolution: American Prints 1960 to Now"
Nov. 11, 2018 to Feb. 3, 2019
Main Exhibition Galleries in the East Building