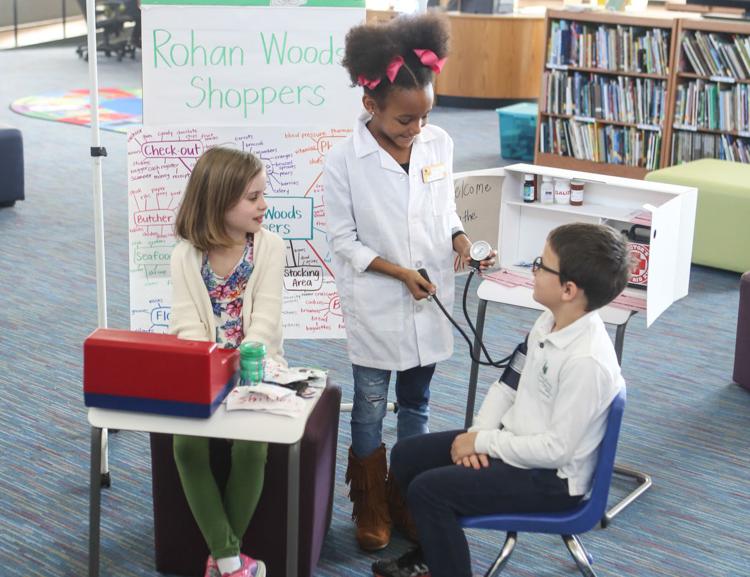 Recall the classroom in Charlie Brown: desks are filled with young minds, bored stiff and eyes glazed. Presiding over these disinterested Peanuts characters is a teacher whose instruction is unintelligible: "Wah, wah, woh, wah, wah." If only Charlie, Linus and Lucy had known about Rohan Woods School. There surely would have been more celebratory dancing.
Founded in 1937 by Helen Towles Rohan and Mary Woods, this independent school, located in Warson Woods, serves children ages two through grade six. "Mrs. Rohan and Mrs. Woods started the school with 12 children," notes head of school Sam Templin-Page. "They wanted to provide an educational opportunity for kids to learn in a small environment. It's transformational for some students."
With a maximum class size of 15 children, Rohan Woods students excel in a more personal learning environment. Unlike traditional programs in which students learn exclusively with same-aged peers, Rohan Woods promotes mixed-aged learning. "One thing that's unique about our school is that we have a focus on leadership," says Templin-Page. "Our students are in mixed-aged groups frequently for Project and specialty classes. They're not in isolation with same-aged peers. They have to interact with all different ages."
Rohan Woods also sets itself apart through its innovative, project-based curriculum. Introduced to the school in 2016, the Project Approach promotes group learning and encourages students to pursue topics that spark their curiosity. "The Project Approach gives kids a lot of ownership in their learning," emphasizes Templin-Page. Students at Rohan Woods learn to ask questions, conduct research and gain expertise in particular subjects.
At Rohan Woods, students develop crucial critical thinking and problem-solving skills, while also cultivating creativity and collaboration. "The Project Approach allows students to hone these soft skills while incorporating all of the academic skills, as well," underscores Templin-Page. "Students receive academic instruction in core subjects, but are then able to apply that knowledge in a realm of their interest."
For this year's fifth- and sixth-graders, that realm happens to be the Lego Group. "We have 11- and 12-year-olds analyzing trends in the company's business and marketing plans," says Templin-Page. Other students are investigating the educational potential of Legos. "They came up with these questions on their own," marvels Templin-Page. "It's been fascinating to listen to their conversations."
Students in the first, second and third grades turned their focus to the grocery store, examining its various departments, infrastructure and operations. "They started analyzing the cost of brand names versus store brands," says Templin-Page. "It was really interesting for them to discover that you have to budget and that you need to shop accordingly. They became aware of needing to eat balanced meals and of how much that really costs. It was so palpable to them."
The students even took a field trip to a local grocery store and met with its management team, who walked them through each department. After this excursion, they returned to school and began realizing a grocery store of their own. Working in pairs, students adopted their own departments, ranging from pharmacy to check-out. One pair selected the produce department, creating produce to display and to "sell." Another pair was responsible for the floral department and crafted both flowers and vases.
At the end of the term, students in each grade stage culminating events, where they share the knowledge that they've gleaned in their projects.
"This is a very warm community," declares Templin-Page. "People tell me that they feel at home after they've been here for just 15 or 20 minutes. We hope that parents and their children will come to our Open House and see why."
OPEN HOUSE
9 to 11 a.m. Thursday, Feb. 15.
Rohan Woods School
Held during the school day, prospective students and their parents will have the opportunity to speak with faculty and current students. Head of school Sam Templin-Page envisions the event as "an experience, in real-time, of what we're like during the day."
For parents concerned about financing private education, a "Financing Elementary Education, 529s and the New Tax Code" workshop will run every 15 minutes during the open house, beginning at 9:30 a.m.
For more information:
Rohan Woods School, 1515 Bennett Ave., Warson Woods, 314-821-6270, hello.rohanwoods.org/LadueNews