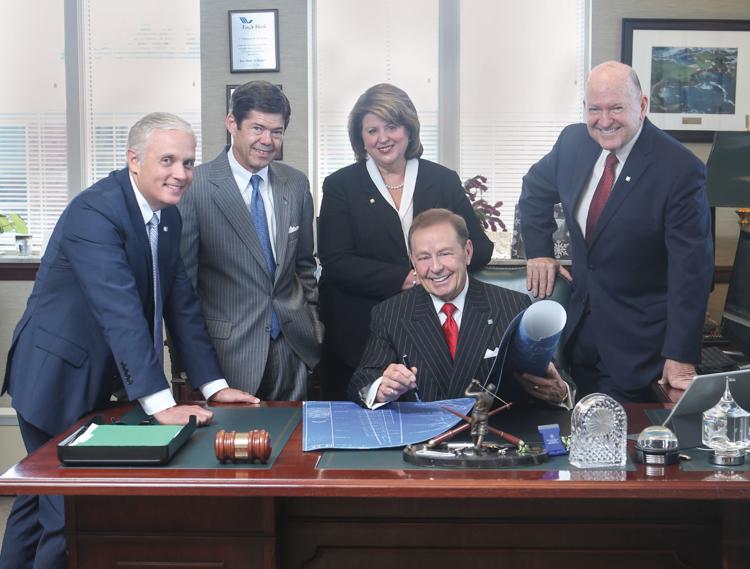 It's 11:30 a.m. on a humid summertime Saturday. You promised the kids a special, midday frozen treat, but you must run to the bank before it closes at noon. What do you do? Disappoint the little ones, or risk delaying an important transaction?
If you're a Reliance Bank customer, then the problem is moot. At the bank's Rock Hill branch, you can fulfill all of your banking needs, while the kids grab a shake or a rainbow sprinkle-dusted concrete from the St. Louis Frozen Custard Factory next door. Debuting in June 2017, this branch is simply another example of Reliance Bank's commitment to partnering with local businesses to maximize building space, plus boost income and foot traffic.
"With the availability of mobile banking and the internet, banking is done a lot differently these days," declares Thomas H. Brouster Sr., chairman and CEO of Reliance Bank. "It's difficult to get customers to come into branches. For the most part, banks end up with branches that are far larger than they need to be."
Reliance Bank, however, is not one of those banks. Together, Brouster Sr. and Gaines S. Dittrich, vice-chairman and chief credit officer, are pioneering a new path for community banking in the age of digital displacement.
"We decided to take the extra space in our branches and find tenants with whom we could have cooperative relationships," explains Brouster Sr. "This allows us to generate rent revenue, which helps offset some of the costs of owning and operating these buildings. Leasing to a tenant also gives us the ability to draw people back into the bank, and creates an opportunity for us to sell our services."
So far, Reliance Bank has converted nine of the 22 branches it has scattered across the bi-state area, leasing space to businesses ranging from Berkshire Hathaway HomeServices Select Properties in Des Peres to Edward Jones in Wildwood to the United States Post Office in Manchester.
Reliance Bank also uses the arrival of each new tenant as an occasion to modernize its own spaces. Stepping into the lobby of one of its branches is more akin to entering a boutique hotel than a standard financial institution. And, each renovated branch is equipped with state-of-the-art technologies, including tech bars and integrated teller machines (ITMs). Like an upgraded ATM, the touchscreen-capable ITM connects customers with a teller working remotely from the bank's corporate headquarters, thereby streamlining and centralizing operations, without sacrificing personal interaction.
This novel formula of adapting branches to better serve and support area communities has proven remarkably successful for Reliance Bank, which formed 19 years ago.
"The bank is having a great year, and we're not done yet," proclaims Brouster Sr. In early July, Reliance Bank debuted its newly-renovated O'Fallon, Illinois branch, which brings with it the first Lion's Choice in the Metro East. In just the initial two weeks of opening, the new restaurant has already posted the highest sales record – of any location – in the chain's history.
In mid-August, the bank's main branch, situated at the bustling corner of Clayton Road and Lindbergh Blvd. in Frontenac, will welcome Park Avenue Coffee as a new tenant. With a grand opening scheduled for September 10, the local coffee shop will serve beverages, sandwiches and salads, as well as various flavors of its signature gooey butter cake.
"We hope to continue fitting the right business with the right building," says Brouster Sr. "It's a winning partnership for the bank, for the tenant and for customers. As a community bank that's locally owned and managed, we're dedicated to serving the communities where our branches are located."
Reliance Bank, various locations, 314-569-7200, reliancebankstl.com