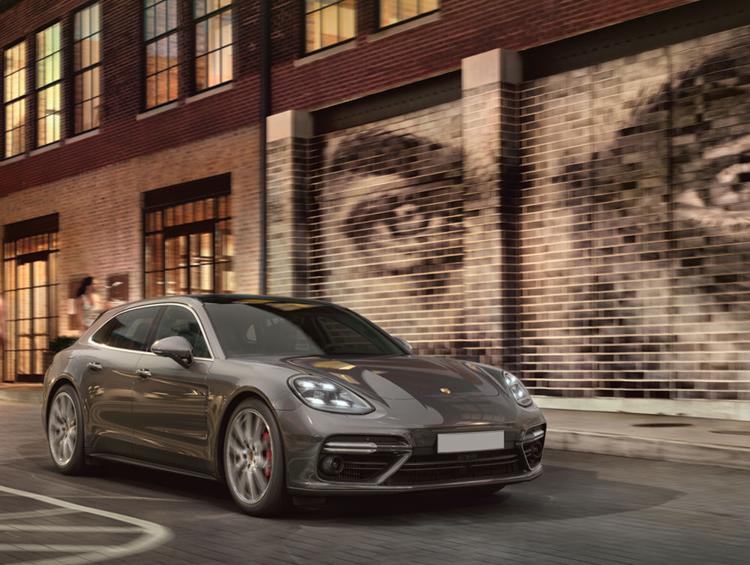 Thrilling sports cars often prove impractical as go-to vehicles for everyday errands, like taking the kids to school or toting clients around. Recognizing the need for a powerful, exciting vehicle with space for everyday life, Porsche developed the Panamera Sport Turismo – a 4-door sedan coupled with the fierce style and impressive power of a sports car.
Making its debut in March at the Geneva International Motor Show, the Sport Turismo recently arrived at United States dealerships. To satisfy drivers' need for speed, the Panamera Sport Turismo has four available engine options: a 3.0-liter turbocharged V6, 2.9-liter twin-turbocharged V6, 4.0-liter twin-turbocharged V6 or 2.9-liter twin-turbocharged V6, accompanied by a 136-horsepower electric motor in the hybrid model. Generating 550 horsepower in the most powerful engine, the Panamera Turbo Sport Turismo reaches 60 miles per hour in just 3.4 seconds.
Unparalleled power wasn't the only goal for the designers of the Sport Turismo. They created a vehicle both sleek and spacious, seating up to five passengers comfortably and, in addition, offering 18-plus inches of storage capacity. The Sport Turismo proves efficient for the day-to-day commute and also ready for road trips, with an optional luggage compartment management system.
The extendable roof spoiler, dynamic proportions and a stunning silhouette give the Sport Turismo that undeniable Porsche aesthetic. "For Porsche, the Panamera Sport Turismo is a step forward into a new segment – but it retains all of those values and attributes characteristic of Porsche," Michael Maeur, director of style at Porsche, says.
The sporty style coupled with the engine's great power would be incomplete without Porsche's technological advances. The Sport Turismo boasts the digital Porsche advanced cockpit, InnoDrive, communication management, adaptive cruise control, electronic roll stabilization system and traction management.
"The versatile vehicle really provides the best of both worlds," James Drake of Porsche St. Louis says. "It has the space and convenience of being a family sedan while maintaining Porsche's iconic power and excitement on the road."
Test the Panamera Sport Turismo at Porsche St. Louis' state-of-the-art dealership. With expanded offerings to meet the many needs of a wide range of customers, Porsche has pushed the limits of what a sports car can be.
Porsche St. Louis, 2970 S. Hanley Road, St. Louis, 888-377-4319, porschestlouis.com