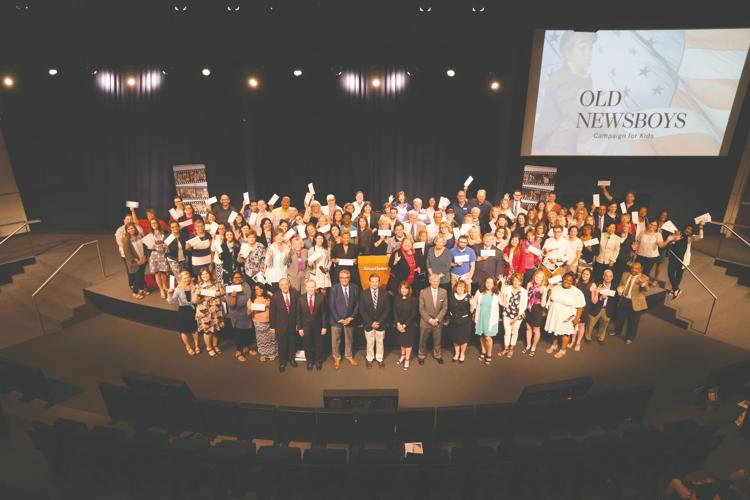 For 60 years, Old Newsboys supporters have worked tirelessly to help hundreds of local charities.
The campaign, which was founded in 1957, is a volunteer-driven charitable project of the St. Louis Post-Dispatch. To date, Old Newsboys has raised more than $20 million for local charities. Last year, campaign supporters raised nearly $700,000 for more than 200 charities in St. Louis. Billy Busch, this year's chairman, has even higher hopes for this year.
"We'd love to raise close to a million dollars this year," he says. "We're helping provide care for kids and their basic needs, whether they don't have a toothbrush or shoes or school supplies."
This is Busch's second year as chairman, though he's no stranger to the Old Newsboys community. His father, Gussie Busch, chaired the campaign just 10 years after its founding.
"My favorite part of this campaign is meeting the people involved," he says. "Sharing a common goal as a team with all of these wonderful people who have the passion and desire to give back to St. Louis charities is great to see. People here really care about St. Louis and its children."
In addition to the 2017 goal of $1 million, Busch hopes to pass the chairperson reins on to someone new next year.
"We're always trying to find new people to get involved with the organization," he says. "I'm hoping to find someone [to be the 2018 chairperson] who's very passionate about these kids and giving back to St. Louis."
He doesn't anticipate this being a problem, though, since the organization has so many supportive and well-connected people involved.
"We'd love to get more organizations behind us," he says. "New sponsors and new honors will help us reach that goal of $1 million. I know we can do it."
Every Thursday before Thanksgiving, supporters of Old Newsboys hit the streets of St. Louis for a special part of the campaign: Old Newsboys Day. This Nov. 16, thousands of volunteers will sell a special issue of the St. Louis Post-Dispatch newspaper written by local high school students. The special edition highlights     the regional charities that benefit from Old Newsboys funding.
"Old Newsboys Day is the biggest day for our campaign," Busch says. "Everyone is busy and has a lot going on, but when you see how much the people in this organization truly care about what they're doing, it's so gratifying."
This past spring, Old Newsboys was able to allocate the money raised in 2016 to local charities. Some of these included Big Brothers Big Sisters of Eastern Missouri, St. Louis Crisis Nursery, Voices for Children and many more. The money is distributed to small nonprofits in the form of grants. Old Newsboys focuses on helping nonprofits that have small budgets and limited resources.
"I'm very lucky and fortunate to be the chairman of such a great organization," Busch says. "To give back to children in need is something I truly love doing."