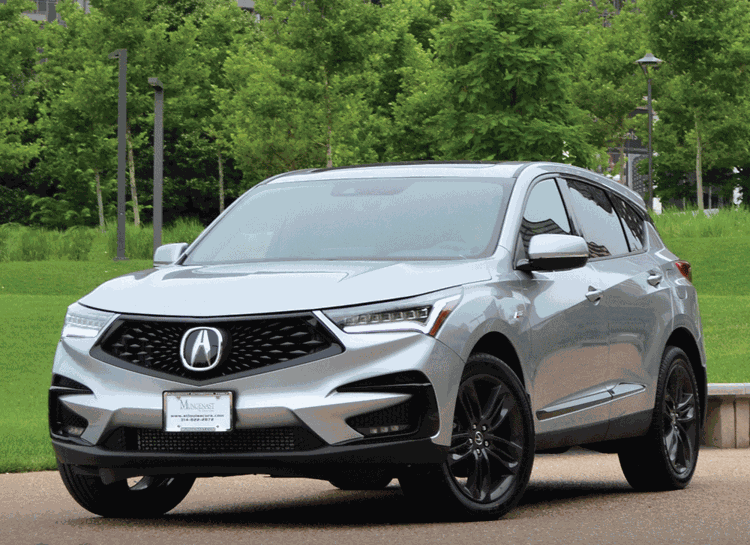 It's evening rush hour and you're trying to change the SiriusXM channel from "Classic Rewind" to "90s on 9," when a phone call pops up on the screen via Bluetooth. Fingers fumble and, all of sudden, you've not only dropped the call, but also landed on the "Outlaw Country" station.
While the technological bells and whistles that have now become standard in new car models offer a host of benefits, they also bring an extraordinary level of distraction. The 2019 RDX – Acura's redesigned, mid-size luxury SUV – combats these complications with a streamlined interior and high-tech features that prioritize the driver's comfort, convenience and safety.
"This is one of Acura's first from-the-ground-up designs to feature the new Precision Crafted Performance mindset," states Brad Galibert, general sales manager at Mungenast St. Louis Acura. "For the client, that means they're getting the very latest Acura technology, which is even more advanced than that of our competition."
"For the past year and a half, Acura has shown a prototype cockpit at various auto shows," explains Bill Dauben, the dealership's general manager. No longer just a prototype, the cockpit now achieves full form in the new 2019 RDX. "Everything, from the seating configuration to the comfort of the seats to the layout of the steering wheel and buttons, is designed so that drivers can easily interact without taking their eyes off the road," he explains.
One highlight of this newly-reconfigured cockpit is the True Touchpad Interface, which splits the display screen from the touchpad. The display screen is now positioned nearer to the driver's field of vision, with the touchpad lower down and easier to control by hand. Touch anywhere on its surface, and the "absolute positioning" will be reflected at the corresponding spot on the display in front of you. The first system of its kind to appear in any Acura model, the True Touchpad technology allows drivers to engage more seamlessly with the car's infotainment system, while also minimizing the potential for distracted driving.
It's not just the interior of the 2019 RDX, whose previous model was in production from 2013 to 2018, that's received an upgrade. "The ideal consumer for this vehicle is someone who is looking for cutting-edge technology, yet also appreciates sleek design," stresses Dauben. "The 2019 RDX is aesthetically pleasing, and is receiving an overwhelmingly positive response from clients."
As a mid-size luxury SUV, the 2019 RDX meets – and exceeds – the needs of single buyers and families alike, and the team at Mungenast St. Louis Acura is excited about its potential for consumers. On Wednesday, July 18, from 5:30 to 8 p.m., the dealership will host a launch party, complete with live music and entertainment, plus hors d'oeuvres and cocktails. While guests mix and mingle, the artist Vesna Delevska will paint a live portrait of the SUV from start to finish. Attendees will not only be able to test drive the new model or ride along with a salesperson, but will also be eligible to win a grand prize: a choice between a pair of Christian Louboutin shoes or a bespoke J. Hilburn suit, both valued at $1,000.
"It will be an evening of entertainment, without pressure," assures Dauben. "We just want people to come out and look at the all-new RDX." Perhaps most importantly, Dauben and Galibert would like to introduce customers to Mungenast St. Louis Acura, the only Acura dealership in the nation to be honored with the brand's Precision Team Award for 26 years running. "It's the highest honor a dealership can receive in the areas of customer service and sales performance at a national level," emphasizes Galibert. "And, we're a family-owned, family-style dealership."
Mungenast St. Louis Acura, 13720 Manchester Road, Manchester, 314-714-4567, stlouisacura.com
---
2019 Acura RDX Launch Party
Enjoy an evening of live music and entertainment, plus delicious hors d'oeuvres and drinks.
Test drive the all-new 2019 Acura RDX, and enter to win a luxurious grand prize: your choice of a custom-tailored J. Hilburn suit or a pair of Christian Louboutin shoes.
Wednesday, July 18, 2018 from 5:30 to 8 p.m. Mungenast St. Louis Acura
To RSVP, visit gatewayareaacuradealers.com/msla.