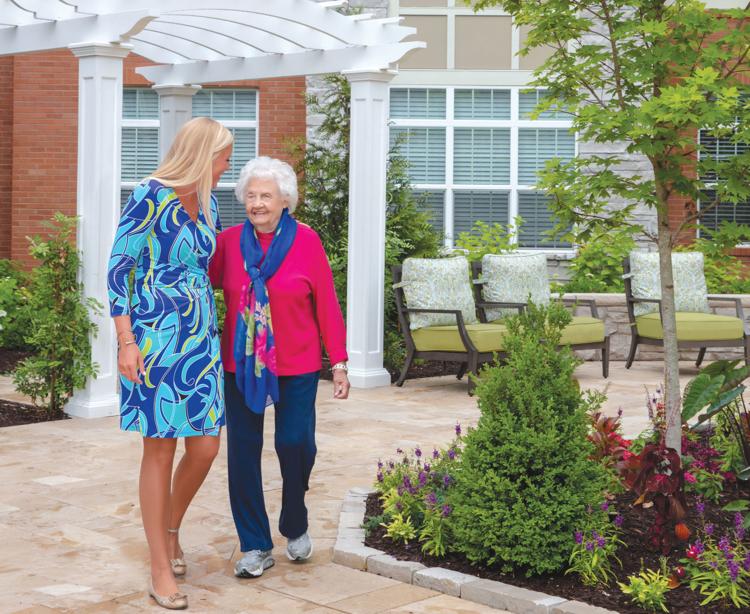 Sit and talk with a senior, and they might tell you how much living is still left after one's youth comes and goes. If they are a resident of McKnight Place Assisted Living & Memory Care, they might then tell you that, regardless of that fact, their community offers them a multitude of opportunities to continue living a fulfilled life.
"At McKnight Place, we encourage residents to maintain their active lifestyle, and strive to adapt our activities calendar to reflect this," says Laura Ritthamel, assistant administrator. "Social events, educational programs, meaningful activities, spiritual services, recreational and exercise-oriented classes, and creative arts activities are all important components of our programming."
Ritthamel has a deep appreciation for senior living communities that understand the importance of going well beyond the basics for their residents.
"My late grandmother lived in senior living at The Gatesworth communities for many years," she says. "This gave me the personal, family-member perspective of the need for personalized care, purposeful activities and meaningful relationships, which, I believe, has led to my success within the organization."
Ritthamel became involved with senior living through volunteer efforts. During a summer internship with the organization, she recognized the sincere efforts made by the team at McKnight Place. "I was impressed by the exceptional service, beautiful environment, devoted staff and delightful residents," she remembers. "I knew this was where I wanted to build my career." After college, she returned to McKnight Place. Ritthamel first began in the activities department, and then transitioned into administration, where she currently serves, with a nursing home administrator's license.
One resident attests that this noticeable investment by McKnight Place and its team makes a significant impact in the daily lives of tenants. "I love the people here, the service with a smile, the food and the special events," says Bobbie Moon.
At McKnight Place, programming takes priority because the organization understands how diverse scheduling can enhance the lives of its residents through engaging activities. A prime example of the invigorating activities on offer is News & Brews, which invites residents to take part in a discussion of current events, while indulging in fresh coffee and pastries.
"McKnight Place is committed to tailoring the activity program to the interests, requests and passions of our residents," explains Ritthamel. "There is nothing our activities department is not willing to try!"
The department has taken full advantage of the property's lush landscaping and adapted activities for outdoor fun, as well. "Our gardens are beautiful!" exclaims Moon. "I love taking walks and soaking up the sun. I especially enjoyed a recent concert in the courtyard."
McKnight Place also encourages residents to shine a spotlight on their individual talents, like Harriet Marks, who enjoys playing piano for fellow residents once a week. "This brings her joy, purpose and a sense of accomplishment," says Ritthamel.
Another way in which the department caters to residents is by creating a "staycation" experience for those who have moved to campus from out of town. The unique experience allows residents to get to know or reacquaint themselves with trademark sights, and the history and tastes that have shaped St. Louis.
"Residents and their families are often amazed and excited by the programming and events we provide," says Ritthamel. "The main feedback I have received is about the difficulty in deciding which program to attend due to the multitude of great things going on all at once!"
Ritthamel continues to build on McKnight Place's legacy, with the intention of providing residents a life they love to live day in and day out. "Our exceptional services make life easier," she notes. "Our programming makes life fun and meaningful – and it fosters lifelong learning."
McKnight Place Assisted Living & Memory Care, Three McKnight Place, St. Louis, 314-993-3333, mcknightplace.com