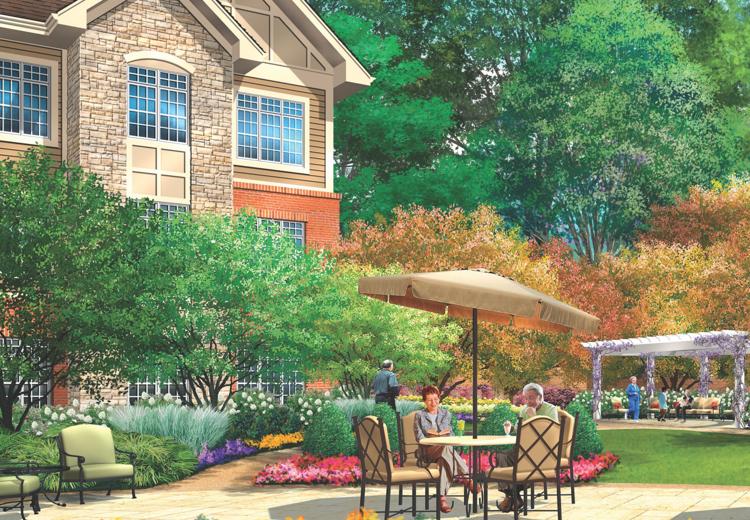 McKnight Place Assisted Living elevates seniors' lifestyles – and with new construction, its vision of everyday elegance is as clear as day. "Residents always have had a good experience here," Bob Leonard, partner and director of operations, says. "Our goal is to give a better experience by updating the community with larger living spaces and more options in this state-of-the-art living residence."
At the center of the senior living community's care is the importance placed on restoring residents' independence.
"We empower residents by offering choices," he explains. "It's hard for some people to leave their home, where they've maybe been for 30 or sometimes 50 years. They think they are living an independent lifestyle, but by moving into a community like ours, they discover even more independence. Any kind of maintenance they've been saddled with, such as fixing shingles or mowing the lawn, is taken care of by us. They don't have to worry about going to the grocery store. McKnight Place opens their lives to doing more of the things they want to do."
Expanding the community was a natural next step for the company. A new section of McKnight Place Assisted Living is set for completion this fall, offering larger residences and additional amenities. "You walk into the new apartments and are greeted by the look of wood as well as soft carpet," Chris Leonard, VP of GateCo Development, describes. "All living areas and bedrooms have 10-foot ceilings. Many of the apartments have walk-in closets. Apartments all offer kitchenettes, with granite counters, and large vanities. Huge Pella windows provide lots of natural light, and decorative crown molding gives a homelike feel." The bathrooms marry luxury and safety by offering spaciousness and a zero-entry shower, with grab bars available. Plus, the living spaces aren't the only areas to receive an upgrade.
"The residential lounges feature a fireplace, bookcases, lovely furniture and built-in televisions," Chris Leonard adds.
Those lounges serve as a center point for each part of the building, says Bob Leonard, which gives a feel of different neighborhoods. "The goal is to make the community feel like an all-inclusive, resort environment," he comments. Amenities go a long way to create that vibe, such as a new theater, a billiards room, a full-size gym and two courtyards connected by walking paths. Additional amenities include a greenhouse, a beauty salon and opportunities to learn from an art instructor or catch a music performance.
Even the dining experience offers individualization, with personalized menus and fantastic eating spaces, from the bistro to the two-story fine dining area. "Chef Anthony [Lyons] had a lot of input on the second commercial kitchen's design and equipment, so that we can have an à la carte menu, with selections made to order for residents," Bob Leonard says. "Being our own contractor gives us so much more control over quality. We understand what our residents want – and so do our subcontractors, who have worked with us on many projects."
Chris Leonard confirms. "There is a seamless relationship between the contractor and leadership," he says, noting this allows them to closely evaluate client needs. "In the event of a power outage, we now can run 100 percent of the community's power with our new full generator backup."
McKnight Place Assisted Living is an extension of The Gatesworth, which gives residents access to a full continuum of care, from independent living to skilled nursing. The expansion opens in fall 2017 and is now accepting reservations. Once construction is complete, McKnight Place will even offer a memory care unit. "We are locally owned and operated," Bob Leonard says. "The key to our success is the management team and wonderful staff. All three owners have offices on campus. Our worry-free pricing is all-inclusive, making it simple and predictable. If your needs change, your costs won't."
McKnight Place Assisted Living, Three McKnight Place, Ladue, 314-993-3333, mcknightplace.com, gatecodevelopment.com