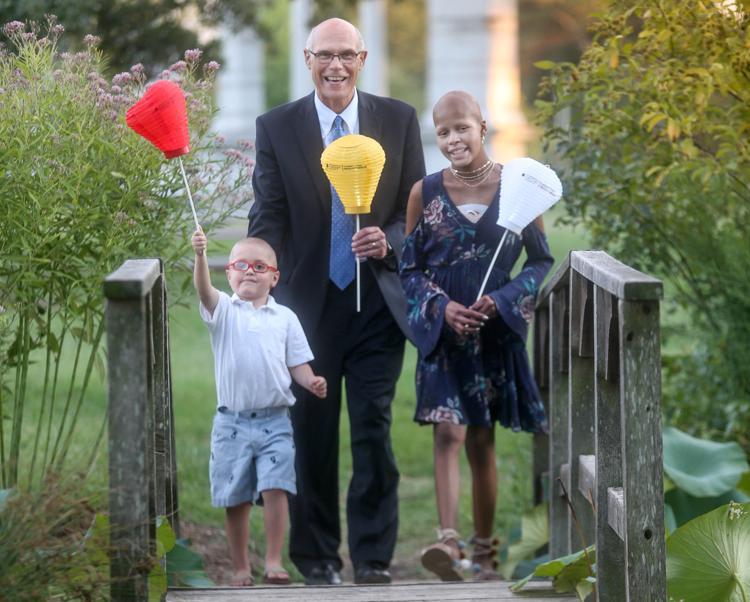 Every September, thousands gather in Forest Park at twilight for the Leukemia & Lymphoma Society's (LLS) Light the Night Walk. Attendees light colored lanterns and walk through the park with one unified goal: working toward a cancer-free world.
Participants of LLS's Light the Night Walk have all been touched by cancer in different ways. Some are cancer survivors, some currently have cancer and some have friends or family members battling cancer. Some also attend to remember those who lost their fight to cancer.
The evening will begin at 5 p.m., with a powerful survivor ceremony beginning at 7:15 p.m. The walk will begin at 7:30 p.m. Participants will be able to honor their loved ones at the Remembrance Pavilion, which will be open all evening long. The night will conclude with a fireworks finale around 9 p.m.
Ameren CEO Warner Baxter, this year's event chairman, says last year's event attracted 18,000 attendees, and he's hoping for another large turnout this year.
"The St. Louis event is the 14th largest amongst the 200-plus Light the Night walks in the country," he says. "Since 2014, the St. Louis walk has nearly doubled in attendees and grown revenue by more than 30 percent."
In 2017 alone, the Gateway Chapter has invested $5.9 million in research to find cures, advocating for access to those cures passing oral chemo parity in Arkansas, Illinois and Missouri; contributed more than $2 million in financial aid to patients; served more than 5,000 patients and families with financial support, education and support groups; provided information on cancer and volunteerism in 430 schools; and supported children returning to school after treatment.
Baxter says the goal for this year's walk is $1.3 million, which will all go toward supporting local patients and families.
"The Light the Night event brings light to the darkness of cancer and brings families together in a large support group – all who are fighting to find a cure," Baxter says. "I'm looking forward to thousands of people from our great community coming together for one evening, standing shoulder to shoulder and hand in hand to help beat blood cancer, to support the real heroes in the fight against cancer – the patients, the families, the caregivers, the doctors and the researchers – and to honor those we have lost to this disease."
Honored Heroes
During this year's walk, LLS is honoring two children who are battling cancer. Four-year-old Thomas Lorenz has been fighting B-cell acute lymphoblastic leukemia since his diagnosis last October. His mom, Carol Anne Lorenz, says her family has a long history of leukemia. Her brother had it when he was 3 years old and again when he was 18.
"One of the neat things I've gotten to see through this amazing organization is how the treatments and protocols have been bettered by groups like LLS," she says. "Thomas has high-risk leukemia, and it's good to know someone is in my corner and fighting for my child."
Twelve-year-old Jadyn Williams is another honored hero this year. She was diagnosed with acute myeloid leukemia after Christmas last year and is currently receiving chemotherapy. Her father, Quentin Williams, says that his family is proud to be a face for LLS this year.
"[They've] provided our family with the opportunity to share Jadyn's story with others, so they can be inspired to have hope in fighting this disease," he says.
Williams says when you come to the realization that cancer has "smacked you in the face," emotions run high. Having an organization like LLS that has the resources to provide the pertinent information has been a huge blessing, he says.
"You need to know that organizations like LLS are working toward finding a cure because you are praying, hoping and asking for a cure for that loved one – in our case, our daughter."
Become a part of LLS's Gateway Chapter by visiting lls.org/gateway or calling 314-590-2230.
Light the Night Walk
Sept. 23 | Forest Park
Cricket Field | Register online at www.lightthenight.org/gat