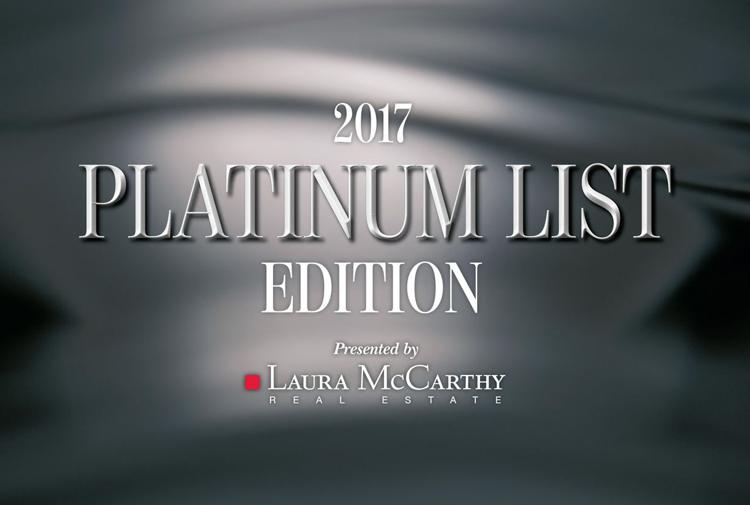 As consumers, we make tough choices every day – from picking a restaurant that offers the best type of food for our children to choosing a real estate agency that understands what homes suit our lifestyles. Advertisements may lead us in one direction while reviews dictate we go in another, but only one true measure proves we've picked the right product or place to suit our individual needs: trying it out for ourselves. Ladue News makes that decision-making process a snap with its annual Platinum List – and it's all thanks to you, dear readers, who have explored, sampled and determined which area businesses are the best.
"As this year's Platinum List sponsor, it is a good opportunity to promote our company [and] St. Louis businesses," Kathy Beilein, president of Laura McCarthy Real Estate, says. "Companies who win are elevated in the eyes of the public. It gives you cred in your industry. Local businesses are part of the fabric of a community. It's in all our best interests for local businesses to thrive … to draw attention to the fact that [these companies] are made up of hardworking, successful people." Her company is thrilled to be included on the list. "I see firsthand how hard my agents work. We are devoted to customer service as a company and down to every agent. It's nice to be recognized," she shares.
Behind every business is a team of hardworking St. Louisans, striving to impact the area in positive ways. "The Platinum List celebrates the relationship between customer and business owner, and the sense of community created when the two come together," Andrea Griffith, general manager of Ladue News, says. "We are fortunate to have wonderful local businesses in abundance, providing essential products and services while building positive relationships and delivering excellent customer service."
For the second year in a row, Ladue News brought the Platinum List to life through an exclusive March 2 event held at Palladium Saint Louis. "The party connects our readers with the businesses and people who make a difference in their lives," Griffith comments. "A wonderful extension of the list, it brings patrons and providers together to celebrate this special relationship."
Polls opened on Jan. 4 to the public, giving the community an opportunity to recognize the plethora of businesses that make that difference in their daily lives. "Celebrating local businesses and the hardworking, talented individuals who bring them to life is at the core of what we do at Ladue News," Griffith explains. "We are a community magazine looking to share good news and connect readers with the best our area has to offer. Our Platinum List honorees are known for providing outstanding products and exemplary customer service. We want to shine a bright light on their commitment and dedication."
Check out our photos from the Platinum List Party here!
RESULTS