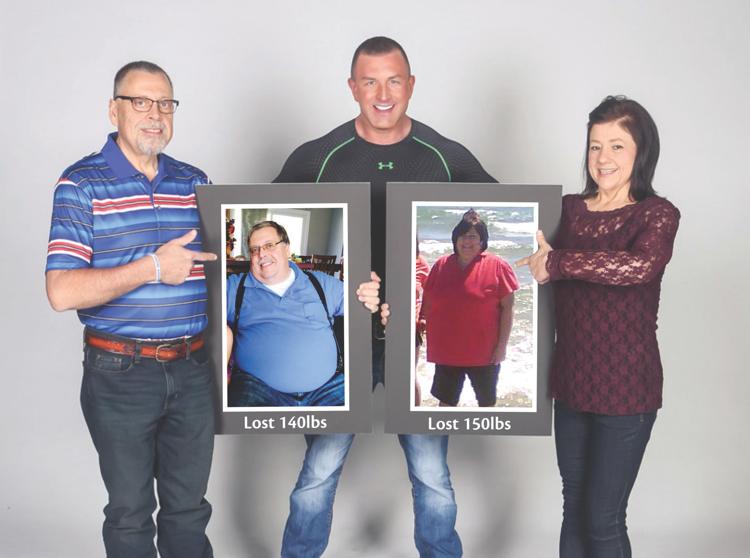 There comes a day when the number on the scale is too frightening, or the doctor's reports are too alarming. On that day, one call to Charles D'Angelo might just change your life.
"Every client is unique and has their own story," the weight loss expert says. "We all can console ourselves by using distractions in response to fear and feelings. When we develop more trust in ourselves, we find real power. We can embrace a healthy approach to eating and exercise. The work I do with clients is in that space – helping to disconnect emotionally from food and gaining the freedom they deserve."
Ralph Staiert reached his turning point when those closest to him feared the toll on his lifespan. Taking a multitude of medications and using a C-pap machine, he knew he needed a plan that would stick – not a quick fix. His wife, Wendy, introduced Staiert to D'Angelo when she found an article on the celebrity coach in their local newspaper, eMissourian.
"The way I was going, I was afraid I might lose my life," Staiert says. "In October 2016, I weighed 330 pounds. I met with Charles in February and signed up with him that same day."
Staiert originally viewed food as a comfort or reward. "The biggest obstacle was retraining my mind," he admits. "With encouragement and insight from Charles, I realized I used food as a crutch. I no longer come home and camp out in front of the T.V. Instead, I am active again. I no longer pull myself up steps. I now run up them two at a time. I am extremely motivated and can taste my final goal – pun intended."
Today, he has lost 140 pounds, with only 10 pounds to go. His wife also achieved her weight loss goal, shedding 95 pounds. "All because we had the courage to get up off the couch and make that first phone call," Staiert reflects.
D'Angelo helps clients to recognize that success can take a non-linear path. "A wise man once said, 'Every discipline effects every other one,'" he remarks. "When you learn to keep a commitment to yourself, your self-esteem sky rockets. The ripple of changes go far beyond the numbers on the scale dropping."
Darlene Copeland witnessed an approach to weight loss unlike any other. "Instead of fixing the obvious problem, D'Angelo solves the issue at the core," she says. "The whole process is self-discovery. I peeled back layers that told me I had to be perfect or else I was a failure. For the first time in my life, I realize I don't need the approval of others – just consistent progress."
Copeland lost a total of 150 pounds, but what she gained has left a true mark on her. "I have had a year of heartache," she shares. "I am thankful to have something in life I can control: The exercise I do and food I eat. Charles helped me understand my power – the power of my choices."
Jamie Loftus experienced a revelation when faced with her own reflection. "At the start of 2017, I did some soul searching," she says. "I saw Charles on television and made the call. At my first meeting, I thought, 'This is the time. I can do this!' I started the program weighing 258 pounds. Today, I weigh 165 pounds."
Though D'Angelo's plan has simple steps, the physical and mental transformation requires hard work and dedication. "I now love how I look, feel, act – and I will not go back," Loftus declares. "The most rewarding part is having my confidence back. I am a better person for it and for the other people I can affect."
D'Angelo helps clients redesign their lives by changing their mindsets and teaching them to embrace discipline."People who come to me aren't really asking to just lose weight," he says. "They are looking to feel better about their lives. Getting their energy and health back in order is the first step in that process."
Charles D'Angelo, St. Louis, 314-495-3228, charlesdangelo.com