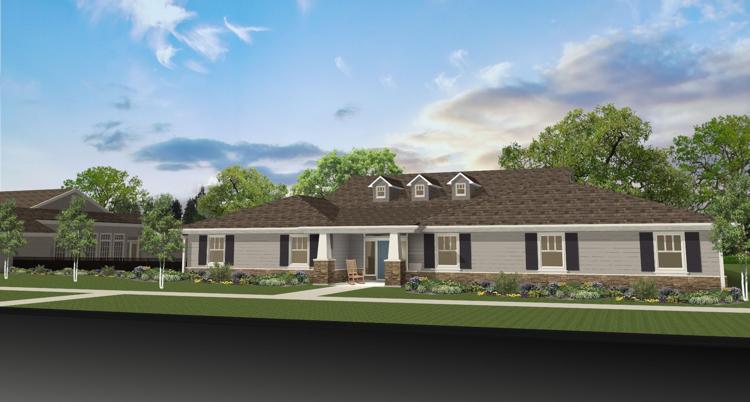 At Cottages of Lake St. Louis, elders enjoy fulfilling lives, quality care and positive relationships. The community consists of small, 10-person households with state-of-the-art amenities, rehabilitation and consistent, friendly caretakers.
Christie Tutschulte, a member of the ownership team at Cottages of Lake St. Louis, says the community, which opens in mid-January, will be the first skilled nursing community in Missouri to be built on the Green House Project model. The Cottages of Lake St. Louis consists of six 10-person cottages, each designed to look like single-family homes in the surrounding neighborhood. The homes feature high ceilings, large windows for natural light and private bedrooms, each with a private bathroom.
"There's one kitchen table in each cottage, so everyone eats together," Tutschulte explains. "Each cottage chooses what they want to eat, and its elders can spend meal time together."
One thing that's different from many other senior living communities is the skilled nursing staff. Staff members work in just one cottage, so they get to know their elders and what they're like. Meals are cooked and shared in the cottages, enjoying conversation and the smells and sounds of a busy kitchen.
The cottages feature lift track systems in each room that can take people from the bed to the shower and to the bathroom. Every room has its own bathroom, "to give the elders the dignity and privacy they deserve," Tutschulte says.
The community also allows the elders to make their own decisions about their health care, so if an elder wants to eat at a certain time or take his or her medication at a certain time, that's respected. The staff members get to know the elders' preferences, allowing them to tailor their own schedules to suit individual lifestyles.
Cottages of Lake St. Louis is built around the values of a real home, empowered staff and a meaningful life. Just as the meals of the home are dictated by what the elders want, it's the same way with how the home works. State-of-the-art therapy, nursing and activity services are an integral part of the community's wellness plan, and elders can enjoy a relaxing spa amenity as well.
Since Cottages of Lake St. Louis is a skilled nursing community, a licensed physician supervises each patient's care, along with the nursing team that works 24 hours a day. In skilled nursing, services such as physical therapy, occupational therapy, speech therapy, and X-ray and laboratory work are available in-house, as are wound specialists and psychiatrists.
Tutschulte says the community will be "opening slowly" and notes that the staff wants to "do it right and get to know each person."
To learn more about Cottages of Lake St. Louis, visit cottageslsl.com or call 636-614-3510.
2885 Technology Drive, Lake St. Louis, 636-614-3510, cottageslsl.com