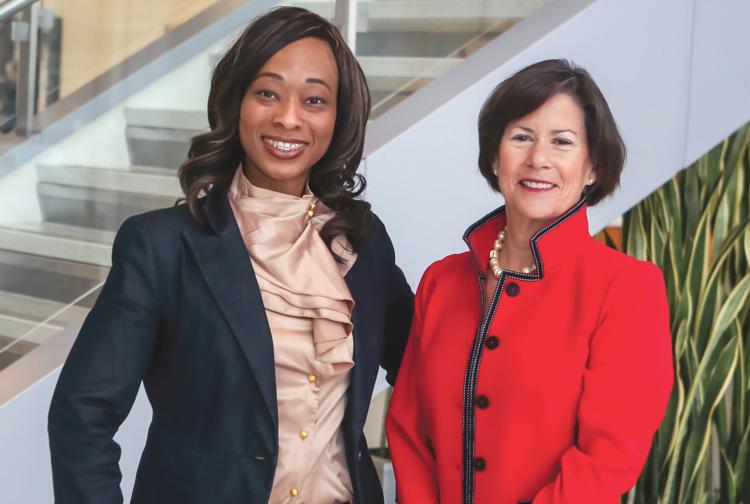 History and Mission:
Founded in 1956, the St. Louis Psychoanalytic Institute promotes mental health and well-being through psychoanalytically oriented education, research and treatment. As a learning and resource center for psychoanalytic professionals, students and the community, the Institute's reach is vast.
Through post-graduate and continuing education programs, the Institute provides superior psychoanalytic training to mental health practitioners. Committed to making quality instruction both affordable and accessible, the Institute offers a variety of scholarship opportunities, and, in 2017, awarded more than $30,000 in funds to qualified students.
A vital and necessary resource, the Institute's Herbert S. Schiele Clinic offers cost-effective, professional psychotherapy services to the community. Staffed by a team of advanced clinical trainees in psychiatry, clinical psychology, counseling psychology and social work, the clinic operates on a sliding-scale payment system, with average fees costing less than $23 per hour.
As part of its community education program, the Institute also invites renowned educators and experts to deliver lectures and lead seminars. Open to the public, these dynamic events are designed to illuminate issues relevant to psychoanalysis and the human experience, from politics to art.
About the Spring Fling:
Spring Fling honorary co-chair Larry LeGrand was largely unaware of the Institute's scope when a friend approached him about joining its board nearly 15 years ago. During his tenure, however, LeGrand has witnessed first-hand the Institute's impact on the community. "We're touching hundreds of lives," he emphasizes. "One of the reasons the Institute exists is to provide education and analysis for the greater good."
"Mental health issues are so widespread," says Dot LeGrand, fellow honorary co-chair and Larry LeGrand's wife. "The Institute offers something for everyone, whether you're suffering from mental illness or not. The most important thing we can do is to make people aware of the resources available in our city."
In recent years, the Institute has become even more focused on community outreach and education. "As a board member, our outreach program keeps me engaged in the process," Larry LeGrand says. "Mental healthcare is totally underfunded. It's not an area of healthcare that we focus on. Through our Schiele Clinic, and by training people, we make access to mental healthcare cost-efficient."
The Institute's 10th annual Spring Fling event is a chance to mix, mingle and fête the inaugural recipient of the K. Lynne Moritz, MD Leadership Award, which was established to honor faculty leaders.
As the organization's only board-sponsored fundraiser, the Spring Fling is also an important opportunity for the Institute to promote its mission. "About 10 years ago, [the event] came into existence to raise specific funds to promote scholarships, to underwrite the Schiele Clinic and to further outreach development," explains Larry LeGrand. "It's a significant portion of our overall budget. And, it's a big part of telling our story."  
Spring Fling co-chairs, Deanna Taylor, of Edward Jones, and Nancy Lieberman, founder & president emeritus of GO! St. Louis.
WHAT/WHEN/WHERE:
10TH ANNUAL SPRING FLING
Thurs., April 19, 6 to 9 p.m.
Majorette, 7150 Manchester Road, Maplewood
General Admission: $150
Join honorary co-chairs, Larry and Dot LeGrand, for "One Seriously Fun Party!" The evening will feature live entertainment and delicious food, plus the announcement of the inaugural recipient of the K. Lynne Moritz, MD Leadership Award.
For ticket and sponsorship information, call 314-361-7075 (ext. 326) or visit stlpi.org/spring-fling-2018.
Special thanks to the following sponsors:
Edward Jones
Centene Charitable Foundation
Plancorp
Larry and Dot LeGrand
Protiviti
Dee Dee and Eliot Simon
Wells Fargo Capital Finance
World Wide Technology, Inc.
AccuCare Home Health Care of St. Louis
Kitty Bollinger
Burds & Kuntz, PC
Hope Edison
Ernst & Young LLP
The Northern Trust Company
Regions Bank
The Silk Foundation
Trustees Susan and Richard Kofkoff
and Gary Godwin
Janie and Sandy Sommer