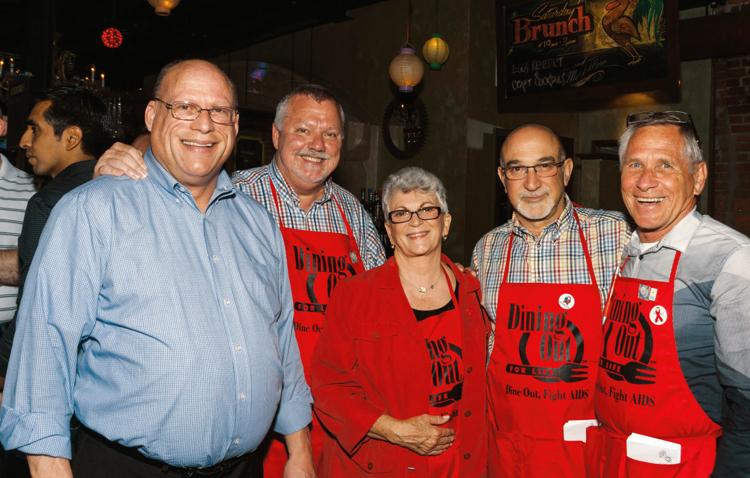 History and Mission:
"One of the most amazing things about the organization is that its mission has remained the same," marvels Cheryl Oliver, executive director of Saint Louis Effort for AIDS (EFA). Launched in 1985 by a group of volunteers, EFA is the region's oldest AIDS Service Organization (ASO). The nonprofit's mission is simple, but critical: to provide education about the prevention of HIV/AIDS, as well as comprehensive support services to those affected by the disease.
"The important thing to know about the disease is that it's preventable and treatable," states Oliver. From HIV/AIDS testing to STD testing and treatment, EFA champions preventative care. Staff at EFA can connect affected individuals with case managers and doctors who can help them find the right medications. "With advances in pharmaceuticals, medications really do treat the disease," emphasizes Oliver. "People on treatment are not only taking care of themselves, but also protecting others."
Although other diseases and causes have grabbed the national spotlight over the years, Oliver affirms that "HIV/AIDS is still here." Both Oliver and EFA encourage people to remain conscious of the disease and to support the nonprofit's mission of HIV/AIDS education, prevention and care.
About Dining Out for Life:
Twenty-five years ago, dedicated EFA volunteers, including longtime advocates Jim Lawless, Tom Fischer and Harold Tennyson, spearheaded the launch of a new fundraising event: Dining Out For Life (DOFL). Originally held the Tuesday after Thanksgiving, the event was inspired by private dinner parties hosted to support individuals living with HIV/AIDS.
"In the 1980s, when the disease was so rampant, it was really about people trying to help others die with dignity," explains Oliver. "People with HIV/AIDS needed money for treatment, and one way of raising funds was through drag shows. The other was through really wonderful dinners held in the home. Hosts would pass around a basket and raise money that way."
According to Oliver, St. Louis was only the second or third city in the country, after Philadelphia, to organize an ongoing DOFL event. In 2008, EFA joined the international DOFL network and the fundraiser moved to its current date on the fourth Thursday in April.
This year's event will take place on April 26. Almost 115 participating restaurants across the St. Louis area will donate between 25 and 75 percent of their proceeds to support EFA's mission. "It's a pretty remarkable fundraiser," raves Oliver. "Other than EFA's advertising, it's really the restaurants and volunteer hosts who do everything."
Whether you choose to dine out for breakfast, lunch, dinner or even a nightcap, be on the lookout for EFA's enthusiastic team of volunteer ambassadors, who will be passing out donation envelopes at various participating restaurants. If you contribute during your meal, you could win one of three tempting prizes: two round-trip tickets to Iceland, courtesy of WOW air; two season tickets to The Muny or two tickets to see British pop singer Sam Smith in concert.
 "We try to party hardy – it's important!" jokes Oliver. Beyond delicious food, fun and prizes, however, DOFL provides a vital source of annual funding for EFA. "Aside from our United Way contributions, these are about the only unrestricted dollars we have in our budget," she says. "Almost all of our other funds are tied to a grant or a contract with a government agency, and none of those funds cover 100 percent [of our operating costs]. Without the funding from DOFL, we wouldn't be able to afford our staff or our programs. That's why DOFL is so important. This event makes it possible to serve our clients and the community, so please join us on April 26."  
What/When/Where
25th Annual Dining Out for Life Benefiting Saint Louis Effort for AIDS
Thursday, April 26
Grab family and friends, and dine out for breakfast, lunch, dinner, coffee, cocktails and more at participating area restaurants, where at least 25 percent of your check will be donated to support EFA's work.
For more information, contact Melissa Alper at 314-333-6660 or visit stlefa.org/dofl.