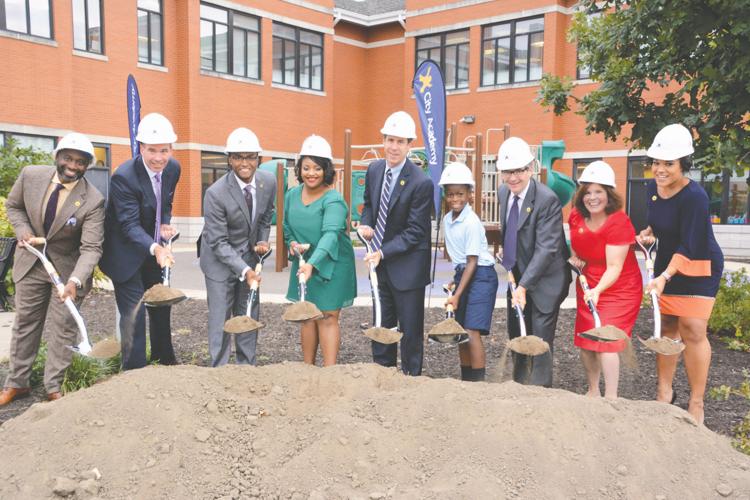 "City Academy transforms children, families, and our community through exceptional education and bold expectations that empower children to overcome barriers," says Don Danforth III, president and co-founder. "We believe a family's geographic location and income should never be a barrier to accessing high quality education."
City Academy partners with families to walk them through the educational journey every step of the way. "When we go through the admissions process, we're not just admitting children; it's the whole family," chief operating officer Nikki Doughty says. "It's about getting parents engaged and building relationships, making sure all families feel this is their school and that they are a part of this community."
History
"Don Danforth III, our co-founder and president, had worked for several years at [the Mathews-Dickey] Boys' & Girls' Club, building relationships," Doughty shares. "He wanted to provide kids in North St. Louis the type of continual educational program he'd want for his own children. City Academy opened its doors in 2004 across from the club."
Danforth and Duncan Marshall founded City Academy, starting with just three grades for those with limited educational opportunities. Now, the school serves junior kindergarten through sixth grade. "Today, we have 185 students, and as our co-founder likes to say, we have such a good thing – we can't keep it to ourselves," principal Milton Mitchell says. "We're expanding our public building and constructing an Early Childhood center, so we can increase our number of students on campus."
Community Impact
City Academy doesn't just open its doors to those with limited resources. Its rigorous program teaches values beyond the classroom that foster community. "We want students to take ownership of their learning," Mitchell explains. "We develop critical thinkers and teach them how best to accept a challenge, with the right attitude, so they can push through it. We help them to understand their part in the world and how to contribute to the development of not only themselves but also other people. It's about how you traverse that landscape in a healthy way, where you can express yourself, learn and listen. We're ultimately trying to instill in our students that this takes a full community effort, with staff and teachers serving as excellent role models."
That level of collaboration is evident in the classroom, where teachers often pair up on projects to show the application of each subject in a real-world sense. Watching their art and math instructors prove how valuable math can be in seemingly intangible ways, as opposed to teaching disciplines in isolation, paints the bigger picture for students.
"We provide intensive support programs from seventh to 12th grade, so when our students leave us, they can find great success at their secondary school," Doughty explains. "We make sure they not only transition but experience huge success both academically and in leadership roles by providing them the tools and space to become great leaders. Our alumni program is an enriching program, with access to career disciplines that build their social capital. Students are informed when looking into where they want to go and what they want to do."
How to Get Involved
Donors make City Academy's mission possible, enabling the school to provide scholarship support to 100 percent of students.
Whether you wish to offer scholarship support or simply learn more about this novel approach to education, the best way to discover what this community is all about is to witness it firsthand. "Explore us," Mitchell encourages. "We open our doors to so many students. There's so much work we've done – and so much still to do."
City Academy, 4175 N. Kingshighway Blvd., St. Louis, 314-382-0085, cityacademyschool.org