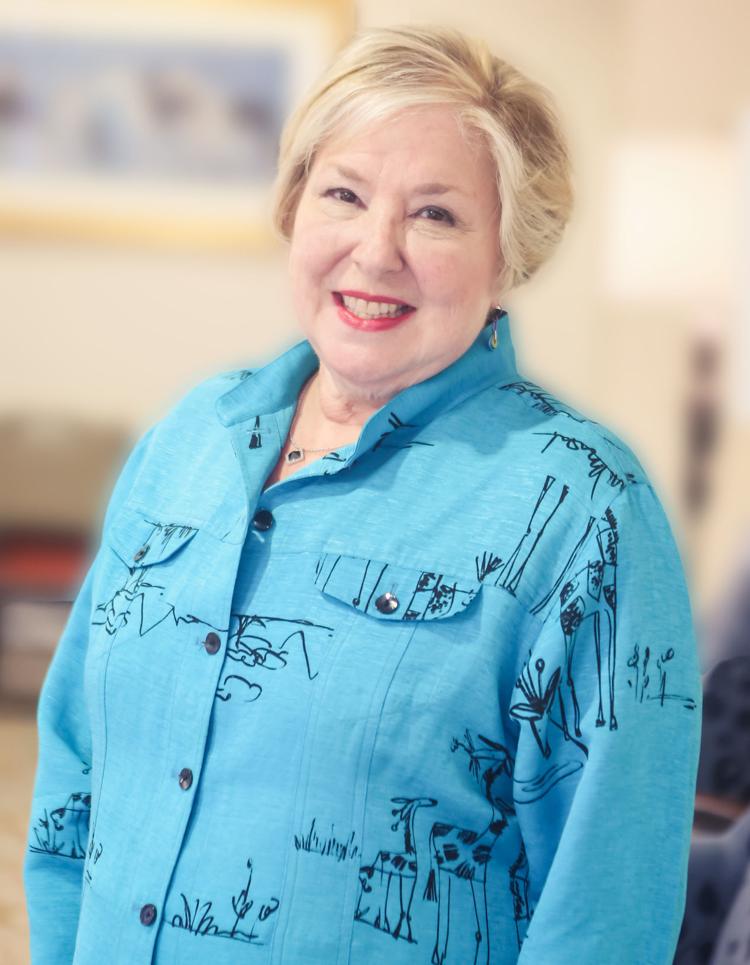 Bonnie Solomon has devoted most of her professional and volunteer life to "taking care of those who took care of us." As a 40-year advocate of quality housing and services for the elderly, Solomon has been lauded as a community hero. This month, she adds another accolade to her list of accomplishments as she assumes the role of chair of women's philanthropy of the Jewish Federation of Saint Louis.
A 1961 graduate of Elgin High School in Elgin, Illinois, the young Bonnie Morrison came to St. Louis to attend Washington University. But instead of a college degree, she jokingly says she "gained an M.R.S. degree." Eleven years later, she was a divorced stay-at-home mom caring for her two sons when she received a call offering her a part-time position at the newly constructed Covenant House (now Covenant Place), a senior living facility in Creve Coeur that provides affordable housing for seniors. "I was their first employee; the job offer was random and serendipitous," Solomon says. "Care of the elderly became a joy to me and my lifelong passion."
She met her husband, Norman, several years later, and he was supportive of her continuing her college education. After taking classes at the University of Missouri-St. Louis and Saint Louis University, she earned a degree in gerontology and psychology from Lindenwood University. The couple, now married for 41 years, have four grandchildren and have made Chesterfield their home for the past 13 years.
At Covenant, Solomon began the kosher meal program and organized volunteers from B'nai B'rith Women to cook there. "People were interested in eating together in a congregate setting," she says. Later she worked with the Mid-East Area Agency on Aging (MEAAA) to fund the kosher meal program, eventually becoming president of both MEAAA and its foundation. Mary Schaefer, executive director of MEAAA, says: "[Solomon] worked for many years with the breakthrough coalition to encourage and enhance senior services in our community. She is well known and respected in the aging network in our community."
After six years as executive director at Covenant, Solomon became executive director of Garden Villas, an independent-living community of Delmar Gardens Enterprises, where she worked for almost 30 years before retiring. "Delmar Gardens had heard about Covenant ... , and they were interested in building a market-rate senior living facility," she says. "My heart never left Covenant. To this day, I am past president, a life member of its board and still involved with its operations."
At Garden Villas, Solomon brought her gerontology experience to care for more independent seniors and earned many certifications in the fields of senior living and nursing home care. She became active both locally and nationally, teaching multifamily management and senior-housing marketing and management through the Homebuilders' Association. She was named Town and Country Business Person of the Year and served as president of its Chamber of Commerce.
In demand for her expertise about the active aging community, she began working as community relations director for the Brentmoor Retirement Community three years after her retirement. While there, she developed a series of programs that she presented to senior, charitable and women's groups that took a positive spin on aging.
In her newest role as chair of women's philanthropy, Solomon says she plans to connect the dots. "Jewish Federation is the foundation for so many opportunities to make an impact locally, nationally and internationally in both the Jewish community and the community at large," she says. "Women's philanthropy provides a way for women to connect with other women, learn about the agencies and programs that Jewish Federation supports and inspire social good in St. Louis, Israel and around the world. We want to encourage women of all ages, backgrounds, lifestyles and income levels to support the work of the Jewish Federation by making a difference in the lives of others through community service efforts."
Solomon recently co-chaired CommUnity, a program that brought together 27 local Jewish women's organizations to a concourse at St. Louis Lambert International Airport. More than 300 women heard a dynamic and inspirational speaker from Israel, who had spearheaded a project in Africa bringing solar power and water to people. "We're a total Jewish community; the more we think like that, the bigger the impact we'll have," she says.
Her volunteerism has included serving as a vice president of leadership of National Council of Jewish Women-St. Louis (NCJW-St. Louis). She has also volunteered with numerous other organizations including Jewish Women International, the Jewish Community Center, Jewish Family & Children's Service and Congregation Shaare Emeth. Her volunteer commitment has earned her a Lifetime Achievement award from the Older Women's League, and she was lauded as an Unsung Hero by the St. Louis Jewish Light newspaper.
Ellen Alper, executive director of NCJW-St. Louis, says: "[Solomon] became a member of NCJW in 1980 and never hesitates to step up when asked. She oversaw the development of our leadership roundtable three years ago."
Andrew Rehfeld, president and chief executive officer of Jewish Federation, says: "[Solomon] brings vast experience to the position of chair from both her professional and volunteer life. She has been a true visionary in the area of community service and, as a result of her vast experience, brings a multi-lensed perspective to community building and collaboration. She brings professionalism and passion to her position and the desire to make the world a better place."
Solomon keeps volunteering because she cares about people. "Each time I give of my time and talent, I know that what I do touches the lives of others," she says. "This enriches me in very meaningful ways."