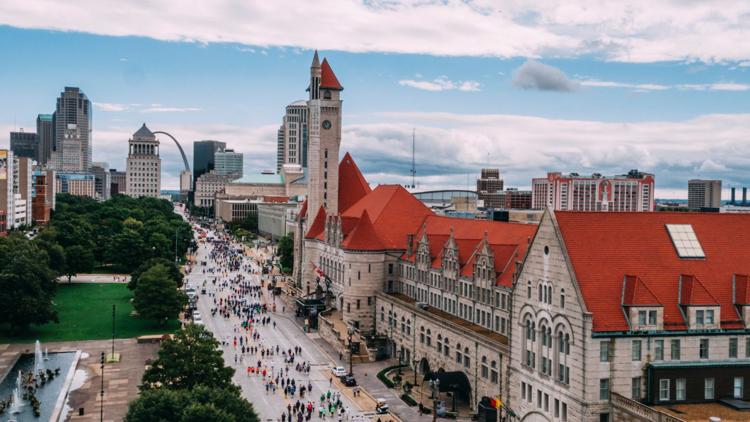 In 1989, nine Alzheimer's Association chapters across the country decided to raise money with a Memory Walk. That year, 1,249 participants walked and collected almost $150,000 in sponsorship donations. After that first success, more chapters organized walks the next year. No one knew, however, that the first Memory Walk would morph into the Walk to End Alzheimer's, the world's largest event to raise awareness and funds for Alzheimer's care, support and research.
In 2016, more than 56,000 teams participated in more than 620 walks across the country, raising more than $82 million, according to the Alzheimer's Association. This year, the 28th annual St. Louis Walk to End Alzheimer's, scheduled for 2 p.m. on Nov. 18 at the Scottrade Center, has already surpassed its $1 million fundraising goal, and more than 4,000 walkers are expected.
"We have some fun and unique entertainment planned for the day, with hopes that families can make some meaningful memories that can be enjoyed for years to come," says Kathleen Davis, walk manager for the Alzheimer's Association Greater Missouri Chapter. Spencer Graves, host of Spencer's Neighborhood on radio station 106.5 The Arch, will emcee with music provided by The Arch Music Van. As walkers make their way to the starting line, they can also enjoy a photo booth in Clydesdale Corner, a demo by St. Louis Gatekeepers Roller Derby, a visit with the St. Louis Cardinals' Fredbird and free coffee provided by national presenting sponsor Edward Jones.
Davis notes that participants of all ages are welcome, and there's still time to register to walk or volunteer online by going to act.alz.org and clicking "Find a Walk near you." Walkers also can register on-site beginning at noon the day of the walk. "Alzheimer's Association Walk to End Alzheimer's participants will learn more about Alzheimer's disease, advocacy opportunities, clinical studies enrollment, and support programs and services," she adds.
Sixty percent of all non-donor-restricted funds stay with the Greater Missouri Chapter, supporting the mission of the organization, Davis says, adding: "The Alzheimer's Association funds research across the globe. We're fortunate to have Washington University and Saint Louis University, which receive research funding from the Alzheimer's Association."
The walk, which began in St. Louis in 1989, occurs during National Alzheimer's Disease Awareness Month, and Davis emphasizes that the local chapter of the Alzheimer's Association is here to help those living with the disease and their caregivers. "We want people to know that you're not alone facing Alzheimer's," she says. The most utilized service provided is the 24-hour help line at 800-272-3900. Callers receive free, private support and information, referrals for caregivers and guidance related to a host of questions.
Alzheimer's disease is the most common cause of dementia, yet there is still no definitive test to diagnose the disease. Physicians consider family history and cognitive test results, and perform other clinical tests, such as blood tests and brain imaging, in order to make a diagnosis. In addition to age and family history, people who carry the APOE e4 gene are more likely to develop Alzheimer's disease.
While age, family history and genetics cannot be changed, some risk factors can be controlled. In general, behaviors that benefit cardiovascular health also appear to benefit brain health, according to researchers. A healthy diet rich in whole foods, regular exercise and lifelong learning strategies have been shown to reduce dementia risk.
However, for those who do develop Alzheimer's disease, and for their families and loved ones, Davis notes that the Alzheimer's Association provides a care consultation with an experienced social worker to create short- and long-term care strategies. "Entire families join together with the person with dementia to create a plan that will offer support and address pertinent concerns about legal, financial and care issues," she says. To schedule a one-hour session, call the organization's help line.
Educational programs, support groups and programs for people who are in the early stages of the disease are also in high demand through the Alzheimer's Association. "Once a family has a diagnosis, learning more about the disease through 'Living With Alzheimer's' or 'The Basics of Alzheimer's Disease' classes can help them prepare for changes and know what to expect," Davis says. "Monthly support groups – in person, virtual or by phone – provide ongoing counseling, support and assistance to guide the family through the journey."
St. Louis Walk to End Alzheimer's and Alzheimer's Association Greater Missouri Chapter, 314-852-9412, act.alz.org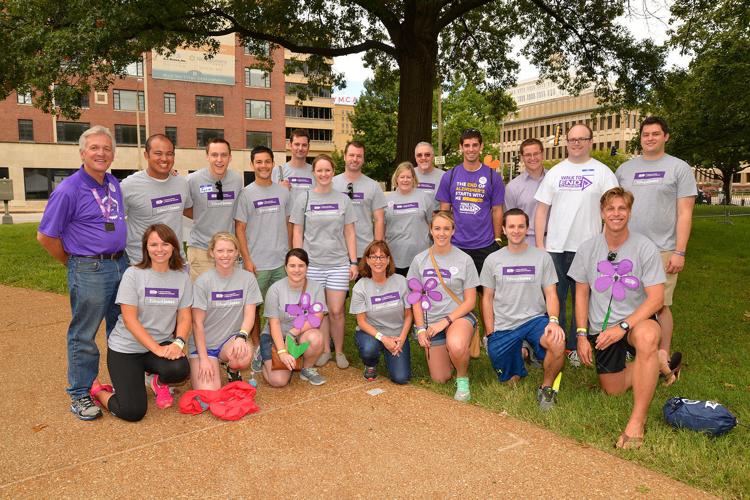 St. Louis Walk to End Alzheimer's
The Alzheimer's Association Greater Missouri Chapter and local presenting sponsor Edward Jones will host the 18th annual St. Louis Walk to End Alzheimer's. More than 4,000 walkers are expected to participate this year and have already helped to raise more than $1 million for Alzheimer's programs and research.
When: Nov. 18
Where: Scottrade Center, 1401 Clark Ave., St. Louis
Details: Registration opens at noon. Edward Jones will serve pretzels, lemonade and hot chocolate.
Pre-ceremony entertainment begins at 1 p.m.
Opening ceremony begins at 1:30 p.m.
Walk begins at 2 p.m.
Visit act.alz.org to register, volunteer or donate.