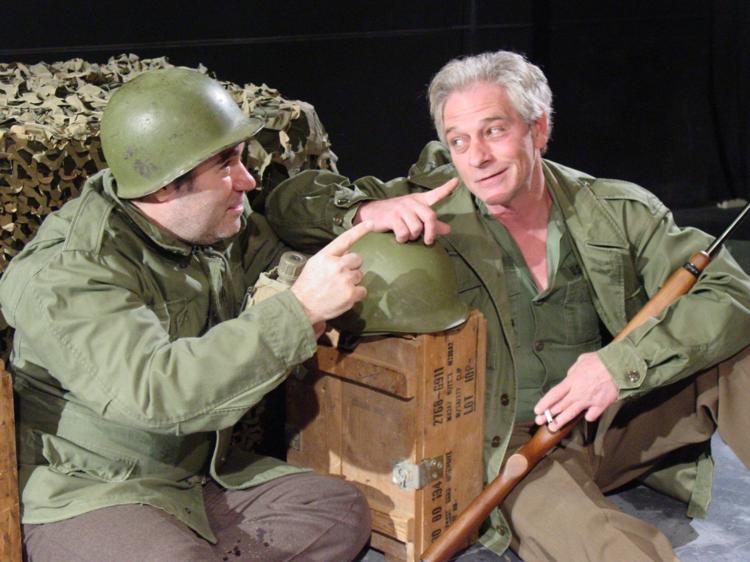 "Join the company of lions rather than assume the lead among foxes." – The Talmud
The curtain officially rises in less than a week on the third decade of The New Jewish Theatre.
On Wednesday, Oct. 4, the troupe opens its 21st season in the Marvin & Harlene Wool Studio Theater at the Jewish Community Center's Staenberg Family Complex in Creve Coeur.
The 2017-18 season, which runs through next June, commences with Tuesdays With Morrie, continues through A Jewish Joke, The How and the Why and (take a breath) New Jerusalem: The Interrogation of Baruch de Spinoza at Torah Talmud Congregation: Amsterdam, July 27, 1656, and concludes with the puckishly titled Life Sucks.
Kathleen Sitzer, the troupe's artistic director, explains the rationale for selecting that particular quintet.
"Many factors go into putting together a season of productions," she says. "First and foremost, does it fit with our mission of presenting plays that explore the full spectrum of the human condition reflected through the lens of the Jewish experience?
"Variety – comedy, drama, new, old. Does the show fit our space in terms of scenic design, cast size and so forth? Is it affordable? Are there any outstanding costs that would make it prohibitive?"
In choosing those productions, Sitzer continues, she teamed with associate artistic director Edward Coffield, with oversight from the Jewish Community Center's cultural arts director, Zelda Sparks, and suggestions from additional sources.
With the troupe entering its third decade, she also ponders its first two decades, which were guided by the goal of "build[ing] bridges of multicultural understanding, tolerance, communication and education," according to The New Jewish Theatre's website, and which bloomed from 1997's inaugural season of three productions of eight performances apiece to the present five productions of 12 performances.
"In reflecting on 20 years of artistic growth and excellence, the greatest triumph is simply making it this long," Sitzer says. "Many small theaters do not survive for 20 years."
She continues with a reference to the 104-year-old U.S. theatrical labor union representing more than 50,000 actors and stage managers, a member of the AFL-CIO: "Biting the bullet to become an Actors' Equity Association company in 2011, while generating great expense, has really raised the bar for us artistically. The triumph of being awarded Best Production by the Kevin Kline Awards in 2012 for Awake and Sing! and for the same honor in 2017 by The St. Louis Theater Circle for Old Wicked Songs was not only a highlight of our history but served to validate our claim of artistic excellence."
In otherwise reflecting on the troupe's first two decades, Sitzer also addresses the main trials it faced in that time.
"Some of our biggest challenges had to do with producing shows that seemed to require larger space, greater technical capabilities and so forth," she says. "Nevertheless, we have been able to produce all of the shows we chose to program and to do so at the highest level of artistic excellence.
"The other major challenge was when we were out of our space at the [Jewish Community Center] during the renovation of the Staenberg Family Complex. We were renting space from Clayton High School for most of two seasons. However, we came back to a wonderful state-of-the-art black-box theater that continues to meet our needs even when pushed to the limits."
Regarding specific ways she'd like to see the troupe progress in its third decade, Sitzer says, "I would love to see us expand our repertoire to include more diverse casting and subject matter." She similarly mentions greater outreach, somehow expanding the troupe's customary situs from just the Jewish Community Center, "in order to incorporate community engagement."
Finally and almost inevitably, Sitzer mulls the quintet of coming offerings from her troupe to cite the one she herself most anticipates.
"I think the production I'm most looking forward to is David Ives' New Jerusalem," she says. "It's a challenging play about real events in the 17th century. Baruch de Spinoza, a giant of religious philosophy, was 'excommunicated' from his Amsterdam community for talking 'religion' in public, thereby threatening the tenuous existence of his own Jewish community in the city.
"This is a play with a great deal of talking and philosophy. It's a period piece, making it even more challenging. But with Ives as the playwright, it's sure to be filled with lightness, humor and Ives' trademark wit. I'm very excited to see what our director, Tim Ocel, does with the piece."
The New Jewish Theatre, 2 Millstone Campus Drive, Creve Coeur,
314-442-3283, newjewishtheatre.org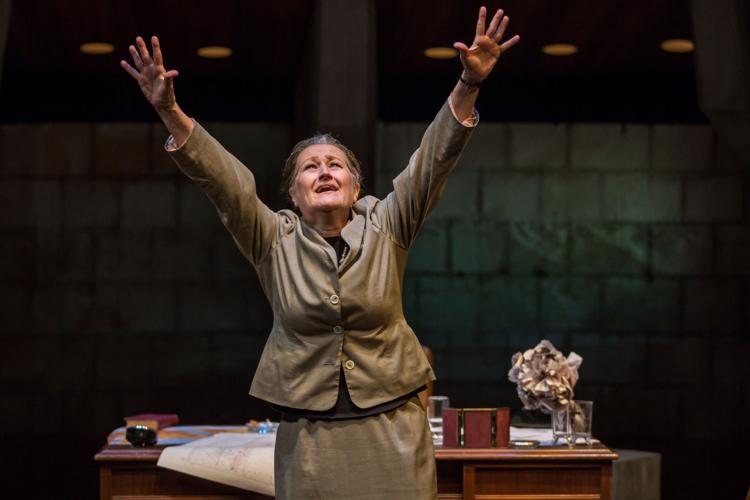 Playbill for the 2017-18 Season
The New Jewish Theatre's 21st season comprises the five productions briefly described here. For more information about dates, times, ticket prices and a subscription deal, visit newjewishtheatre.org.
• Tuesdays With Morrie by Jeffrey Hatcher and Mitch Albom, directed by Anna Pileggi, starring Jim Anthony and Andy Neiman, Oct. 4 to 22
• A Jewish Joke by Phil Johnson and Marni Freedman, originally directed by David Ellenstein, starring Phil Johnson, Nov. 29 to Dec. 10
• The How and the Why by Sarah Treem, directed by Nancy Bell, starring Amy Loui and Sophia Brown, Jan. 24 to Feb. 11
• New Jerusalem: The Interrogation of Baruch de Spinoza at Torah Talmud Congregation: Amsterdam, July 27, 1656 by David Ives; directed by Tim Ocel; starring Chris Tipp, John Flack, Jim Butz, Will Bonfiglio, Jennifer Theby-Quinn, Karlie Pinder and Greg Johnston; April 4 to 22
• Life Sucks by Aaron Posner, adapting Anton Chekhov's Uncle Vanya; directed by Edward Coffield; starring Chris Harris, Greg Johnston, Julie Layton, Jan Meyer, Michael James Reed, Katie Keating and Michelle Hand; May 23 to June 10