Around Town Calendar: December
Where To Go What To Do?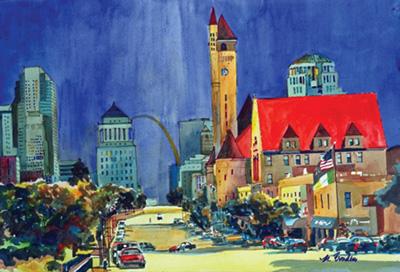 Around Town Calendar: December
LITERARY PICKS…Through 12/6 ST. LOUIS IN WATERCOLOR Watercolors from Marilynne Bradley's new book, 'St. Louis in Watercolor: The Architecture of a City' are on display at Grafica Fine Art, 7884 Big Bend Blvd., Webster Groves. 12/4 ETHAN CANIN The author of the best-seller 'America America,' a novel about political ambition set during the Vietnam War, reads from his work at 7 p.m. in Gallery 210 at UMSL. Free. 12/5 ROBERT OSTERHOFF St. Louis author Robert Osterhoff reads and signs from his book, 'Inside the Lionel Trains Fun Factory: The History of a Manufacturing Icon and the Place Where Childhood Dreams Were Made,' at 4:30 p.m. at Barnes & Noble in Ladue. Free. 12/5 CHRIS AND TOM MCCLARREN Tom McClarren and his son Chris discuss 'Morsels of Mischief: Orphan Tales from my Childhood,' the memoir they wrote together about Tom's childhood in the German St. Vincent Orphan Home in St. Louis. 7 p.m. at Subterranean Books, 6275 Delmar Blvd. Free. 12/5 DR. MARK VONNEGUT Kurt Vonnegut's son reads his father's writings, presents his art and discusses his ideologies at 8 p.m. at The Ethical Society of St. Louis, 9001 Clayton Road. $15, $10 students and seniors; www.ticketmaster.com. 12/9 A PRESENTATION WITH WORLD WAR II VETERANS The book 'Victory Through Valor' includes more than 100 interviews with men who served in World War II. Hear veterans recount their experiences at 7 p.m. at the Missouri History Museum. Free.