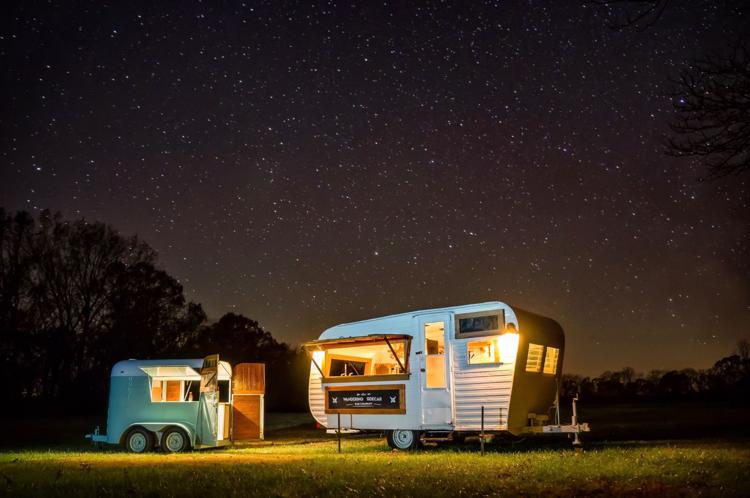 Weddings express a couple's tastes and personalities, and nowhere is this more evident than in the current trend of mobile wedding services. Trucks and trailers offer everything from full-service bars and catering to officiants themselves arriving in completely mobile ceremony venues, proving that weddings can happen almost anywhere these days.
Before the ceremony, the Sav MakeUp Rolling MakeUp & Skincare Studio might be parked outside the wedding venue, the bride's home or anyplace else the wedding party wants to prep for photos in the St. Louis area and even beyond, if requested. The vintage 1968 Skyline Nomad trailer contains a trendy hair and makeup studio complete with a bathroom and running water.
"We can pull it anywhere that you need us to, so it can be part of not just the wedding itself but [also] all the other pieces that go along with the wedding," says Denise Hopkins, who handles marketing for the studio and whose daughter, Savanna, is the professional hair and makeup artist who makes wedding parties look their best. Engagement and wedding photo shoots on location are becoming the norm as more couples opt to have pictures taken at natural sites instead of in studios, she adds.
Most wedding parties require about two to four hours to prepare, and Savanna works with two assistants for larger groups. The benefit is that there's no mess in the bride's home or other preparation site as people come and go from the mobile studio, which can be parked right outside the residence. "We have a little outdoor space that we put together, too, so people can hang out, and it's a social/conversation area," Hopkins adds.
After the ceremony, it's time to celebrate, and The Wandering Sidecar Bar Co. is ready to pull up and help. If you love the vintage trailer/makeup studio, you'll also love Ruthie, the 1960 Avalon trailer, and Birdie, the 1967 Holi horse trailer. Both have been completely transformed into one-of-a-kind mobile bars.
In November 2015, Tiffany Unger had her now 10-month-old twin boys and was looking for options for home-based income streams. "I wracked my brain for months, and one day while flipping through a magazine, I saw a short editorial on a camper bar in California," she says. "It struck me like a bolt of lightning, and I just knew I had to do this." After outfitting Ruthie for the job, The Wandering Sidecar Bar Co. launched in June 2016, with Birdie making its debut in September 2016. Two more unique mobile bars will soon join Ruthie and Birdie: Big Red, a 1969 Chevy grain truck that will include sinks, refrigeration and draft taps, and Chief, a 1957 truck bed bar.
"We not only offer a really unique bar service, but [it's] also at a fraction of the cost of alcohol packages," Unger says. "When we arrive, we take over all aspects of the bar. We provide the bar, experienced and professional staff, and everything that you need including bar tools, ice, mixers, garnishes and paper goods. Our clients provide the alcohol, which can save them an enormous amount of money over liquor packages with huge upcharges." Although the mobile bars are mostly used for outdoor events, Unger says they are happy to bring the trucks inside if possible.
Wedding couples who want a fun food-truck atmosphere for wedding desserts – while also helping people in need – might consider Destination Desserts. Although it's not the only bakery-goods food truck catering to weddings and many other event types, it is the only one affiliated with the nonprofit Center for Head Injury Services (CHIS) in St. Louis.
"We started thinking about the concept in 2008, when the recession hit, and we couldn't find any jobs for our folks with disabilities," says Destination Desserts director Denise Samuels. "After much research and time, we decided on a food truck – a rolling billboard for what we were trying to do." The brightly colored Destination Desserts truck hit the streets in May 2013.
"We offer everything from signature cupcakes to gooey butter cake, fresh strawberry shortcake, ice cream sundae bars, and we've done pies, also," Samuels says. "We've had couples who want to serve their guests off the truck, so they make sure they [get to] see everyone. Anything goes." And in the process, CHIS clients bake, decorate and learn other skills needed to obtain work in commercial kitchens. All proceeds support the CHIS.
Wedding couples can plan specific menus, and Samuels notes that wedding requests have been steadily increasing. "Destination Desserts' main focus is a great product – more than 61 flavors of cupcakes alone – but secondly, we just want to help nice people find a great purpose," Samuels notes.
Destination Desserts, 314-227-7070, destinationdesserts.org
Sav MakeUp Rolling MakeUp & Skincare Studio, 314-393-1656, savmakeup.com
The Wandering Sidecar Bar Co., 314-323-1131, thewanderingsidecarbarco.com