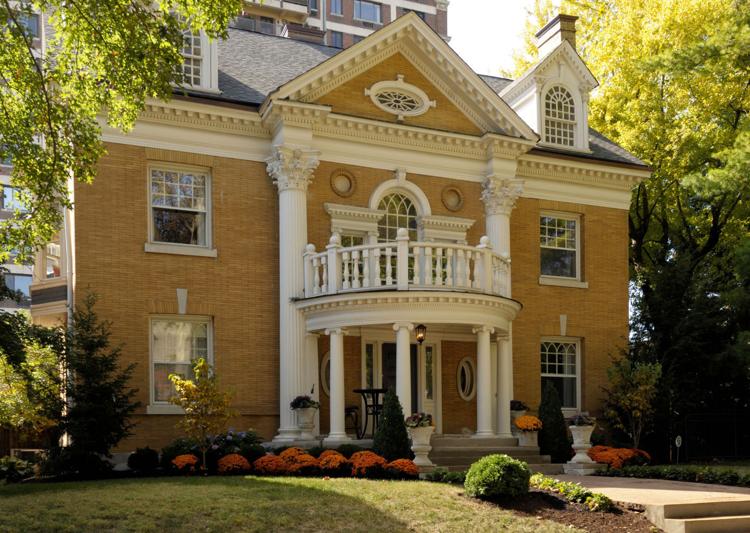 Welcome to the 2016 Ladue News Show House, a historic property at 4388 Westminster Place in the Central West End, completed in 1897. The Georgian-style home is located in the celebrated neighborhood of Fullerton's Westminster Place.
The home was originally designed by architects George D. Barnett, John I. Haynes and Thomas P. Barnett, who famously designed the Cathedral Basilica of St. Louis. The home was first sold to Julia C. January on March 13, 1897, and its three stories feature seven bedrooms, two remodeled bathrooms and a remodeled kitchen. The yellow-brick exterior displays two-story Corinthian columns that flank either side of a projecting pavilion and Palladian window.
As was typical for homes built in the late 19th century, most rooms include a fireplace. The central hall leads to a staircase with a landing overlooking the front lawn. A spacious office or den on the second floor is lit by large bay windows, and the third floor boasts an expansive bonus room. Plans for this home are similar to the existing houses in the neighborhood, even if their façades differ greatly.
The name of the neighborhood, Fullerton's Westminster Place, might sound familiar. According to Charles C. Savage's book Architecture of the Private Streets of St. Louis, it contains "more residences of architectural interest than any other comparable blocks in the city." The homes reflect a variety of architectural trends such as Romanesque, Italian Renaissance and Colonial Georgian.
The neighborhood, originally private, is named after Union Army veteran and attorney Joseph Scott Fullerton, who purchased the tract of land in 1882 from the Charter Oak Insurance Co. of Hartford, Connecticut. By 1895, 31 houses had been constructed. After Fullerton's death two years later, his daughter, Mary, completed the neighborhood's development, which includes the former home of famed poet T.S. Eliot. Eliot's parents and siblings resided at 4446 Westminster Place from 1905 to 1919, though Eliot lived there only a short time before leaving St. Louis for Harvard University.
Savage writes that "nearly every important architect working at the turn of the century is represented" in Fullerton's Westminster Place. Barnett, Haynes and Barnett headed a prominent architectural firm in the city that's credited for the design of many hotels throughout the country. Thomas Barnett even designed the Palace of the Liberal Arts for the St. Louis World's Fair.
From its inspired architects and vibrant façade to its storied neighborhood, there is bountiful history connected to 4388 Westminster Place. Ever-evolving in the 119 years since it was built, the house will evolve once more as this year's Show House.
---
Click the links below to learn more about each aspect of the Show House.
---