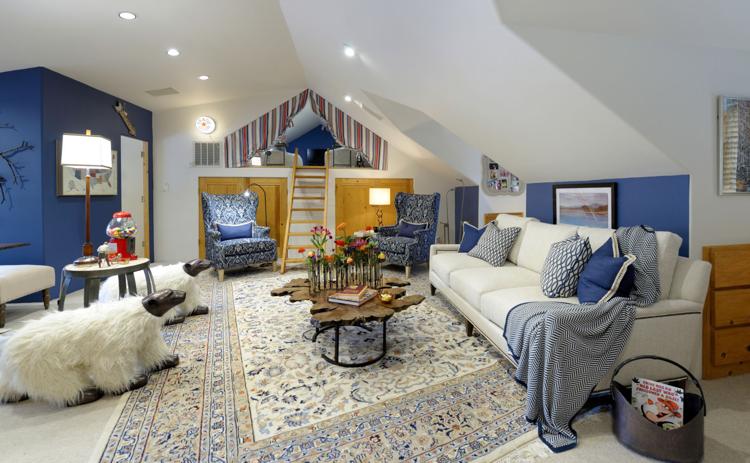 CJ Knapp of Yours by Design turned the spacious loft into a cozy, family-friendly area. The room features color-blocked walls in blue and white, natural wood tones and layered, traditional fabrics.
Multiple seating areas create space for a plethora of activities. "You could read or work a crossword puzzle in the big comfy chairs, stretch out and relax on the sofa, play a game of cards sitting on the polar bear bronzes, work on a school project at the table or play a game," she says. (And yes, you read that right: The fluffy chairs are actually multiuse bronze polar bears.) "It's a great family space as well as a party place."
Knapp had to make a few changes from her original design. For example, the polka-dot fabric she planned on using for the drapes wasn't available on time, so she found a stripe to replace it.
"I fell in love with the stripe for the tent flaps, and then I found the blue linen print to put with it," she says. "Rooms are like a puzzle. I always know what I want in them, but sometimes, quantity or placement will change from the initial concept." It's this drape-covered alcove furnished with furry beanbags that Knapp notes as her favorite part of the room.
In addition to this space, Knapp decorated the adjoining bathroom with the family in mind, giving it a pirate theme complete with sword curtain rods and a treasure map across the ceiling.
Yours by Design, 314-283-1760, cjknappinteriors.com