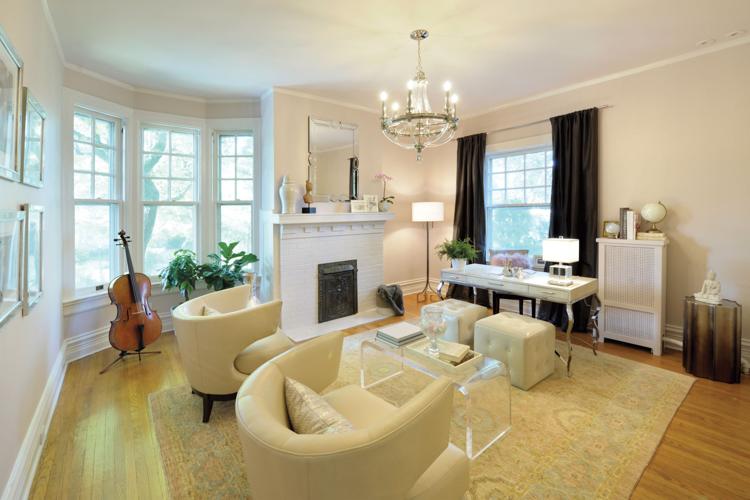 For Tamsin Mascetti of Tamsin Design Group, the design process is fluid, with some fine-tuning usually involved. In the family workroom of the Show House, Mascetti says she "worked to create a room that would be beautiful, comfortable [and] unique and highlight the home's interior architecture."
The room pulls together art deco styles such as a warm pink-and-cream color scheme and Romo's glamorous Flurry Smoked Quartz velvet fabric. The Martin Trowbridge Gallery even provided the room with a collection of black-and-white Hollywood photographs. Furnishings include an ivory-finished writing desk, a cream leather Wesley chair from Precedent Furniture and an acrylic cocktail table. Mascetti adds that the room emits a soft glow. "I love the tension created between the clean, modern lines of the furniture with the shimmering, reflective elements and the subdued color palette," she says.
Mascetti says the room came together organically – but not without a few hitches. The fireplace screen was in need of attention, and the room's paint finish was cracked and peeling – although "a quick coat of metallic paint completely transformed it," according to Mascetti.
Overall, the space is meant to accommodate and soothe a family's busy everyday life. "It was important to me to show visitors that having a calm, beautiful yet functional space in your home to work from is valuable," Mascetti says. She hopes visitors of the Show House fall in love with the room and have a desire to stay. But she emphasizes the room isn't about one single thing grabbing your attention. "It's really about the mix of elements working together to create a room that makes people feel comfortable and want to spend time in," she says.
Tamsin Design Group, 314-282-0035, tamsindesigngroup.com