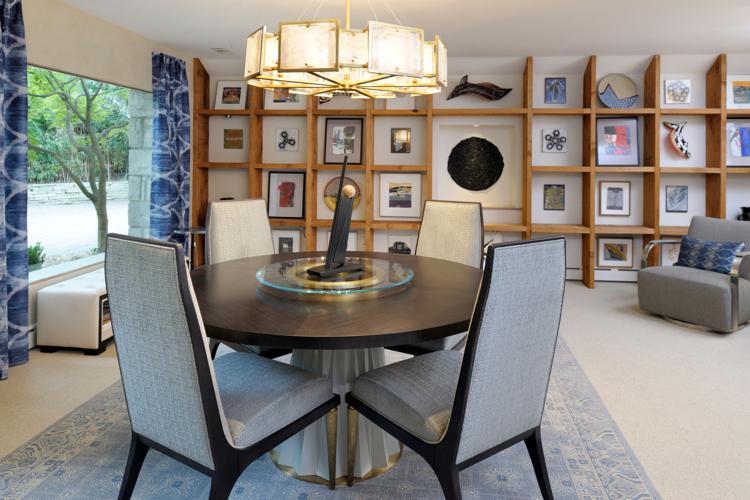 Where some saw a room with design-limiting built-ins, Gigi Lombrano of Gigi Lombrano Interiors saw possibility. Her dining room is filled with artwork from Atrium Gallery and anchored with gray furniture. A round dining table on an architectural base brings functionality to the room. To soften the space, Lombrano explains the paint color, created by Paint Imagery, has a soft metallic finish with just a touch of shimmer, known as "greige" for gray and beige.
The art wall is Lombrano's favorite part of the dining room. "I loved selecting all of the pieces of art for the niches," she says. "I have more than 14 artists represented in my space. I think there's something for everyone … I love that some of the pieces are small and can be used in bookcases or other small spaces. I've left some of them propped to suggest easily swapping out pieces as the mood strikes. You don't have to hang it and leave it forever – move things around!"
Outside of the built-in artwork area, Lombrano also added some mismatched seating along the wall, colorful table sculptures, a blue rug and window treatments in an ombre of blues.
Lombrano's biggest consideration was using restraint, she says, noting the importance of properly editing a room. "What restraint brings is an elegance and comfort that clutter doesn't allow," she says. "You need breathing space, not only for the art but for standing-around room for guests."
Gigi Lombrano Interiors, 314-707-7291