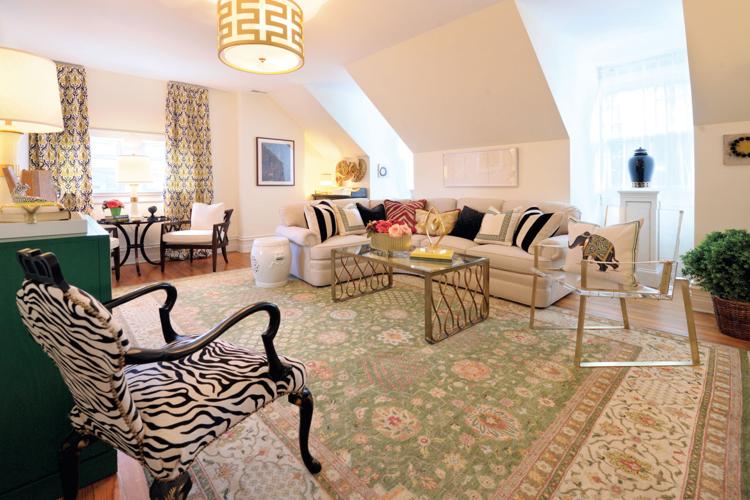 Originally submitting a design for a second-floor sitting room/den, Gigi Lombrano of Gigi Lombrano Interiors was instead given the Show House's huge third-floor bonus room, a two-rooms-in-one scenario with an unusual layout. Even for Lombrano, a Show House veteran, the design challenge was daunting. Lombrano decided to take her original proposal and expand it to cover the bonus room. "I wanted to create a unified space, so I decided to divide and conquer," Lombrano says. "I had to designate different zones and uses for each room, and from there, create a usable, workable space that would highlight the best features of the rooms and accommodate all the quirks!"
Lombrano divided the room aesthetically into a lounge area and study area, tying both together by repeating certain key elements within both rooms, bringing her Dorothy Draper-meets-Mary MacDonald vision to life – light and fresh with modern, daring accents and artwork intermingled with a little Hollywood glam.
An emerald-colored Lillian August chest was one of the springboards of Lombrano's design – a fall trend she cites is a neutral ground with bold pops of color, brought to life with this standout piece, along with Lombrano's use of a background rug in yellow (Lombrano's prediction for the new darling for accent colors), a pair of red chairs and a blue velvet ottoman with gold legs.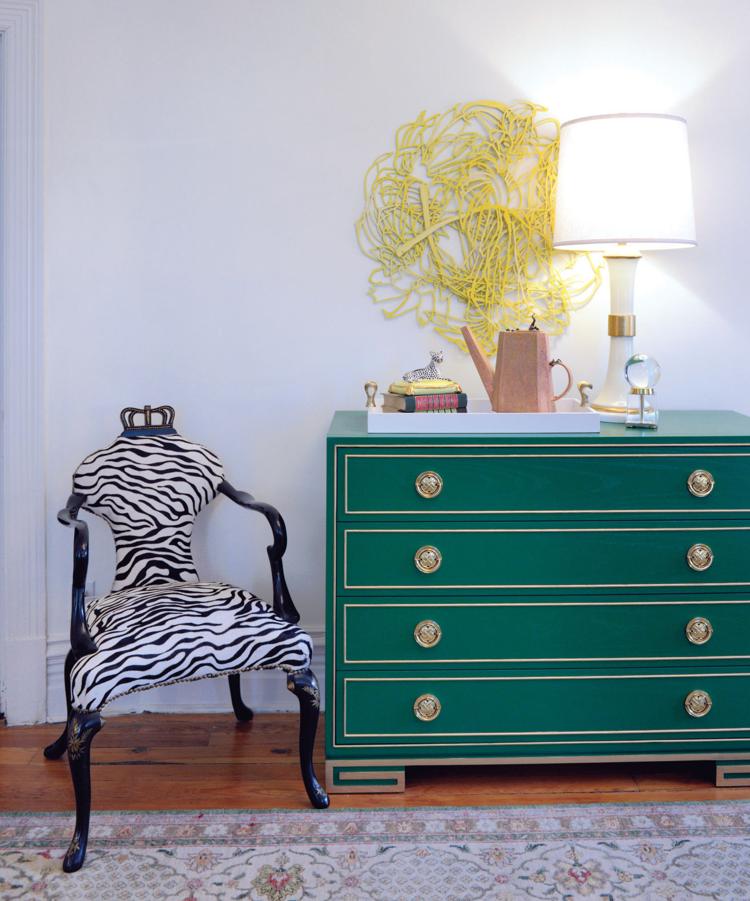 A zebra-print Queen Anne armchair, topped with a crown, is another bold, standout element in the room and a Lombrano favorite. "I think it's smart-looking," she says. A Greek key design ("I'm partial to a neoclassical motif," Lombrano says) is repeated throughout both areas in the room – in the chest, desk, throws and pendant – lending a bit of thematic continuity to a room rich with bold accent pieces.
Lombrano cites the artwork as one of the main elements of the space – working with Carolyn Miles from the Atrium Gallery, Lombrano chose nearly 20 pieces of artwork to bring a gallery element to the space, mixing contemporary art with classic botanicals. "Quite frankly, the art could stand on its own," Lombrano says. "The range of art is really extraordinary – nothing was off limits!"
Gigi Lombrano Interiors, 314-707-7291