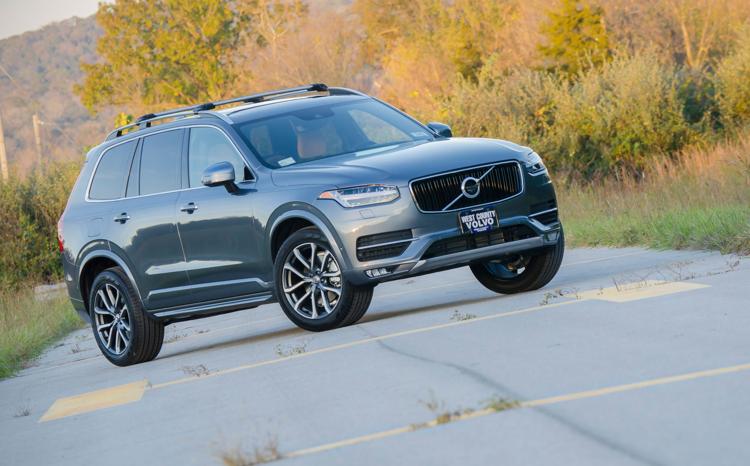 I've written in the past of biases, how we all have them and the challenge of being open-minded in the face of them. Volvo's all-new XC90 was released in 2016 and was showered with praise from the automotive press. Even with more than 100 awards such as Motor Trend's SUV of the Year and North American Truck of the Year, I couldn't see Volvo as anything but manufacturing soft, tedious, driver-detached deprivation chambers. I asked myself, "Why would I waste my time with something I know I'll find forgettable?"
With the goal of discovering today's best luxury SUVs, the Volvo XC90 wasn't even a blip on my radar. The obvious choices from BMW, Porsche, Mercedes and Audi were what my biases told me were the cream of the crop, and thus I should focus solely on them. So where the decision to contact West County Volvo and ask for a loaner came from, I'm not quite sure. Maybe it's that little voice that roots for the underdog, or maybe it's the love of a good surprise. Whatever the case, a weekend with the XC90 certainly delivered a healthy dose of surprises.
To properly tell the story of this new car, though, we need to go back in time a few years. The name Volvo means "I roll" in Latin, harking back to its founding in 1911 as a ball-bearing manufacturer. (This actually has nothing to do with my story, but I found it a funny tangent.) No, the story of the XC90 goes back to 2010 when then-cash-strapped Ford sold its stake in the brand to Zhejiang Geely Holding Group. The name Geely isn't important; it's a Chinese holding company you've likely never heard of. What is important is that Volvo's new owners were cash rich and anxious to return the name to global-player status. Frustrated Volvo engineers, hamstrung by years of lean budgets, were suddenly set free with a clean slate. Today, the XC90 sits atop the first fruit of this investment, an all-new modular chassis system known as Scalable Product Architecture. And Volvo is enjoying its third straight year of record sales – apparently my decision to give Volvo a look was a bit late to the party.
My T6 weekend drive model falls middle of the XC90 line, one up from the entry T5, but one down from the plug-in hybrid T8. Power comes from a 2-liter, direct-injected, twin-cam four cylinder that is shared across the XC90 line. In the T6, however, the way air is fed into the combustion chambers is a unique development born from clever Swedes and Chinese cash. At lower rpms, a two-stage supercharging system boosts grunt, and as revs climb, boost duties are handed off to a turbocharger. This twin-charger setup results in 316 horsepower and 295 pound/feet of torque at 2,200 rpm, enough to propel the 4,600-pound ute to 60 in six seconds flat. Those aren't class-leading numbers, but they're enough that the XC90 feels lively when switching to the passing lane. Under acceleration, the handoff between supercharger and turbocharger is seamless. Throttle response is also snappy, and the eight-speed automatic responds quickly to driver inputs without hesitation.
As a whole, the XC90 delivers a pleasantly communicative drive. I wouldn't stretch to call it exciting, but the feedback and feel are good enough not to be seen as a downside, as is the case with many SUVs. However, it's the new ideas and attention to detail on the inside that set the XC90 apart; as with the exhaust on the F-Type, I could spend the entire body of this story talking interior bits. The 9-inch touch-screen infotainment system draws one's eye like a jewel held into the light. It has the looks and is even better to use. I never noticed a hint of lag, and all functionality is quick and intuitive to locate when digging through menus. Unlike a typical touch screen, Volvo incorporated an infrared mesh under the glass to locate fingertips. It's noticeably more precise than any screen you've used before, and it functions flawlessly even while wearing gloves. My T6 Momentum model was fitted with the optional Bowers & Wilkins stereo ($2,650). I'm a 99.99th-percentile audio snob, and I can say without doubt that the B&W audio system is worth every penny – it's easily the best in-car stereo I've heard yet. And you don't have to be a snob to appreciate the delicacy and precision with which it will render your tracks.
The interior, fore and aft, is full of airy freshness, with nappa leather contrasting with wood and aluminum. It's a place that made me feel happy. But the real appreciation for what the Volvo team has accomplished came 30 minutes down the road. One will immediately notice the comfort and support given by the seats, but it takes a bit of time in them to realize your entire body feels less tense. Yes, these seats stand out as something I want in my life. In fact, Volvo spent seven years developing them with a team of 16 ergonomics engineers. Adding to the list of personal best-evers, these seats are the most comfortable I've ever felt. Plus, the third row is genuinely usable to adult humans, rather than a slapped-into-place afterthought. Volvo uses a composite transverse leaf spring in the rear suspension that makes the rear suspension more compact, resulting in more back-row interior room.
And those are just some of the highlights of an interior brimming with new ideas. In many ways, it's a game-changing place to exist, resetting the high bar to which all other manufacturers should aspire. And it's more confirmation of how automotive science can advance when smart engineers are given a clean slate, not shackled within the confines of sharing parts bins across a diverse brand offering.
I make no qualms about it – I crave exhilaration behind the wheel. As that's not what the XC90 is about, why does it speak to me so? Well, the answer might be because I also appreciate attention paid to the fine-level details, even if those details are for the purpose of something other than maximum lateral Gs. The XC90 isn't an exciting car to drive. For my taste, it could even be called boring, but it's the boring car I've least wanted to return. It's the way Volvo created a boring car that feels like home. If I were in the market for a luxury SUV, there's no doubt the XC90 is the place I'd want to settle down. It's that good; it deserves all the accolades received, and it was successful in vanquishing all my predisposed biases.
To learn more about the 2017 Volvo XC90 T6, visit wcvolvo.com.
PRICE AS TESTED: $63,375
LOANER FROM: West County Volvo, wcvolvo.com