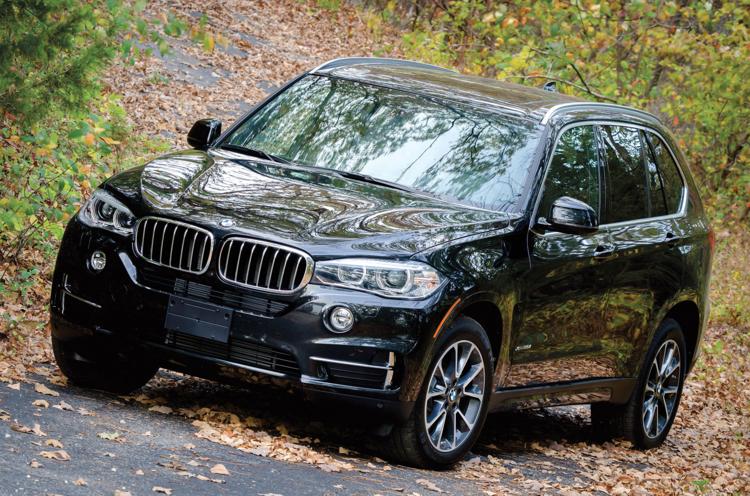 For generations, auto manufacturers poured R&D resources into the crowded, yet lucrative, four-door family sedan market. If big sales numbers were the goal, that was the space to play.
But the times, they are a-changin' – or in this case, they've already changed. Sedans have abdicated the throne to the new sales king, the SUV. Specifically, midsize crossovers are the new sales champions worldwide. Practicality has been the main reason, with driving enjoyment lagging in buyers' mindsets. In recent years, however, more driver-oriented brands such as BMW have made a concerted effort to bring fun back. For buyers, that can be interpreted only as a good thing.
In fact, the term crossover implies an SUV that drives more like a car than a light truck. And in the luxury segment, BMW practically invented the idea with the introduction of the X5 in 1999. In '99, the moniker crossover hadn't yet been coined. BMW's marketing crew knew SUV wasn't applicable and conceived SAV (sport activity vehicle) as a way to highlight its on-road driving prowess. Although what it's referred to has changed, the idea of sacrificing off-road capability for on-road dynamics stuck and has since reverberated throughout the industry. In BMW's case, the X5 now outsells the 5-series sedan.
As more proof of just how competitive the crossover market has become, BMW currently offers five distinct models. For this drive, I tested its best-selling X5, specifically an xDrive35i.
It's a complete package, if at first glance understated. Exterior styling remains very on-brand, though a bit forgettable, with a few interesting elements tied into an overall ho-hum profile. A Ford Explorer-owning friend called it "a sharp-looking car," but overall it blends into the daily traffic ebb and flow more than I would prefer.
The inside mysteriously mixes dated and modern styling, as if its designers hadn't quite decided which direction to pursue. However, materials and fit-finish embrace a very high caliber: The seats are highly adjustable and provide support and comfort for long drives.
Analog gauges blend seamlessly with a customizable LCD display in what's probably the most successful design exercise. A huge panoramic roof lightens the overall dark theme significantly, and outward visibility in all directions is excellent. The 10.2-inch LCD screen is bright, and the adept iDrive integration, even with myriad configuration possibilities, is simple and intuitive.
But the most wow-inducing moment came when, after the BMW was put in reverse, a bird's-eye view of the car appeared on-screen. Regarding that feature, dubbed Surround View by BMW, my first thought was "How is that possible?"
Power comes from a six-cylinder 3.0-liter engine featuring BMW's twin-power turbo technology, and direct injection. Rated at 300 horsepower and 300 lb-ft of torque, it's one of the smoothest engines available anywhere. The nearly 5,000-pound X5 is no rocket, but 60 mph sprints happen faster than expected. On-road, the theme of smooth continues. Cruising at 75, I wondered, "Why is everyone driving at 50 mph?" before checking the speedometer. With driving mode set to comfort, sensory inputs are greatly dulled should you want to simply float home after a long day in the office.
But with this X5, the transition to sport mode brings a significant transformation to the driving experience. Steering tightens, the suspension gives more feedback in all directions and the throttle response sharpens significantly. No, it doesn't turn this people-hauler into a go-kart, but enough fun infuses the experience to keep things fresh.
Steering feel is probably the biggest letdown of this X5, however, as it can occasionally give a floaty performance that doesn't inspire confidence. Although I did occasionally hustle it around some twists, the vague on-center feel and need for more subtle input than necessary kept me from truly exploring its limits.
Taken in its entirety and in the target market, the X5 succeeds nicely. It's also highly configurable to any would-be buyer. The M Sport package increases curb appeal and would likely sharpen chassis dynamics.
A new plug-in hybrid option is available, and although it offers a short range, for those with light daily commutes, it's compelling. The salesperson I spoke with mentioned a new plug-in-hybrid owner who filled his tank for the first time after 1,100 miles of ownership.
For power junkies, the 50i ups the ante to a 445-horsepower turbo V-8. And of course, no one can ignore the thundering 567-horsepower beast that is the X5 M. Any qualms with driving excitement vanish if one can make the financial leap to the M model.
The X5, in short, offers a lot to like and even a few things to love. But it's not all roses in this highly crowded market. I'd certainly welcome a bit more pizazz, both inside and out. And I would appreciate a car that speaks to me behind the wheel: Instead of just saying, "OK, I'll do that," I want to occasionally feel an enthusiastic "Hell, yeah, let's go!"
Does the X5 reign as king of the luxury crossover segment? To be honest, I'm not ready personally to make that leap yet. It's certainly on the short list, but over the coming months, we'll investigate its competitors and further assess which wears the crown these days.
To learn more about the 2017 BMW X5, visit plazabmw.com.