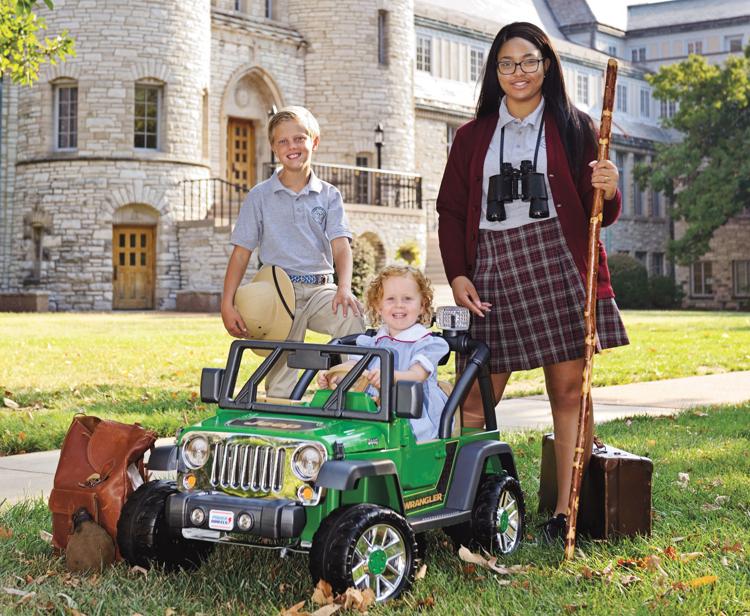 Villa Duchesne and Oak Hill School (VDOH) is dedicated to creating, supporting, nurturing and celebrating a diverse community. This mission directly reflects the institution's core values as a Sacred Heart school, established by Saint Madeleine Sophie Barat, who founded the Society of the Sacred Heart. Her vision of educating the whole child and preparing students for lives of faith in God, integrity, leadership and service to others is at the center of the school's ideology and how its students and staff view the world.
Marty Rubio, a Villa Duchesne social studies teacher, says it's important for his students to realize they're a part of a global economy that's continuing to grow.
"As a college preparatory school, our students are going on to universities and out into the world after that," he says. "We want them to be oriented to that mindset after high school. We want [our students] to break down barriers and think about humans in general: their dignity and their worth. That's all part of the Sacred Heart philosophy."
Since VDOH is part of an international network of Sacred Heart schools, its students and teachers are able to connect with other parts of the world beginning as early as elementary school.
"Grade school kids early on establish pen pals in other countries and do Skype discussions," Rubio says.
As students go through VDOH, they are presented with travel opportunities and the chance to learn more deeply about other cultures. The school has an international festival, where students each study a country and all come together to celebrate the countries' cultures. Middle school and high school students are able to participate in an exchange program that both brings in international students and sends VDOH students out into the world.
"Next semester, I'll have students from Ireland, Hungary, France, Japan and Taiwan in my classes," Rubio says. "It's always amazing to have perspectives outside the American bubble."
Villa Duchesne's course offerings are as diverse as its programs. Students are able to take classes like the history of the Middle East and a summer seminar in global studies where they can travel abroad.
"All the summer travel programs have an academic component – it's not just traveling to see monuments and landmarks," Rubio says. "Teaching our students to be tolerant and accepting of people around the world flows directly out of our mission."
Visit vdoh.org to discover more about the educational experience at VDOH. Schedule a private tour by calling 314-432-2021 or emailing admissions@vdoh.org.