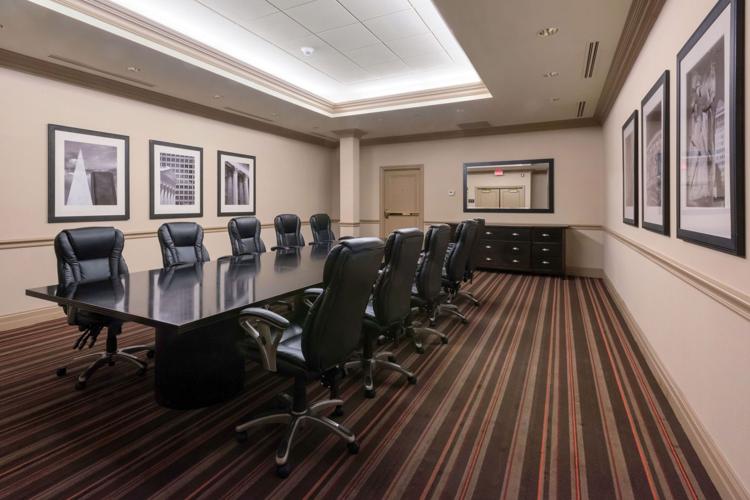 "The customer's imagination is really the only limit," says Sarah Johnson, director of sales and marketing at Sheraton Clayton Plaza Hotel St. Louis. "We can host just about anything."
"We're very adept at being able to conform to the customer's needs and to make the event a success," maintains Johnson. This willingness to work collaboratively with clients is one of the many reasons the Sheraton Clayton Plaza Hotel St. Louis has become a premier destination for hosting local, national and international business events in St. Louis. With more than 18,000 square feet of meeting space – much of which is flexible and can be reconfigured, as needed – the hotel is able to accommodate a variety of events, from a 10-person board of directors meeting to corporate conventions of up to 350 attendees.
The Sheraton Clayton Plaza Hotel St. Louis staff works diligently to make the scheduling, planning and execution of events as seamless as possible. To that end, the hotel assigns a conference services manager to every client. Three months prior to the event, the conference services manager will reach out to the client to discuss event details like setup and menu. "That person acts as the liaison from the time the contract is signed to the moment the customer has left the property," explains Johnson. "They add a personal touch."
Businesses and corporations holding events at the hotel will find a host of amenities from which to choose. The hotel has on-site audiovisual technicians to troubleshoot any technological hiccups, so there's no need to worry about faulty microphones or PowerPoint presentations that won't load. With a full service staff and a banquet kitchen – one of only five dedicated kosher kitchens in the area – the hotel is equally equipped to meet clients' dining needs. And, for those requiring room accommodations, the hotel boasts 259 elegantly-appointed guest rooms.
Because the Sheraton Clayton Plaza Hotel St. Louis is a Marriott International property, clients also benefit from a number of other perks.
"Marriott is the world's largest hotel company," declares Johnson. "And with that comes two of the top loyalty programs, Marriott Rewards and Starwood Preferred Guest (SPG)." By signing up for these programs, professional meeting planners and administrative personnel can earn rewards for both their professional and personal activities in one joint account.
Close to downtown St. Louis, the hotel's location in Clayton is especially desirable. Locals and out-of-town visitors alike can easily take in a Cardinals baseball game or pay a visit to the iconic Gateway Arch. After a long days' worth of meetings, clients can also take advantage of Clayton's bustling restaurant scene. With an array of dining options within walking distance, "people don't have to roam around, not knowing where they're going, and they don't have to spend money to take a cab or an Uber," says Johnson.
With myriad amenities and a central location, the Sheraton Clayton Plaza Hotel St. Louis is the place to do business.
Sheraton Clayton Plaza Hotel St. Louis, 7730 Bonhomme Ave., St. Louis, 314-863-0400, sheratonclaytonhotel.com