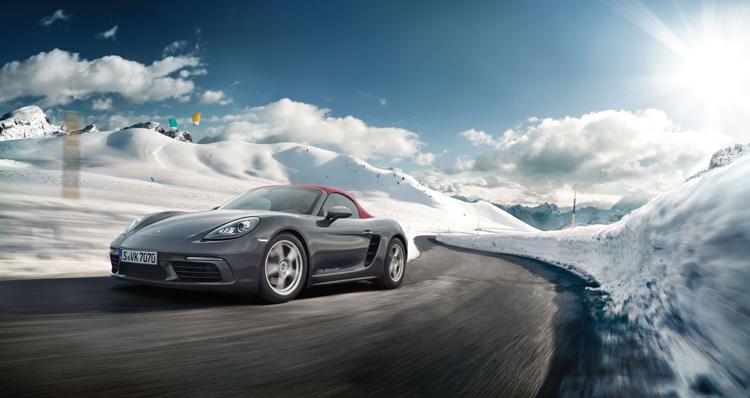 A new Porsche parked in the driveway makes the ultimate gift for your family this holiday season. Discover a model perfectly suited for each family member and guaranteed to bring a smile to his or her face. As you seek that ideal gift this year, search no further. With so many luxurious models, the decision may be tough – but you're up to the challenge. LN got the lowdown on which of Porsche's top vehicles will best match your family of drivers, based on each car's most exciting features. Get the most enjoyment out of your holiday shopping, while you're at it. Truly, the only way to find that just-right model is to take each one for a spin.
For the dad who loves road trips:
Dreaming of long, winding roads and wide, open spaces? The Cayenne is designed for those grand escapes. With a large luggage compartment, a roof transport configuration and an online navigation system, the Cayenne is the ideal choice for hitting the open highway. Plus, the estimated highway fuel economy of 24 miles per gallon makes it the most efficient Porsche SUV on the road.
For the mom who can do it all:
Named the 2017 "Car of the Year" by Business Insider, the new Panamera boasts sports car power and the convenience of a sedan. The Panamera's four-door design is roomy enough to haul groceries home or ferry the kids and their friends around town. Whether you're carrying project materials for work or driving the kids to school, the Panamera can get you there. And with 330 horsepower, the car jets from zero to 60 miles per hour in just 5.4 seconds, allowing you to make the trek in no time at all.
For the daughter heading to college:
The Macan SUV has high safety standards and a spacious design able to seat a carful of friends. With ample storage space for moving, a Porsche Communication Management System to navigate and make calls via BlueTooth, and plenty of driver assistance programs, the Macan is the ideal college car.
For the son seeking the "cool" factor:
The two-door 718 Boxster S provides the ultimate, sporty-cool factor. With 350 horsepower and the ability to go from zero to 60 miles per hour in a mere 4.4 seconds, this Porsche can fly down any track. On the road, it handles masterfully and packs advanced safety features to protect drivers on their daily journeys, granting you peace of mind.
Ready to put wheels to pavement? Find the perfect Porsche by visiting indiGO Auto Group's Porsche St. Louis today.
Porsche St. Louis, 2970 S. Hanley Road, St. Louis, 888-377-4319, porschestlouis.com