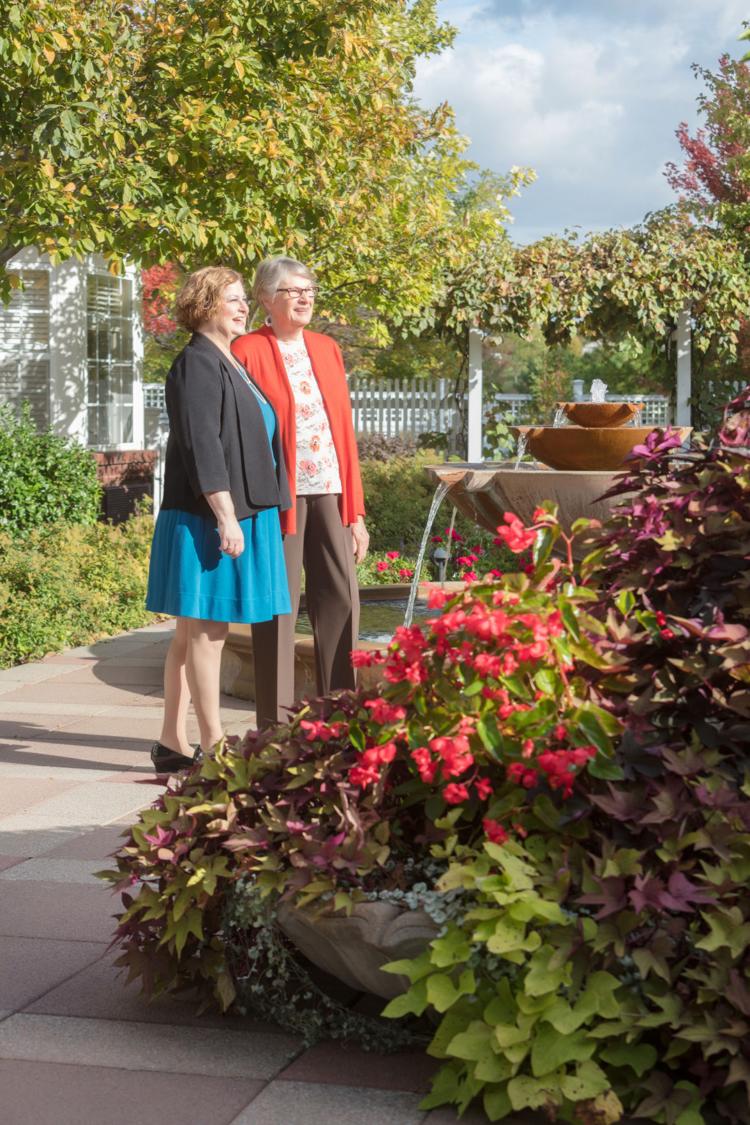 The fullness of life isn't just found in one's memories. At Parc Provence, the in-between moments have just as much meaning. The memory care community is recognized nationally for its ability to navigate dementia and Alzheimer's disease in residents through person-centered care.
"We empower senior adults to function at their highest potential by promoting individual physical and cognitive abilities," administrator Kathy Aragon, RN, says. "Our environmental design and active life enrichment program, as well as our history, set us apart. We've stayed true to our model of care since we opened and have a core staff that's stayed the same. We remain locally owned by the original owners."
Aragon applies 30-plus years of experience in nursing to her role as administrator, with 25 years in long-term care. "I have a clear understanding of Parc Provence's philosophy of care," she explains. "Our programming enriches the lives of residents with meaningful, purpose-filled activities. Our staffing remains stable and consistent. I want to ensure Parc stays true to that model of care."
As the administrator, she ensures a continuity in the type of care each resident receives. "The most important part of my role is to be a link between our various departments, and to meet the needs of our residents' social well-being," she adds. "I make sure our residents' lives are full and as independent as they possibly can be."
Creating an atmosphere of comfort and familiarity is key to best serving residents. "Parc does not look like a typical community," Aragon describes. "It has a homelike environment, with different households that feel like small communities. We try to place our residents with their peers who are at the same functional and cognitive level while maintaining consistent staffing, so residents and staff can build a special bond. That connection allows residents to feel secure."
Building on that level of trust, Parc Provence offers a diverse schedule that includes cognitive, spiritual and sensory stimuli, from our golf and basketball to aromatherapy and massage therapy. "Our daily activities are interspersed and engaging, with the goal to keep residents happy," Aragon shares. "Parc Provence offers a variety of activities based on interests and cognitive levels that are lead throughout the community simultaneously. It's important for adults with memory issues to stay active and keep their minds busy, so they can retain their abilities and minds for as long as possible, which gives them purpose and improves quality of life."
Residents have a particular interest in the music-based activities, no matter the stage of dementia, as well as social gatherings such as happy hours that often include ice cream. The sensory-based activities can activate and trigger memories.
"The reactions you can get from different smells and touches may be something you haven't seen in a long time – and that makes it all worthwhile," Aragon describes. "Being at different levels of dementia, everything a resident participates in is important. Brushing your teeth, styling your hair, folding laundry … It all gives purpose, and residents take pride in it. It's comforting to know they are enjoying life and that we're providing that quality of life."
Many components of life make it feel more complete, and memory is only one part of that. Parc Provence goes beyond to help residents capture happiness through every aspect of life. "We look at residents as a whole – cognitively, functionally, socially and physically," Aragon says. "No two residents seem to have the same dementia or cognitive level, and for us, it's about meeting the needs of where each is at. That can vary from hour to hour and day to day. However, seeing the joy they have when they rediscover a memory makes all the difference."
Parc Provence, 605 Coeur de Ville Drive, Creve Coeur, 314-542-2500, parcprovence.com