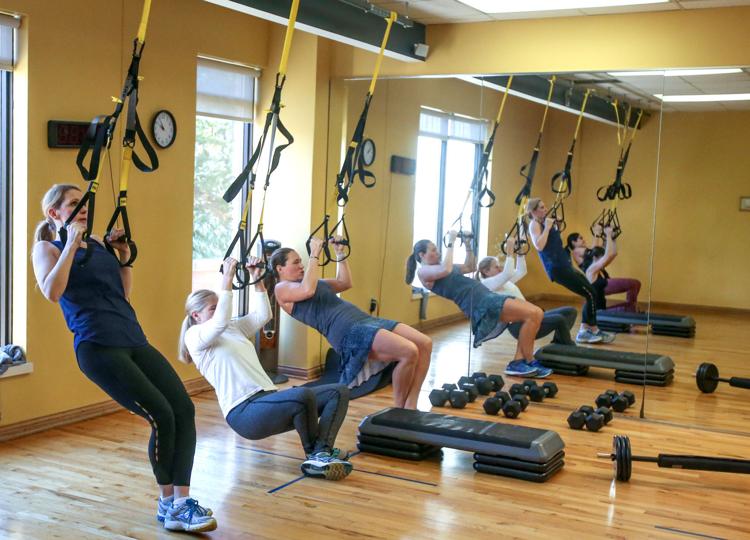 Rows and rows of treadmills and elliptical machines, a funhouse mirror of anonymous faces in mechanical motion, that one guy grunting loudly as he lifts – these images often discourage individuals from improving their health and fitness.
The environment at NutriFormance, located in Frontenac's Le Chateau Village, though, could not be more different.
"Our clients would say it's like Cheers. Everybody cares for each other. It's not just a 'hope you buy a membership and never walk in' kind of place," emphasizes co-owner Dale Huff. "We were borne out of blending nutrition and physical performance. That's the foundation. We serve a really diverse population in terms of age - from 10 years to 90 years old."
The NutriFormance staff realizes that every person possesses unique fitness goals and challenges. Their experienced corps of trainers, physical therapists, massage therapists and dietitians are ready to develop a customized plan for you.
If your goal is to shed pounds or overhaul your diet, then that plan might include InBody Body Composition Analysis. This cutting-edge technology provides data on fat location, muscle composition and cellular fluid levels. Not only does this information allow NutriFormance's trainers and dietitians to better tailor their programs, but also it can be shared with clients' personal physicians.
If building strength is your objective, then NutriFormance's small group personal training program is an excellent option.
"What we were seeing throughout the fitness industry was that everyone was doing metabolic training," Huff says. "But, you should really only do that two to three times a week. Instead, people were doing it five to seven times a week and then getting injured."
The F.I.T. (Functional, Integrated Training) Small Group Membership offers access to smaller classes – typically four to five people – that focus on interval aerobic activities like strength training, rowing, treading and reformer Pilates.
Although NutriFormance offers a variety of membership packages, you do not have to be a member to utilize any of the facility's services. "If you simply want to work with a personal trainer or only come for massage therapy, that's possible at NutriFormance," explains Huff.
For Huff, though, he sees sincere benefits to the F.I.T. membership.
"You get access to the gym and all of the other classes," he says. "It's part of your membership. When you compare us to a fitness format that just does one thing, we offer a lot more value and we keep our clients safer because of the variety that they're able to get."
NutriFormance, 10407 Clayton Road, Frontenac, 314-432-6103, nutriformance.com