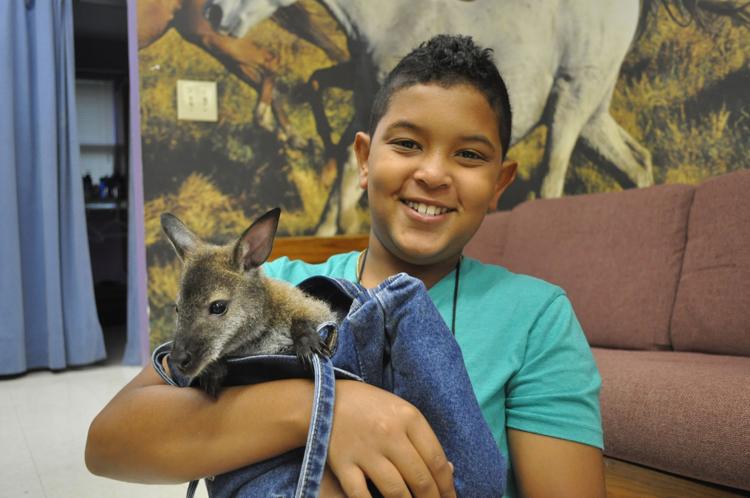 Camping at Cub Creek Science and Animal Camp involves much more than roasting marshmallows fireside. While no summer camp would be complete without s'mores, Cub Creek Science and Animal Camp offers more than 100 activities across six areas: adventure, animals, arts and crafts, nature, science and traditional.
Does your child light up at the sight of a furry creature? Then, he or she would love the camp's popular Adopt an Animal program. During this week-long course, campers "adopt" one of the camp's animals, learning not only how to feed and take care of it, but also about its natural habits and habitat.
If science ignites your child's interest instead, then the camp's Chemistry program might be the perfect fit. Campers enrolled in this course especially delight in making giant bubbles, which are used to teach properties of surface tension and light.
Cub Creek campers can also take part in more traditional camping activities like archery, riflery, ropes and zip lining. "We're a well-rounded camp with a unique aspect that few other camps can offer," underscores Farley. "But we're still about those traditional camp experiences, like making friendships, meeting people and admiring your camp counselors."
A former Cub Creek counselor, senior camp leader and camp photographer, Farley has watched kids grow up at the camp, returning year after year – often with friends that they made right there.
"Cub Creek is a camp that cares a lot about camper experiences," emphasizes Farley. "We try to build self-confidence and to foster an appreciation for the environment and for each other. Our goal is that everyone leaves with at least one friend."
Farley encourages interested parents to schedule a camp tour or to call her directly, so that she can answer any questions that may not be addressed in Cub Creek's brochure or on its website. "I love to build relationships with campers and their parents. I am invested in their camper's [well-being]," she says.
Cub Creek Science and Animal Camp, 16795 Route E, Rolla, 573-458-2125, mosciencecamp.com