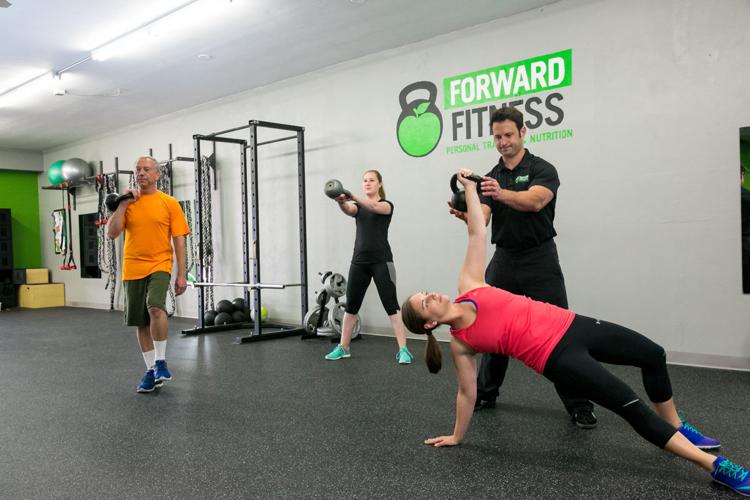 Now that holiday feasts have ended and sweets have vanished, the time has come to turn attention to 2018, and for many, that includes the perennial post-holiday resolution to lose weight and get fit.
Depending on the source, statistics for New Year's-resolution failure range from 80 to 92 percent. Health and fitness, however, remain important to overall well-being, and it's possible to make a healthier lifestyle stick, says Mike Klaus, owner of Forward Fitness, a fitness facility in Maplewood.
Klaus recommends five strategies for making fitness integral to a healthy life:
1. Hire a coach.
"Most people are lost," Klaus says. "They've tried this diet and that fad workout, and they may have seen some preliminary results, but most have gotten hurt trying something crazy, or they stopped and ended up worse off than when they started." A personal trainer or fitness coach helps clients stay consistent and on track, as well as providing accountability and motivation, he notes, adding, "It's an investment in yourself."
When seeking a coach, look for an individual who follows the fitness industry and recognizes new findings and knowledge. Beyond technical know-how, personal chemistry is important. Individuals who like their fitness coach will more likely keep training. "Make sure they do some sort of movement assessment – that's pivotal," Klaus says. The assessment will reveal weaknesses and tendencies that inform the coach's program for the client and help ensure the client makes progress without injury.
2. Make Monday mandatory.
The first task of each new workweek should be a workout that sets you up for continued success. "You get one under your belt right away," Klaus says. "It's so easy to have one or two days go by and just decide you'll start next week." Also, he points out that releasing endorphins, the brain's "feel-good" chemicals produced by physical exertion, makes a good way to start many people's least favorite day of the week.
3. Find a workout and setting you enjoy.
The social aspect of group coaching with two to four other people – or even in a larger class – makes working out an opportunity to spend time with people who may eventually become your friends. "You want to do the right thing, but you also have to make it fun and interesting," Klaus says.
Klaus notes that good coaches make their fitness facility the "third place" where people hang out, after home (the "first place") and work (the "second place"), and he identifies one of the trends in fitness as the increasing number of personalized boutique gyms that offer small group training. The workout itself should include conditioning through resistance training, which builds muscle using body weight and/or exercise equipment, along with cardio benefits through interval training, explosive movements and speed work.
4. Don't try to out-train a poor diet.
If weight loss constitutes a goal, then better nutrition remains a must – even if you exercise regularly. "Resistance training will help build muscle and burn fat, but you need to make good dietary decisions throughout the day," Klaus says. He emphasizes that most people don't drink enough water – and, no, swilling coffee all day doesn't count. He suggests people consume at least half their body weight in ounces of water daily by keeping a favorite reusable water bottle nearby and refilling it throughout the day.
Klaus' wife, Suzanne, serves as a registered dietitian and certified personal trainer who also works at Forward Fitness. She recommends filling half your plate with vegetables at each meal and taking time to prep all the veggies for the week at once so they're convenient to grab and go.
5. Don't skimp on sleep.
Once you've found a good coach, started your workweek with a workout you enjoy, drunk your water and eaten well all day, a good night's rest becomes key. "Sleep is as important as nutrition and exercise," Klaus says. According to the U.S. Centers for Disease Control and Prevention, 32 to 35 percent of Missourians report getting less than seven hours of sleep per night. People deprived of sleep are less likely to make good decisions about diet and may feel too tired to exercise, Klaus adds.
In 2018, resolve to make your fitness a priority – not just for a day, a week or a month, but for the rest of your life.
Forward Fitness, 3111 Sutton Blvd., Maplewood, 314-367-9273, forwardfitnessstl.com