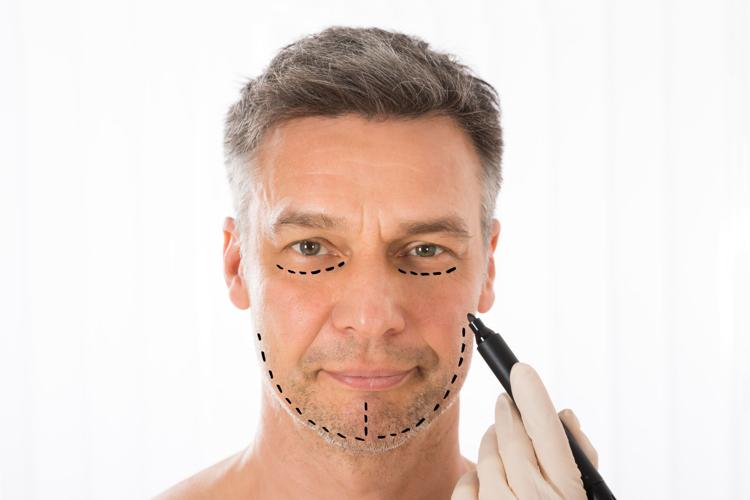 Cosmetic procedures are no longer taboo for men. These days, local plastic surgeons are seeing an increase in male patients pursuing minimally invasive cosmetic surgery, a practice that traditionally has been more common among women.
At Washington University Facial Plastic Surgery Center in St. Louis, facial plastic surgeons Dr. Gregory Branham and Dr. John Chi are experiencing an uptick in men coming in for cosmetic consultations. "We have definitely seen more men who are more open to [cosmetic surgery]," Branham says. "It is becoming more acceptable, so more men are having procedures – maybe he has a spouse who is encouraging him, or he is in a [life] transition like divorce or changing jobs."
And nowadays, men are very informed and direct about what they want when it comes to cosmetic work, Chi explains. "Men tend to be more aware of changes and fear an overdone appearance, so they want the results to be very subtle and natural," he says.
The cosmetic procedure process typically begins with a consultation to determine the patient's wants and needs and establish a treatment plan, which can include both noninvasive treatments and minimally invasive surgeries.
Noninvasive Treatments
At Ridenour Plastic Surgery in Creve Coeur, facial plastic surgeon Dr. Brock Ridenour says the most popular procedures are noninvasive treatments, such as Botox injections and injectable fillers. "They produce the subtle but noticeable results that men favor," Ridenour says. "In women, fillers are used to create smooth skin and soft curves. In men, fillers are more often used to strengthen masculine [facial] features, such as angular cheekbones and a strong jaw line."
Botox also is the most common treatment men request at Washington University Facial Plastic Surgery Center. Male patients, typically around the age of 40 and older, often desire Botox in two facial areas, Chi explains: around the eyes to diminish smile lines and on the forehead to soften horizontal wrinkles. Treatments take approximately 15 minutes and need to be repeated every three to six months. Patients may return to work the same day and can expect to see results in three to five days.
Another popular procedure Ridenour performs is CoolSculpting, a noninvasive body contouring treatment that uses a handheld device to precisely freeze and destroy unwanted fat cells below the surface of the skin. "Men are using [CoolSculpting] to manage fat bulges in their flanks, chest and abdomen," he says. "The procedure is completely noninvasive and does not involve needles, scalpels or cannulas [tubes]. In one or two painless sessions, men experience permanent fat reduction in areas that have been resistant to exercise and dieting."
Minimally Invasive Surgeries
Among the most popular minimally invasive cosmetic surgeries, men are seeking rhinoplasty, blepharoplasty, brow lifts and facelifts, local plastic surgeons say.
Rhinoplasty, also known as nose surgery, reshapes the nose to correct both function or aesthetic concerns. "Rhinoplasty is sometimes performed to correct a crooked nose deformity from sport-related trauma," Ridenour says. "More recently, men also are seeking rhinoplasty to achieve better facial harmony and a more pleasing aesthetic appearance, often balancing a disproportionate nose with their chin and other facial features." The procedure can last an hour to four hours and typically involves about a week of downtime for patients, where they will have stitches in their nose and wear a cast, Chi explains, adding that some bruising and swelling usually is apparent for one to four weeks.
Blepharoplasty, or eyelid surgery, takes about one to two hours to perform and entails about seven to 14 days of downtime for bruising and swelling to resolve. "Droopy eyelids make men look older, tired and less energetic," Ridenour says. "Eyelid surgery removes excess skin from the upper eyelid and reduces puffiness and bags under the eyes that make men look worn and tired."
Another common procedure for men is a brow lift, which reduces both the horizontal wrinkle lines across the forehead and the vertical frown lines between the eyebrows, Chi says. The procedure typically lasts about an hour and a half and requires a week of downtime.
Facelift operations, which lift and firm sagging facial tissues to restore a more naturally youthful facial appearance, also are slowly becoming more common among men, Ridenour says. In addition, more men are having breast reduction surgery to treat gynecomastia, which is swelling of the breast tissue caused by a hormone imbalance, he adds.
The best candidate for any cosmetic procedure is a relatively healthy nonsmoker with no disabling medical conditions that can impair healing, Ridenour notes. "The most successful candidates have a positive outlook, realistic goals and are not risk averse," he says. "It's important that men choosing cosmetic surgery must accept the importance of taking the proper time to heal, and they must agree to remain inactive in the first several critical days following surgery." Healing time varies according to several factors, including the patient's age, his overall health and the extent and complexity of the procedure, he adds.
As more men are becoming educated about cosmetic work, there is less stigma surrounding the subject, local plastic surgeons say. "Today's men are more open about cosmetic surgery," Branham says, "and they are less concerned about others knowing about a cosmetic procedure."
Washington University Facial Plastic Surgery Center, 1020 N. Mason Road, No. 205, Creve Coeur, 314-996-3880, facialplasticsurgery.wustl.edu
Ridenour Plastic Surgery, 12460 Olive Blvd., 2nd Floor, Creve Coeur, 314-878-8600, ridenourplasticsurgery.com