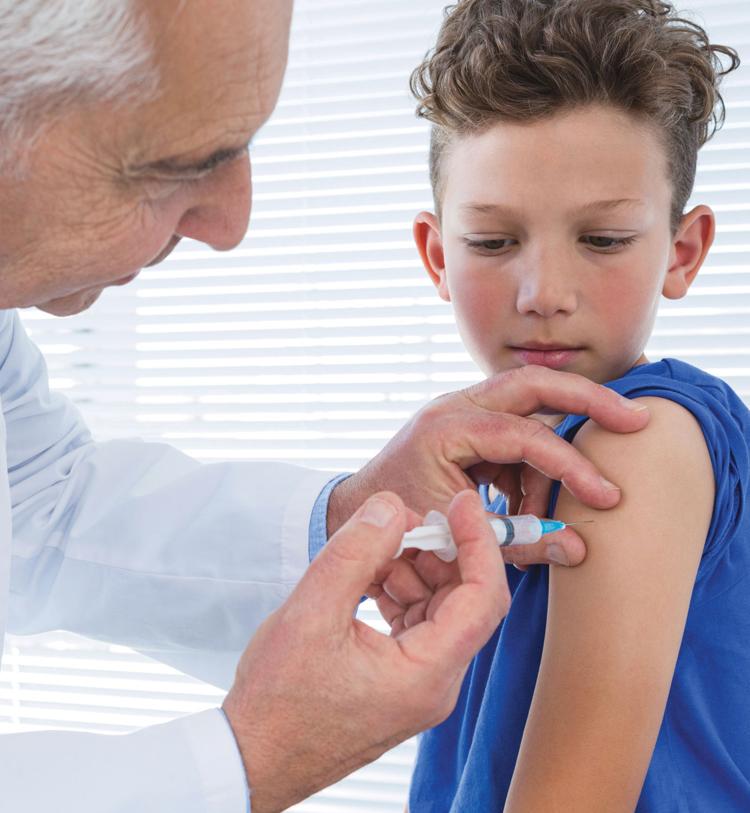 As kids get ready to go back to school, National Immunization Awareness Month is a good time to ensure the health of your entire family is protected.
As kids get ready to go back to school, parents need to make sure they're up to date on their immunizations. And since August is also National Immunization Awareness Month, it's a good time to ensure the entire family, regardless of age, is protected from infectious diseases.
"There are so many vaccines recommended for babies and young children, but proof of these is required for starting school and usually covered by insurance," says Dr. Margaret Reiker, a BJC Medical Group physician at Missouri Baptist Medical Center. "Once you get into the preteen and teen years, the immunizations are still required for schools but not as rigorously. Colleges may require certain immunizations for entrance, and after that, there are often no immunization requirements except for starting certain types of employment, such as in health care fields."
Babies and children in the greater St. Louis area have a generally good rate of immunization compliance, says Dr. Rachel Orscheln, an assistant professor of pediatrics at Washington University School of Medicine and pediatric infectious disease specialist on staff at St. Louis Children's Hospital.
Because the dangers of childhood vaccines have been generally debunked by such authorities as the federal Centers for Disease Control and Prevention, most parents agree that vaccines are an important part of their children's health care, Orscheln says. Areas of the nation where fewer parents have their children vaccinated have experienced outbreaks of infectious diseases, such as a recent measles outbreak in Minnesota, which carry far greater health risks than any posed by the vaccine itself, she adds.
"Pregnant women are generally very motivated to get any recommended vaccines and are keeping regular follow-ups in general for the baby, and so they usually are up to date," Reiker says. The Tdap vaccine – which covers tetanus, diphtheria and pertussis (whooping cough) – and the flu vaccine are recommended for pregnant women by the Centers for Disease Control and Prevention. Other vaccines may be recommended by a woman's physician based on her personal health and immunization history.
Two commonly missed immunizations among the young-adult population include the flu shot and human papillomavirus (HPV) vaccinations. "The danger with missing the HPV vaccine is an increased risk of cervical cancer, rectal cancer and probably an increased risk of head and neck cancer in later life," Reiker says.
Adults, especially older adults, also often miss important immunizations that can potentially save their lives. Dr. Steve Lawrence, associate professor of medicine at Washington University School of Medicine and an infectious disease specialist at Barnes-Jewish Hospital, says: "It makes me sad that every year, I see patients in the hospital who are very sick – and sometimes dying – from influenza and learn that they did not get a flu shot that year. Even though getting a flu shot does not guarantee you won't get serious influenza, it significantly reduces your risk. That extra protection is certainly worth a day or two of a sore arm."
Lawrence notes that the flu vaccine may be the most misunderstood immunization available today. Myths remain, including the false idea that the flu shot can cause the flu. "For some adults, vaccination against pneumococcal pneumonia may be just as important," he adds.
"The most important thing to realize about immunizations during this month is that we have learned a tremendous amount over the past two centuries since the benefit of the vaccination process was first developed," Reiker says. "When George Washington immunized some of our soldiers against cowpox (which conferred protection against smallpox) in the Revolutionary War in a very crude way, this may have been one of the critical factors that helped us to survive and triumph then."
According to Reiker, vaccines now prevent 3 million deaths each year worldwide and reduce the suffering of millions of people annually. "With every medical intervention, we must weigh the risk versus the benefit," Reiker says. "But with the vaccination process, we make our bodies more resilient to so many ailments that killed our ancestors at a young age and that are still lurking in the world today."
Immunization recommendations vary for individuals based on age, health history and overall health concerns. It's important to discuss your individual vaccination needs with your primary-care physician. An overall guideline to recommended vaccines by age is available through the CDC website.